'ARK' Update 1.83 Balances Dinos in Extinction on PS4 & Xbox - Patch Notes
ARK: Survival Evolved update 1.83 is going live on PS4 and Xbox One, with a myriad of balance changes for the Dinos and creatures in the recently released Extinction expansion. While there are some buffs and nerfs worth noting, the majority of the changes revolve around fixing bugs with clipping, harvesting or tweaking specific abilities. The full patch notes can be read below, courtesy of Studio Wildcard.
ARK: Survival Evolved 1.83 PS4 & Xbox One Patch Notes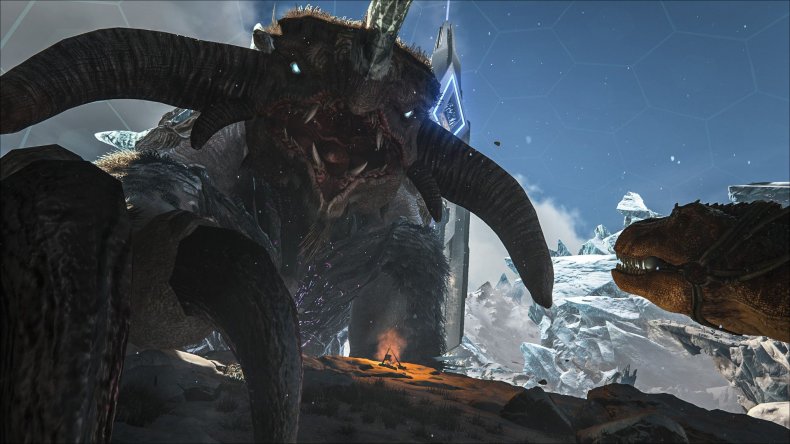 Managarmr
Improved Managarmr's ice breath accuracy
Buffed Managarmr stamina regen slightly
Managarmr babies can now be trained to behave better
Managarmr babies will no longer lose patience 100 percent of the time when following
Velonasaur
Velonasaur will no longer hit the area underneath large dinosaurs
Velonasaur head whip should no longer harvest bodies
Fix issue with spines not always appearing on non authoritative clients
Velonasaur head whip no longer shoots through walls
Fix Velonasaur spines shooting through shields
Velonasaur now grounds flyers a little faster
Corrupt Dinos
Corrupted Wyverns will despawn if they get too far from a completed Element Vein or Orbital Supply Drop
Fade out corrupt dinos when teleporting
Corrupt Dinos will de-prioritize flier targets or targets based on fliers
Corrupt Dinos deal more damage to Tek Shields
Titans
Titans despawn timer checks only regard players within the arena
Potential fix for increasing timer after long cooldown scenarios
Remove cooldown in singleplayer
Increase starvation time for Titans (~30m to ~ just over an hour)
Consuming Kibble will not increase food for Titans
Desert Titan
Prevent flocks from being able to hit through buildings/terrain
Prevent encumbered players from moving on Desert Titan
Flocks will now dismount riders (during the boss fight)
Forest Titan
Fix for Forest Titan hitting things thru ground terrain
Forest Titan arena wyverns take damage from forest titans
Clean up trees after Forest Titan is despawned
Crashes
Fix for crash caused by garbage collected replicated properties
Fix server crash when running DumpDinoStats cheat as a spectator
Fixed server crash related to Forest Titan and damage numbers
Fixed crash related to killing an Argent in Primitive Plus
Mek
Fix for Mek occasionally consuming one element when not refueling
Improved accuracy of sword in all scenarios
Prevent the Reequip button from allowing spyglass use while riding the Mek
Structures+ Integration
Can pick structures up within 30s of placing
Exclusions:

Charge Lantern
C4
Elevator Platforms
Elevator Tracks
Electric Generator
Grill
Industrial Forge
Industrial Grinder
Chem Bench
Fabricator
Tek Generator
Tek Replicator
Tek Transmitter
Enforcers
Reduce damage taken from corrupted dinos by 60 percent
Connection
Localization
Updated loc strings from CrowdIn
Fixed bug that breaks Cryopod, Managarmer, etc. outside of English
Rock Drake:
Resurrect Tek Rockdrake saddle
CryoPod
Report cryo freezing to tribe log
Snow Owl
Owl is now much better at actually hitting things with their melee attacks
Gasbags
Gasbags is now much better at actually hitting things with their melee attacks
Allow the rider to fish from Gasbags
Element Vein
Fixed replication issue with secondary element vein colors
Orbital Supply Drops
Crate shields take damage from Projectiles/other damage sources again
Delivery Crate
Engrams no longer count towards delivery crate weight
Maps
Non-crater forest Redwoods will no longer take damage and fall
Gacha
Fix for Gacha sadness not resetting in SP
Fix for dummy items getting left in Gacha inventory
Robots
Set Gnashed attack to not affect robots (allo bleed attack)
Extinction
Disable flyers in Forest Titan artifact cave
While many of these fixes appeared on PC in the weeks following Extinction's release last month, this is the first time the expansion has been balanced for PS4 and Xbox One. There's nothing too earth-shattering to discuss, but it's nice to see creatures like the Managarmr, Snow Owl and Gasbags getting equal attention in a slight rework. Because it adjusts stats for creatures on all ends of the spectrum, ARK update 1.83 offers changes both novices and experts can enjoy. Beyond refining a few abilities, though, the vast majority of fixes found here are solutions for minor frustrations.
It's also worth noting that today's update for ARK: Survival Evolved is the game's first major content tweak since Studio Wildcard announced its next game, ATLAS. The pirate-themed MMO enters Steam early access Dec. 19, and will reportedly have no impact on ARK's future. Update 1.83 may be ARK's last big patch for a little while, but the team promises that more content is planned beyond Extinction.
ARK: Survival Evolved is available now on PC, Xbox One, PS4, Switch, Mac and Linux. Update 1.83 is exclusive to PS4 and Xbox One.
What are your thoughts on ARK's latest update? Does Extinction feel better after this patch? Tell us in the comments section!