ARK: Survival Evolved update 1.84 has just launched on PS4, and that means the Winter Wonderland event is going live on all platforms. Raptor Claus has a new friend this year, and you can learn more about it in the official patch notes below.
ARK Update 1.84 Patch Notes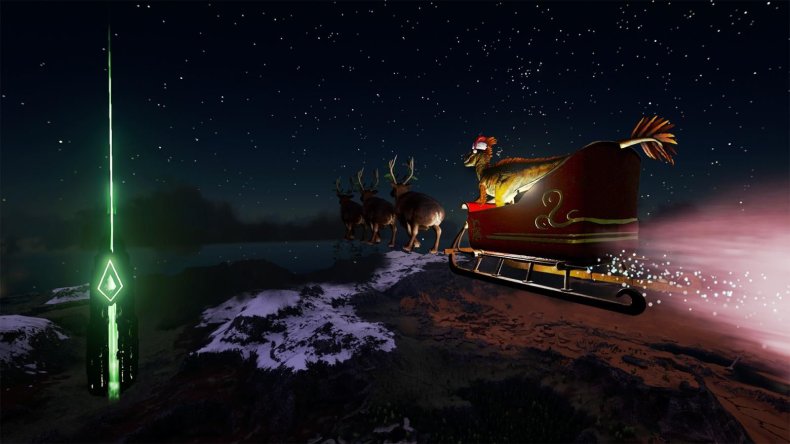 Raptor Claus

Flies over any map between 12 a.m. and 2 a.m. in-game (with event enabled).
Drops Holiday Gifts .

Gacha Claus

Spawns where you'd find Parasaurs on all maps.
Has holiday colors and wears a Santa Hat.
Cannot be tamed.
Doesn't like being near other wild dinos.
Accepts Coal

Gives Holiday Items in return.
Drops Dino Candy.

Feed this to a tamed dino for a strange effect .

Accepts Mistletoe

Colorization

20 percent of wild dinos will spawn with Holiday colors.

Uses the ActiveEvent system.

ActiveEvent=WinterWonderland
Cleans up after ActiveEvent is reset.
Auto applies to all non-TC sessions from Dec. 18 to Jan. 7 (UTC).
Run with ActiveEvent=None to disable.
Extinction
Fix for King Titan environmental effects starting again after boss despawned.
Fix for other bosses interrupting King Titan environmental effects.
Cave entrance cooldown display bug fix.
Increased radius of city meteor shield.
Improvements to dome shaders.
Reduced meteor impact damage to 750.
Improvements to height fog in desert biome.
Titans
Increased Mek sword damage to tamed titans approximately nine times.
Increased Mek pistol damage to tamed titans approximately three times.
Increased turret damage multipliers to tamed Titans.
Changes to Titan downloading.

Titan is disabled for 15 minutes after download
Titan takes increased damage during this time

Increased Titan download cooldown to six or more hours.
Fix typo in vertical Can't Damage message.
Orbital Supply Drop
Buffed Legendary Drops in difficulty and quality of loot.
Can now be claimed by a tribe in PVE.

Only that tribe can disable shield, eject items, gather loot

Fixed bug that eventually only allowed one event at a time in a session.
Improvements to shield behavior on low FPS servers.
Improvements to attacker pathing and behavior.
Element Vein
Can now be claimed by a tribe in PvE.

Only that tribe can harvest element

Fixed bug that eventually only allowed one event at a time in a session.
Improvements to attacker pathing and behavior.
Desert Titan
Increased damage when it strikes itself with lightning.
Improvements to Desert Titan follow to address flying away.
Fix for flocks not defending properly.
Improvements to tail attack accuracy.
Made tail attack damage consistent.
Disabled cryoing the flock.
Fixed encumbered movement when walking on a Desert Titan.
Dropped Items
Improvements to dropped item interpolation on low fps servers (less poking through ground).
Prevented dropped items from falling through structures on load.
Prevented dropped items from ghosting through structures if thrown close to them.
Eggs
Improvements to egg interpolation on low fps servers (less poking through ground).
Prevented eggs from falling through structures on load.
Prevented eggs from ghosting through structures if thrown close to them.
Fix for invisible Rock Drake and Wyvern eggs.
Velonasaur
Increased accuracy of AOE attack.
Reduced AOE damage to compensate for increased accuracy.
Wild Velonasaurs will no longer shoot for too long.
Fix for Wild Velonasaurs not doing damage in PvE.
Improvements to desyncs between spines and damage.
Reduced hovering when walking.
AOE attack will no longer loot victims.
Managarmr
Fixed anim bug related to Ice Breath.
Fixes for several orientation desyncs.
Fixes for desyncs when moving on low fps server.
Minor buff to landing damage.
Improvements to ice breath targeting.
Added message when you are unable to dive.
Slowed down baby Managarmrs.
Enforcer
Fixed instances where Enforcer could teleport to a non-existent wall.
Fixed instances where it could jump back to its last jump position.
Scout
Improved Scout tagging accuracy.
Improvements to player inspection mechanic.
Scout will now show floating damage text when damaged.
Item Balloon
Fixed instances of it not going to the correct destination.
Fix for cases where balloons didn't explode after landing.
Improvements to weight calculation.
Gacha
Fix for unclamped loot quality.
Fix for incorrect UI when taming is interrupted.
Ice Titan
Fix for broken dino animations related to Ice Breath.
Increased collision radius for shoulder Corruption.
Flyers
Improved flyer following when in water.
Added Whistle Land Flyer command.

Commands a flyer to land nearby.
Crash
Manticore
Improvements to landing logic.
Performance
Improvements to server performance.
Map Markers
Add support for decimal values.
Snow Owl
Slowed down baby food consumption rate.
Daedon
Disable healing when frozen.
Xbox
Improvements to dino quality.
Improvements to environment quality.
This year's Winter Wonderland event is essentially an expanded version of what we've seen from Studio Wildcard in the past. Raptor Claus drops high-end loot, mistletoe and coal on his daily visits across all the maps. Those special resources can then be traded to Gacha Claus, who offers cosmetics and armor. The roster of cosmetics includes decorative lights, Christmas trees, wreaths, stockings and snowmen. The real mystery, though, is the randomly doled out candy which has a "strange" effect on Dinos that eat it. While ARK's developers haven't always had time to offer Winter Wonderland, 2018's incarnation sounds pretty special.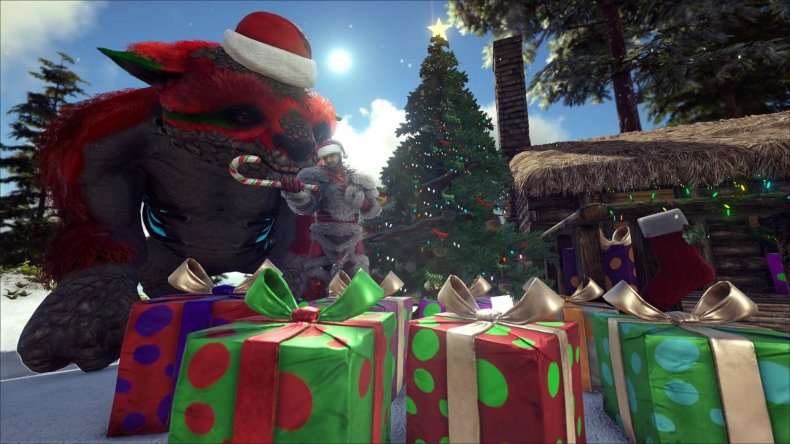 If that's somehow not enough, today's update also includes a healthy assortment of bug fixes that might be just as good, if not better, than anything Gacha Claus could possibly offer. The invisible egg glitch in particular has been a point of contention amongst Survivors, and now that's finally getting fixed. On the balance side, Mek weapons are more effective against Titans, and the Velonasaur's AOE attack has been buffed. It's rare to see so many great tweaks come to all platforms at once, so enjoy the continuity while it lasts.
ARK: Survival Evolved is available now on PC, Xbox One, PS4, Switch, Mac and Linux. Winter Wonderland lasts through Jan. 7.
What are your thoughts on ARK's Winter Wonderland update? What does the special candy do? Tell us in the comments section!