ARK: Survival Evolved players can download the game's Valentine's Day update right now. The event features boosted mating, holiday-themed Dino colors and more. Also as a part of console update 1.87, the patch includes a wide variety of fixes for Titan and creature balance, exploits, memory allotment and more. Full details are availablein Studio Wildcard's patch notes below:
ARK: Survival Evolved 1.87 Valentine's Day Update Patch Notes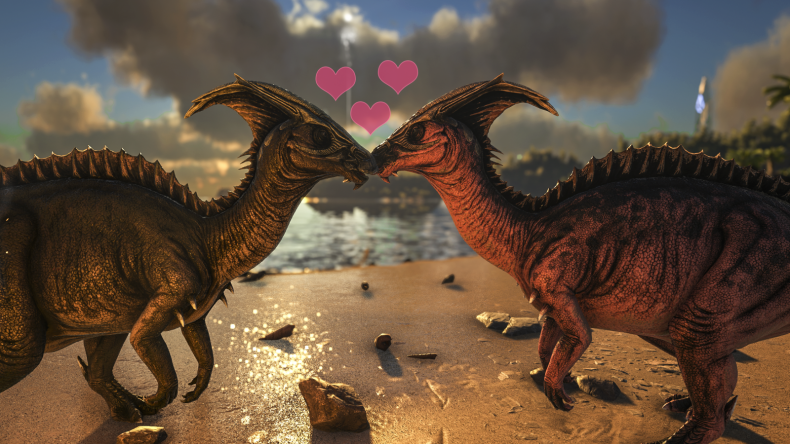 Valentine's Day Event!
Auto Activates from February 12 through February 18 for non-TCs
Run with ActiveEvent=vday to toggle manually
Event Rates:

2x Mating/Mate boost Range
3x Mating Speed/Mating Recovery
3x Baby/Egg Maturation Speed
1/3rd Baby Food Consumption

Event Details:

Dino color spawns: Creatures have a 20 percent chance to spawn with holiday-themed colors (red, pink and white)
When mating, creatures have a 25 percent chance to drop an item. That item has a 50/50 chance to be one of the following:

Valentines Chocolate: Restore full HP, or knock 40 percent off a Dino's Tame Bar
Valentines Candy: Random dino colors
Managarmr
Ice Breath damage is now scaled by distance to the target
Improvements to situations where Managarmrs float away
Whistle Follow or Whistle Stop will order the Managarmr to stop their active ability and return to ground
Reduced Ice Breath freeze amount
Increased time between Freeze Debuffs
Exploits
Fix for exploit related to Rafts
Fix for exploit related to Tek Gloves
Fix for exploit related to Owl and babies
Fix for exploit related to Owl
Fix for exploit related to Desert Titan lightning
Fix for exploit related to Ladders
Fix for exploit related to Chairs
Extinction
Environment memory improvements
Ice Titan
Have Ice Titan consider more targets as a leapable-enemy
Desert Titan
Fix for Desert Titan sometimes freezing/refusing to move during boss fight
Fix for Desert Titan occasionally flying out of world bounds
Untamed Desert Titan ground targeted lightning attack will now have a variable delay
Removed Burning debuff that the lightning field puts on enemies
Titans
Reduced damage to structures from melee attacks
Mating
Added "Enable Mating" under Behavior dial on Dinos, wandering is no longer required to mate
Change dino hover UI to read "Enable Wander or Mating to Mate" instead of "Enable Wander to Mate"
UI
Moved chatbox down to lower left corner
Inventory
Increased Bullet/Arrow stack size to 100 (from 50).
Turrets
Reduced Auto/Heavy turret inventory size roughly 40 percent, to accommodate ammo stack change (results in slight increase of max # of bullets they can store)
Tribes
Finish increasing tribe group rank limit from five to 10
A player can not accept alliance invites unless they are tribe admin
Alliance invites and new tribes added or removed from alliances is now logged in the Tribe Log.
Cryopod
Tooltips now contain the stats of the dino
Mating timer now advances while in a Cryopod unless the Cryopod is transferred, then it is reset to respect the new server's MatingIntervalMultiplier
Baby aging is paused while in a Cryopod
Baby imprinting is paused while in a Cryopod
Baby gestation is aborted when entering a Cryopod
Air Conditioner
Reduced Air Conditioning SFX radius
Plant Y
No longer affects Quetz and Karkinos
Plant Z
Stun cooldown increased vs dinos, five seconds -> 7.5 seconds
Megalania
Halved torpidity decrease rate
Bola
You can now struggle to get out of bola faster
Experimental
Added [ServerSettings] ItemStackSizeMultiplier to allow increasing or decreasing item stack size
Added [/Script/ShooterGame.ShooterGameMode] ConfigOverrideItemMaxQuantity to allow manually overriding item stack size on a per-item basis
Mesh Memory Optimizations
Doedicurus
Parasaur Saddle
Rex Saddle
Sauropod Saddle
Various Particle Meshes
Particle Memory Optimizations
Skins
Fixed missing Bionic skins
As far as the Valentine's Day event is concerned, it's more or less the exact same package survivors have enjoyed over the past few years. Especially if you have two high-level Dinos you'd like to mate, now's the best time to do it. Just make sure to compare stats carefully so you can get the best possible result from each mix. The only possible downside is the lack of purple coloring, which has traditionally been a part of the festivities in the past. Because past events used it, however, Wildcard may have opted to change things up.
In terms of fixes, the changes for the Managarmr are probably the most significant. That creature has been a little bugged for the past few weeks, so it's nice to see Wildcard respond to community requests to ensure remaining bugs with expansions are actively investigated. The changes here aren't quite as extensive as the major memory overhaul from late January, but there's enough here to prove this patch is more than a slight seasonal shift.
ARK: Survival Evolved is available now on PC, Xbox One, PS4 and Nintendo Switch. The Valentine's Day event is not available on Nintendo Switch.
What are your thoughts on this latest ARK event? Is there enough here to get you in the Valentine's Day spirit? Tell us in the comments section!