'ARK' Update 1.92 Adds Eggcellent Adventure for Easter on PS4 & Xbox - Patch Notes
ARK: Survival Evolved version 1.92 is going live, and that means Eggcellent Adventure 2019 has officially begun. You'll be able to craft new skins using Bunny Eggs and tame festive-colored Dinos through April 30. The full patch notes arrive courtesy of the latest blog post from Studio Wildcard.
ARK: Survival Evolved Update 1.92 Patch Notes - Eggcellent Adventure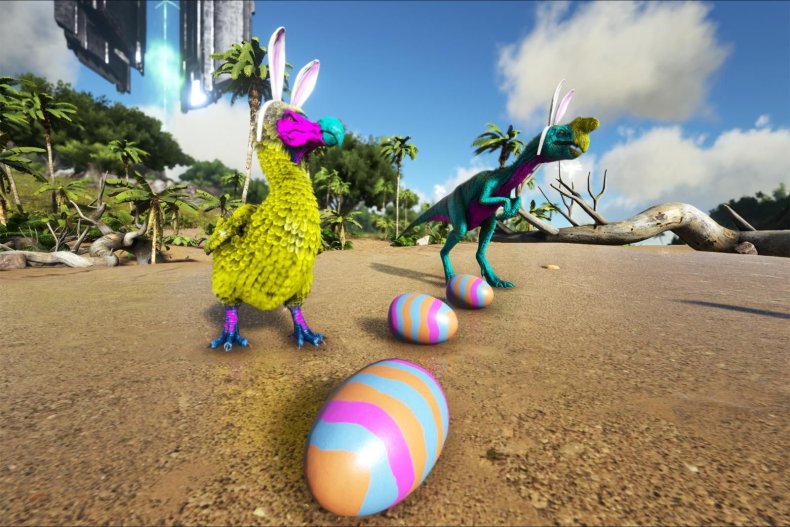 Eggcellent Adventure 4 (2019)!
Auto Activates 4/16-4/30

Not supported in Primitive Plus mode

Wild Bunny Oviraptors

50 percent of wild Oviraptors (33 percent of wild Aberrant Dodos on Aberration) are Bunny Oviraptors
Cannot be tamed
NEW! Drop Easter Candy as they spread Easter joy!

Feed your candy to your tame for a fun festive effect!

Wild Bunny Dodos

50 percent of wild Dodos (33 percent of wild Aberrant Dodos on Aberration) are Bunny Dodos
Cannot be tamed
Drop Easter Eggs as they spread Easter joy!

Easter Eggs

Can be placed in the world and painted

Easter Skins

Craftable in the Cooking Pot from Easter Eggs
Bunny Ears Skin
Procoptodon Bunny Costume
NEW! Marshmallow Dodo Hat
NEW! Chocolate Bunny Club
Egg Shell Hat
Chick Hat

Wild creatures have a chance to spawn with additional colors: Green, Magenta, Yellow and Blue
Managarmr
Drastically reduce frost breath range

Freezing stops at approximately turret range
Damage stops at approximately half turret range
Prim+
Fixed inability to craft Primitive+ specific resources in the forge
Fixed inability to harvest coal from obsidian
Fixed inability to harvest beeswax
Fixed problems with beehive functionality
Cauldron/Industrial Cooker can now craft new kibble
New kibble is now functional on dinos
Meshing
Desert Titan now requires line-of-sight to do melee or lightning damage
Prevented cryoing Karkinos while they are carrying something
Exploits
Fixed exploit related to Rockwell Tentacles
Fixed exploit related to Tek Swords
Fixed exploit related to Fish Baskets
Environment
Aberration

Fixed issue with blue mushrooms not allowing Ankylo to harvest properly
Platform Saddle
Enable platform build limits saddles PlatformSaddleBuildAreaBoundsMultiplier, can be used to increase this radius on unofficials
Prevent platform Saddles counting towards the max turret limit
Taxidermy
Now properly supports Weapons on Humans!
Adjusted Desert Titan's dermis offset
Homestead
Icon Iteration
Fixed LODs for Tek Triangle Roof
Setup colorization for Fence Foundation
Setup colorization for Wood Railing
Kentrosaurus
Added a hard clamp to damage reflection
Equus
GPS Transponders
Fixed transponders disappearing
Placed Transponder Node no longer scales up after restart
Mind Wipe
Updated description of Mind Wipe to reflect 24-hour cooldown
Rendering Artifacts
Fixed rendering artifact in Scorched Earth Dust Storm
Fixed rendering artifact in Extinction Ascension
Cryopods
Cryosick dinos are no longer able to attack
Now use players in-game name in the tribe log
Industrial Cooker
Now supports pulling water from any connected source
Never auto-activates when connected to water
Extinction
Removed GlobalCuddleFoodList Override array
Turrets
Use FastTurretTargeting system automatically for anything moving faster than 300 cm/s
Sloped Wooden Wall
Adjusted Left Sloped Wooden Wall to fit better with attaching to a normal wall
C4
Can now place C4 near ORP protected structures, except near foundations
Dino Leash
Dino leashes no longer can be placed near enemy foundations
LOD iteration for
Basilisk
Flak Armor
Ghillie Armor
As far as ARK events go, 2019's Eggcellent Adventure is pretty much par for the course. There's nothing incredibly exciting here in terms of new features, but it's still a fun opportunity to get some limited cosmetics and tame rare Dinos. Coming off the major Homestead update in March, though, survivors should feel pretty good about the festivities. We're pretty partial to the Chocolate Bunny Club, even if it makes us a little hungry.
Beyond the Eggcellent Adventure content, the biggest changes here are probably the Managarmr nerf and additional Primitive+ tweaks. The Managarmr has been an especially controversial addition to ARK since it debuted alongside Extinction, but hopefully this is the last balance pass the creature needs to feel properly leveled against its many foes. At the very least, now survivors can't be stopped dead in their tracks from a mile away. On the Prim+ side, the fixes further stabilize a mode that's become somewhat broken after recent patching. ARK update 1.92 isn't a huge overhaul, but Eggcellent Adventure is exactly what fans have been asking for.
ARK: Survival Evolved is available now on PC, Xbox One, PS4 and Switch. The Eggcellent Adventure update is deploying on all platforms except Switch.
What are your thoughts on ARK's Eggcellent Adventure for 2019? Do these patch notes do enough to make the game more stable? Tell us in the comments section!