'ARK' Update 1.93 Fixes Eggcellent Adventure Bugs on PS4 & Xbox - Patch Notes
ARK: Survival Evolved update 1.93 has just released on PC, Xbox One and PS4 to fix critical bugs that emerged following the start of last week's Eggcellent Adventure event. If you've become frustrated by turrets, Dino movement and missing cosmetics, you're going to like what you see in the patch notes.
ARK: Survival Evolved Update 1.93 Patch Notes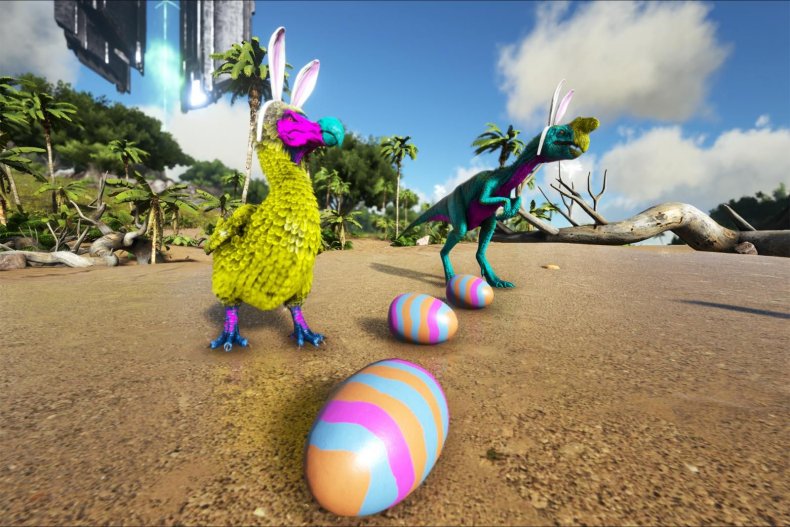 Eggcellent Adventure
Added missing Dino Marshmallow Hat skin to the Cooking Pot
Plant X
Disabled Fast Turret Targeting change for now, further iteration required
Dinos
Fixed movement bugs related to stacked impulses change which affected movement for Managarmr, Gasbags, and others
Turrets
Now ignore players using 'leavemealone' or 'enemyinvisible' admin cheats
Mantis
Fix for weapons not equipping properly
While this patch is far from comprehensive, it addresses a couple bugs that became particularly troublesome after Eggcellent Adventure kicked off last week. The fast targeting features of Plant X are great for defense, but some would say they're too good and possibly abused. Since the discussion about it has evolved into a full-blown debate amongst fans, it makes sense to disable everything till a compromise can be struck. Also, considering the Dino Marshmallow Hat was supposed to be a highlight craftable during the event, it's probably a good idea to have it in the rotation. With regard to Dino movement, several creatures were rendered uncontrollable after the previous patch. All these hitches in mind, ARK: Survival Evolved update 1.93 may not be content-rich, but it's absolutely necessary to enjoy the game.
ARK: Survival Evolved is available now on PC, Xbox One, PS4 and Nintendo Switch. Today's update is on all platforms except Switch.
What are your thoughts on ARK update 1.93? Does this patch fix the game's biggest bugs? Tell us in the comments section!