'ARK' Update 2.04 Adds Fear Evolved 3 on PS4 & Xbox - Patch Notes
ARK: Survival Evolved update 2.04 has arrived, bringing the Fear Evolved 3 event to PC, Xbox and PS4 platforms through November 5. During that time, players will be able to tame special event creatures and collect new and existing cosmetics related to the established Fear Evolved event series. Here are the patch notes and known additions courtesy of a Studio Wildcard blog post.
ARK Update 2.04 Patch Notes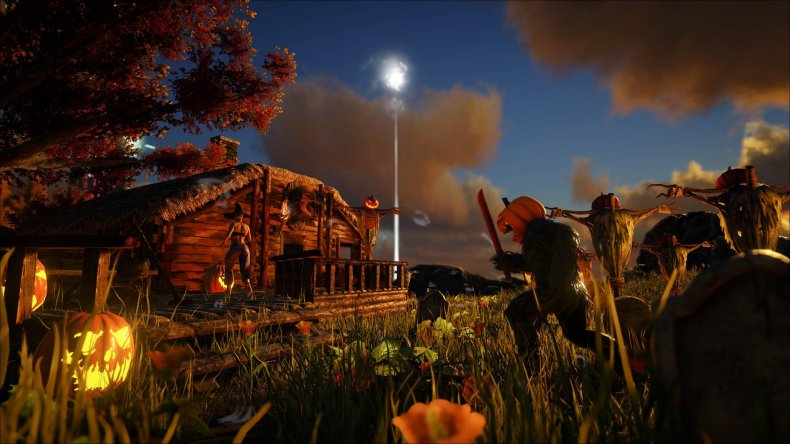 ARK Update 2.04 Patch Notes
Fear Evolved 3
Rules

2X Breeding (mating interval, egg hatch speed, and maturation)
2X Player XP
2X Harvesting
Blood-moon, DodoWyvern and DodoRex return. Find Tombstones to gather skins.

Wild Creature Event Colors

Dino Light Orange
Dino Light Red
Dino Dark Orange
Dino Dark Red
DragonBase0
DragonBase1
Dino Dark Purple
Dino Light Brown
Dino Dark Brown
Dino Light Green
Dino Light Grey
Dino Darker Grey
Dino Light Blue
Dino Dark Yellow
DragonFire
NearBlack

New Event Items

Jack O'Lantern Mask
Hockey Mask
Headless Neck stump
Halloween-inspired Dino Colorization Candy
Panic Emote
Spooky Dance Emote
Zombie Emote

Prior Event Creatures

DodoRex
Zomdodo
Dodo Wyvern
Skeletal Giganotosaurus
Skeletal Quetzal
Skeletal Jerboa
Bone Fire Wyvern
Zombie Fire Wyvern
Zombie Lightning Wyvern
Zombie Poison Wyvern
Skeletal Bronto
Skeletal Stego
Skeletal Trike
Skeletal Raptor
Skeletal Rex
Skeletal Carnotaurus

Prior Event Items

Pumpkin
Stolen Headstone
Scarecrow

Prior Event Skins

DodoWyvern Mask Skin
Clown Mask Skin
Vampire Eyes Skin
Werewolf Mask Skin
Giganotosaurus Bone Costume
Jerboa Bone Costume
Quetzalcoatlus Bone Costume
Wyvern Bone Costume
DodoRex Mask Skin
Carno Bone Costume
Rex Bone Costume
Raptor Bone Costume
Bronto Bone Costume
Trike Bone Costume
Stego Bone Costume
Witch Hat Skin
Dino Witch Hat Skin
It's been three years since the last ARK Fear Evolved event took over the Island and the Center, which means 2019's festivities have the benefit of exploiting previously unused maps and a whole new collection of creatures that have since been added to the game. Development of said expansions has been the root cause of scrapped Fear Evolved events in past years, but, despite ongoing work on Genesis, Wildcard has finally rekindled its spooky spirit. Throughout 2019 the developers promised a recommitment to limited-time offerings, and this might be the biggest one yet.
The start of Fear Evolved 3 arrives just a few weeks after the debut of the Extinction Chronicles teaser content. For those who missed that info dump, a small collection of Explorer Notes have been added to the game that offer a sneak peek at the lore behind Genesis. Collect all of them, and you'll gain access to special Corrupted Avatar Armor.
ARK: Survival Evolved is available now on PC, Xbox One, PS4 and Switch. Fear Evolved 3 is only live on PC, Xbox One and PS4.
What do you think of Fear Evolved 3 based on these patch notes? Is there enough here to bring you back to the game? Tell us in the comments section!