'ARK' Update 2.06 Adds Explorer Notes & Fixes Fear on PS4 & Xbox - Patch Notes
ARK: Survival Evolved update 2.06 has just released on console, fixing Fear Survival Evolved and adding a few new Explorer Notes for Genesis Chronicles. The patch notes are fairly short, but interested fans can read them courtesy of an update to a Studio Wildcard forum post.
ARK Update 2.06 Patch Notes PS4, Xbox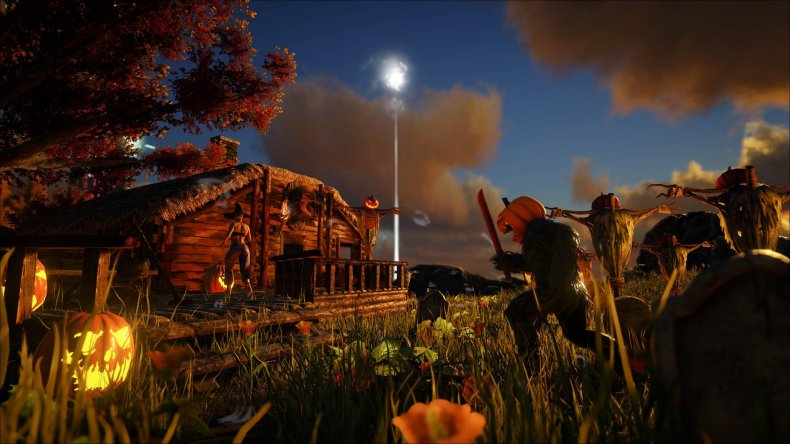 Added HLN-A Explorer Notes 6-10 for Genesis Chronicles
Added Corrupted Avatar boots and pants for Genesis Chronicles
Fixed issue with DodoRex/DodoWyvern not despawning in daylight for Fear Evolved
Fixed issues with moon visibility for Fear Evolved
Fixed Deinonuchus spawning issues stemming from Fear Evolved
While there's not much here in terms of content, the Fear Evolved fixes listed above have plagued ARK players on console for the past few weeks. Because the limited-time boss threats weren't despawning at the proper times, the difficulty level for the early days of Fear Evolved has been quite a bit higher than some fans anticipated. While seeing new Dino colors and getting cool cosmetic items proves to be lots of fun almost every time Fear Evolved is in season, bugs like these made the event frustrating to engage with. And, unfortunately, due to the huge file size of the PS4 and Xbox updates, it looks like the fixes required lots of under-the-hood adjustments.
When not scrounging for supplies during Fear Evolved 3, there are also five more Explorer Notes for players to find in continuation of the Genesis Chronicles storyline. For those who've missed the memo, ARK's Genesis expansion is set to release by year's end. Just like Extinction Chronicle's before it, this content intends to get players hyped for the DLC with teases about lore and new creatures. Those who collect all the notes can get a whole new armor set for free.
ARK's Genesis expansion takes players to a new map in a totally new simulation with creatures like a Giant Tortoise, Lava Lizard and shape-shifting Gremlin. The new content also features HLNA, the first speaking AI character in all of ARK: Survival Evolved. Fans who purchase the Season Pass can get a preview of HLNA in game right now, but the full version will be much more robust once the expansion releases. In many ways, Genesis and future expansions stand in for an ARK sequel designed to please the game's hardest of hardcore fans.
ARK: Survival Evolved is available now on PC, Xbox One, PS4, and Switch. The 2.06 update is available now on PS4 and Xbox One.
What are your thoughts on ARK update 2.06? Are your Fear Evolved bugs fixed? Tell us in the comments section!