ARK: Survival Evolved just got a huge update on console that weighs well over 20GB for some users. While the sizable download presumably implies major developments in Studio Wildcard's popular survival game, that is not the case. As patch notes suggest, the latest version only fixes a single crash and some rendering issues. Read all about them courtesy of an official forum thread.
ARK Update 2.13 Patch Notes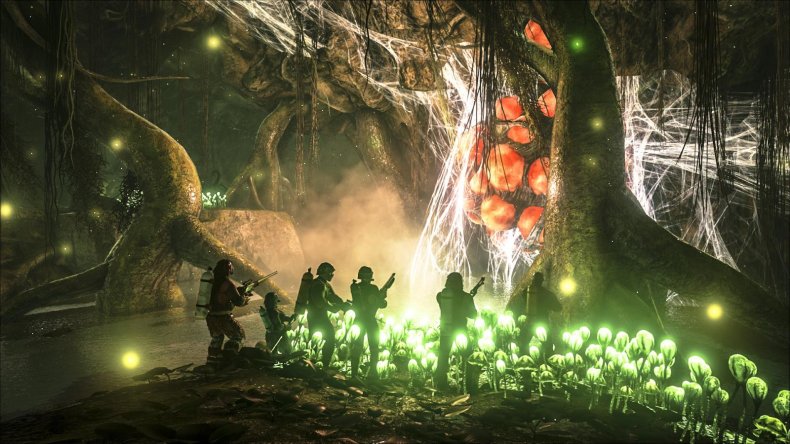 Fixed crash due to bodies not disappearing
Various KBM fixes
Fixed skybox rendering
In other words, ARK players will be murdering their ISP data caps for basically nothing. Fixing crashes and improving skybox rendering may be a crucial part of any smooth gameplay experience, but it seems as though these fixes could have made their way to the game as part of a more substantial patch. After all, ARK's PC players were treated to a much more meaningful update over the past few days that included tweaks to address meshing problems and several harmful gameplay exploits. Wildcard contends that console players will see those fixes soon but has yet to provide an exact date of arrival.
At the very least, it's nice to know ARK's developers remain committed to the thriving community of players that get their survival fix on a Microsoft or Sony platform. This assurance is especially salient considering we are likely just a few weeks away from the release of ARK's big Genesis expansion. The huge addition to the game adds new maps, equipment, creatures and a fully voiced AI companion. Highlights include species with epic transformations, a giant turtle that acts as a mobile home and much more. ARK's Genesis expansion is expected to release by the end of January which, in Studio Wildcard time, could very well be as late as January 31 barring any unforeseen delays. Until then, minor updates like these are all survivors have to look forward to.
ARK: Survival Evolved released for the public in 2015 as one of the poster children for early access success. Over two years of community-infused development, the team quietly added new creatures and developed console ports of the title for all major platforms by 2016. All versions of the game remain fairly active with the exception of the languishing Switch port, which has not received most major updates or events over the last several months.
ARK: Survival Evolved is available now on PC, Xbox One, PS4 and Nintendo Switch. Update 2.13 is exclusive to PS4 and Xbox One.
What are your thoughts on this latest update for ARK: Survival Evolved? Were you hoping to get more from this huge download aside from a few bug fixes? Tell us in the comments section!