ARK: Survival Evolved update 2.14 has just landed on PS4 and Xbox One, offering console players the round of exploit fixes and Enforcer balance changes that made their way to the game's PC version last week. While there's nothing exciting here with regard to gameplay, the patch notes feature resolutions for many critical issues fans have been complaining about. Read the full details below.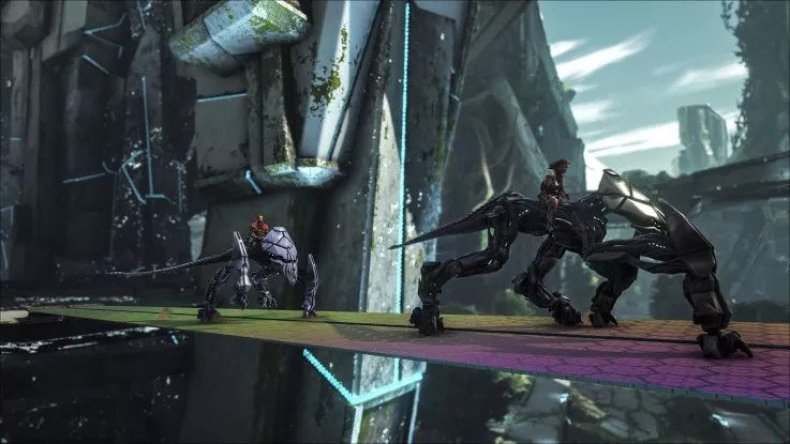 ARK: Survival Evolved 2.14 Patch Notes
Fixed S+ structure placement issues
Unattach all grapple hooks when sitting on a chair.
Disabled climbing picks from attaching to gateframes, charged lanterns, ladders, fence foundations, and railings.
Fixed two mesh exploit related to creatures.
Fixed two mesh exploits related to structures.
Fixed Ice Titan breath going through the mesh.
Fixed some cases where building structures did not use a bidrectional trace check (allowing certain structures to be placed deep into the mesh).
Fixed a case where a collision check on players wasn't correctly applying thereby allowing them to go enter some meshes.
Fixed a bug which prevented players entering 'K' cam a second time if they had a weapon/tool in their hand.
Fixed a bug with the Velonasaur's attacks causing it to incorrectly attack the wrong collision group on Paracers, Diplodocus, Brontos, and more creatures. (They should no longer take damage when you target the air beneath their bellies).
Fixed an incorrect collision profile which allowed MEKs to collide into and stack on top of one another.
Enforcer blink recharge cooldown reduced from 20 seconds to seven seconds
Enforcer blink range extended from 4,000 units to 5,000 units
Enforcer can no longer blink onto/or very very near creatures
Fixed a bug which would sometimes cause the atmospheric fog to break
Items placed on top of water pipes will now respect enemy foundations.
Pipes can no longer be placed on enemy structures
Fixed an exploit with the snow owl that allowed it to infinitely freeze players
Fixed the enemy build radius check for the fence support
The main feature of update 2.14 is its exploit fixes that will make fans of the game's PvP and standard offerings alike feel much better about the state of the game. In an experience like ARK where every creature and supply might mean the difference between life and death, it's not very helpful when Dinos and structures start clipping through the map. Worse yet is when other players take advantage of those bugs for nefarious purposes. With these fixes, survivors will be more exposed to the open elements and less able to surprise those who abide by the rules.
The other curious change to be found here is related to the Enforcer, which has had its blink range significantly nerfed. Over the past few months the creature has become seriously OP to the point of abuse, so these changes were absolutely necessary. ARK update 2.14 may be the last one the console build receives before the Genesis expansion arrives later in the month. A proper release date for the DLC is still not known, but these fixes should help keep fans satisfied until there is one.
ARK: Survival Evolved is available on PC, Xbox One, PS4 and Switch. This patch is exclusive to PS4 and Xbox One.
What are your thoughts on ARK update 2.14? Have all the biggest exploits been fully patched? Tell us in the comments section!