'ARK' Update 2.25 Adds Eggcellent Adventure 5 on PS4 & Xbox - Patch Notes
ARK: Survival Evolved update 2.25 just went live on PS4, introducing Eggcellent Adventure 5 content to the game. If you're looking for new skins, emotes and Chibis to collect during quarantine, this small download has everything you need. Read the full patch notes below courtesy of a blog post from Studio Wildcard.
ARK Update 2.25 Patch Notes - Eggcellent Adventure 5 Event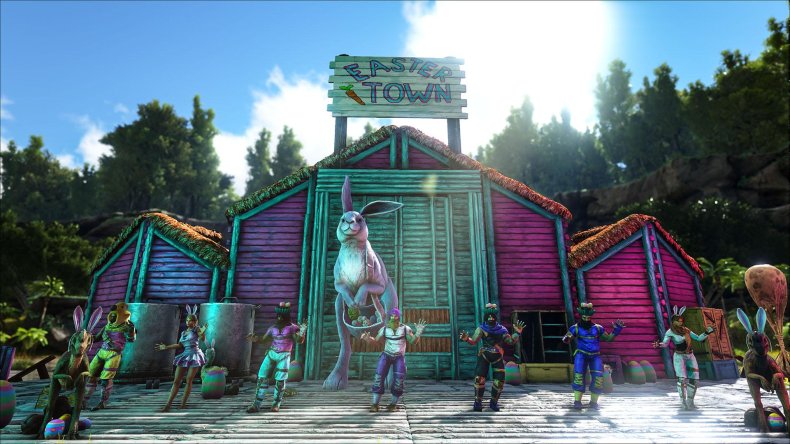 Rate Boosts
4X Breeding (mating interval, egg hatch speed, and maturation)
4X Player XP
4X Harvesting
4X Taming
New Chibi's
Megalodon
Karkinos
Beelzebufo
Basilisk
Seeker
Bunny
New Emotes
Skins
New Content
Easter-themed C4 with easter-themed explosion VFX
Chocolate Egg Easter Hat
Easter-themed Spear
Existing Content
Bunny Ears Skin
Bunny Ears Skin
Procoptodon Bunny Costume
Dino Easter Chick Hat
Dino Easter Egg Hat
Easter Chick Hat
Easter Egg Hat
Marshmallow Hat Skin
Dino Marshmallow Hat Skin
Chocolate Rabbit Club Skin
Items
Existing Content
Festive Dino Candy
Event-colored Wild Creatures
Magenta
Light Green
Light Yellow
Light Orange
Light Red
Dino Light Brown
Dino Dark Brown
Yellow
Cyan
Green
Dino Medium Blue
Turquoise
LightPink
DeepPink
Peach
Mint
Teal
PowderBlue
Cream
While Eggcellent Adventure 5 may not offer much in the form of full-featured quests, there's a decent amount of content to behold with regard to crafting and cosmetics. Chibis have become a holiday favorite in recent months, and these latest festivities provide access to all previous Chibis plus six new ones. Despite a dearth of new skins, survivors will be able to collect items from past years as well if they haven't already. Eggcellent Adventure isn't as involved as Turkey Trial or Winter Wonderland before it, but, considering everything here was likely created under atypical development circumstances, it's a nice gift for players nonetheless.
For those who haven't experienced Eggcellent Adventure before, its basic premise revolves around collecting Bunny Eggs from Bunny Dodo's scattered across the map in the usual places one might find a Dodo. They offer Bunny Eggs, which can then be used to craft most of the items listed above. For a change in color, seek out a Bunny Oviraptor. These drop Dino Candy, which can change your favorite creature's hue. Essentially all you've got to do is farm Dodo's to get some cool skins. This event arrives after several Genesis balance patches designed to address issues with tames, meshing exploits and more.
ARK: Survival Evolved is available now on PC, Xbox, PS4, Switch, Mac and Linux. Eggcellent Adventure 5 is deploying now across all major platforms.
What do you think of Eggcellent Adventure 5 based on these patch notes? Does this Easter event live up to expectation? Tell us in the comments section!