ARK: Survival Evolved update 2.27 is officially live on PS4 and Xbox One, but the light download doesn't do much that impacts gameplay. Keyboard and mouse controls have been tweaked, and a few lingering console crashes have been resolved. Read the full patch notes courtesy of a Studio Wildcard forum post,
ARK: Survival Evolved Update 2.27 Patch Notes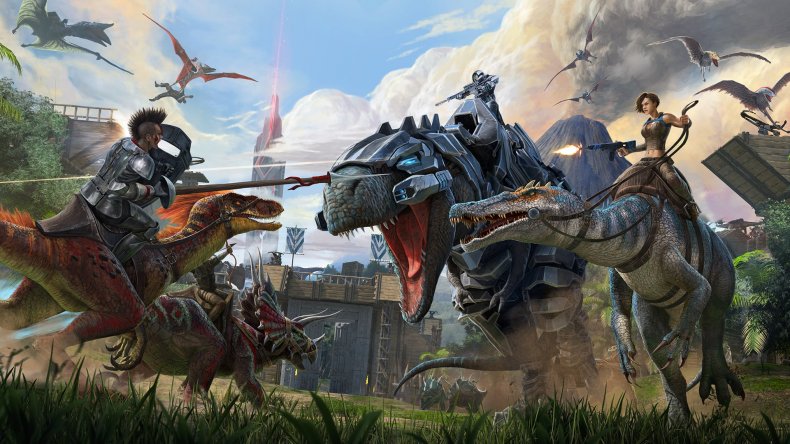 Fixes for Mouse and keyboard zooming speeds
Scrolling with the middle mouse button is fixed
Alliance Chat now working
Crash when returning to the main menu is fixed
Made multiple improvements to the Hexagon Exchange UI
If you were one of ARK's very few console players leveraging PC controls, then update 2.27 offers a couple worthwhile improvements for you. Prior to this patch it was difficult for users to zero in on a proper zoom speed while using a mouse. Interactions were either way too aggressive or far too slow, It's assumed that with these changes there will be much better transitions between menus and improved inventory access. Scrolling ability is one of the biggest advantages of having a mouse at your disposal on any platform, so it's imperative that that mechanic work correctly in ARK.
Beyond that, much of the other fixes found in ARK update 2.27 are fairly small. A functional Alliance Chat is exceptionally necessary in PvE and PvP modes alike, so it's nice to know those comms have been fixed. And, as always, crashes on any platform are never a good thing. Any resolutions in that area are greatly appreciated. ARK update 2.27 may not be the sexiest update this expanding game has ever seen, but the fixes it offers are necessary for providing an enjoyable experience across PS4 and Xbox One.
The May 5 ARK update arrives just a few days after another small patch that made its debut on May 1. That download addressed meshing exploits, server stalls, failed downloads and server crashes. There have been a series of small update releases over the past few weeks, with the most recent fundamental gameplay changes going live April 21.
As far as major content additions are concerned, the next big ARK update for fans to look forward to is the second chapter of the Genesis Season Pass set to premiere this fall. That being said, while that release window was initially promised, it remains to be seen how the COVID-19 pandemic might impact those development plans. For now, though, Wildcard has done a solid job of making sure its base game runs smoothly.
ARK: Survival Evolved is available now on PC, Xbox One, PS4, Switch, Mac and Linux.
What are your thoughts on ARK's latest update? Have you ever tried mouse controls on PS4 or Xbox One? Tell us in the comments section!