'ARK' Update 2.28 Adds Bloom & Shaft Disable on PS4 & Xbox - Patch Notes
ARK: Survival Evolved got another minor update on console on Tuesday evening. Labeled as version 2.28 on PS4, the patch allows users on Sony's console and Xbox to disable light shaft and bloom effects. It also fixes a few lingering bugs as well. The patch notes arrive courtesy of a Studio Wildcard forum post.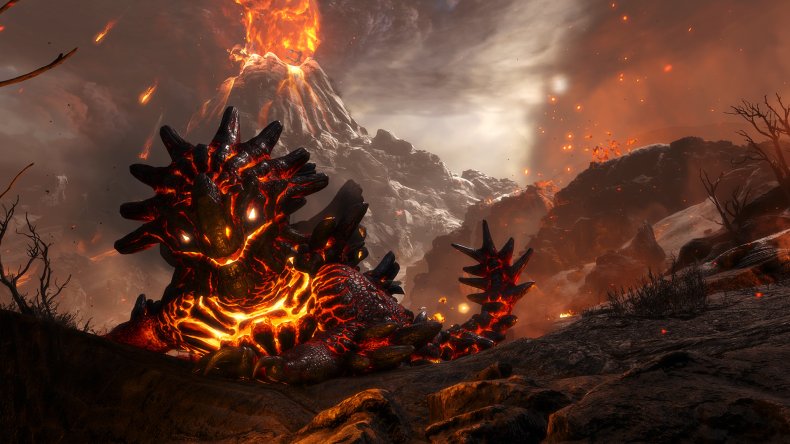 ARK: Survival Evolved update 2.28 Patch Notes
Added option to disable light shafts and bloom
Fixed an issued that caused bionic dino skins to disappear
Fixed an exploit which would cause players to become invisible
Fixed multiple level issues including holes, floating foliage, areas where they could get stuck, and missing volumes
Lava Lizard can now be spayed or neutered
Fixed some missing icon related to holiday emotes
Improved localization
Especially for hardcore console players, the biggest item on this list is the ability to disable light shafts and bloom. While these effects may look great under certain circumstances, they're also a distraction that can interfere with framerates in resource-heavy situations. With these graphics options disabled, players won't be blinded by intense beams anymore, and the surrounding scenery will appear more static. For those who prefer to prioritize performance over pretty, it's great to finally have that setting available.
The rest of update 2.28, however, is mostly mundane. Disappearing skins, exploits and map problems have been an ongoing frustration in ARK over the years, and we're glad to see such shortcomings remedied once again. The ability to prevent your Lava Lizard from breeding is also a nice touch for players who want absolute control over their creatures. These fixes are worth releasing as long as they're ready, but players shouldn't expect a drastically changed experience with update 2.28 installed.
Just like the previous update to ARK: Survival Evolved, this one more or less acts as an interstitial fix leading into the launch of the Anniversary Event on consoles starting next month. During that time, survivors will be able to celebrate with Party Dodos, interactive cakes and much more. This will be followed by the PS4 and Xbox release of the Crystal Isles mod map later in the summer. Beyond that window, fans on all platforms remain anxious to see what the second half of the Genesis Season Pass is all about. Provided delays don't impact development, it's assumed we'll hear more on that front later in the year.
ARK: Survival Evolved is available now on PC, Xbox One, PS4, Switch, Mac and Linux.
What do you think of ARK update 2.28? Are you glad bloom and light shafts can be turned off? Tell us in the comments section!