'ARK' Update 2.31 Adds Summer Bash 2020 Event on PS4 and Xbox: Patch Notes
ARK: Survival Evolved update 2.31 has just been released on PS4, bringing the Summer Bash 2020 event to Studio Wildcard's popular prehistoric sandbox through July 14. Players can craft themed cosmetics, find five new Chibis, and tame fancy-colored Dinos.
The patch notes arrive courtesy of an official blog post published last week.
ARK: Survival Evolved Update 2.31 Patch Notes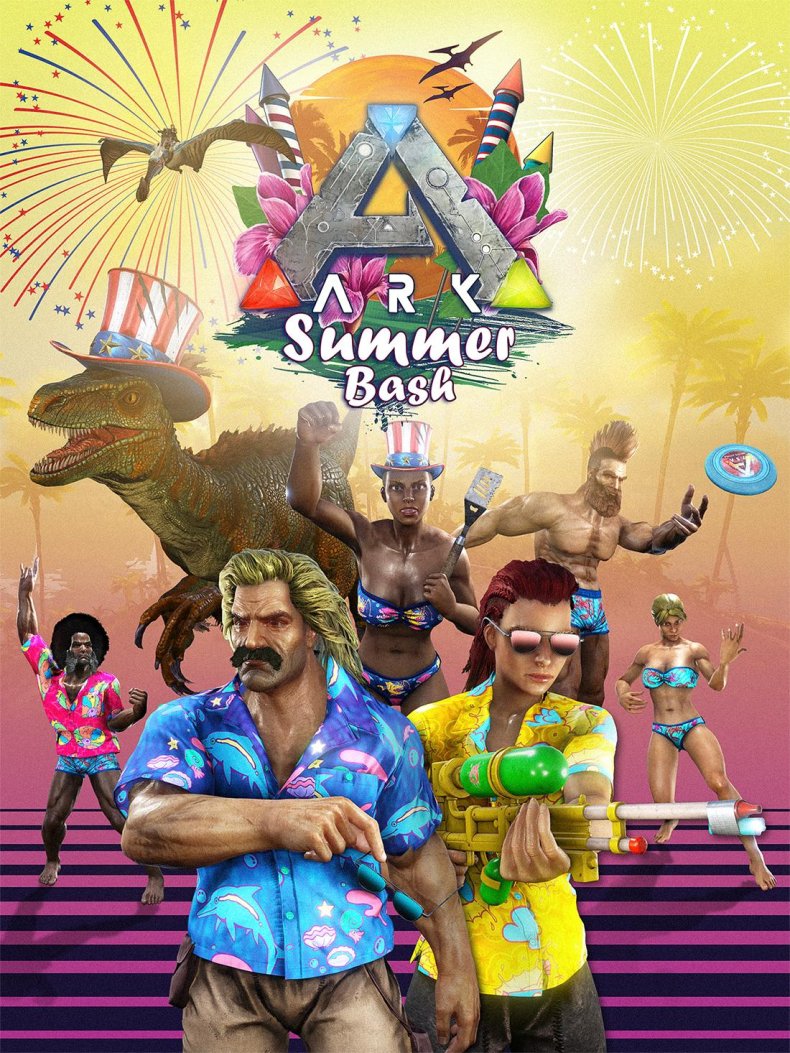 Rate Boosts
3X Breeding (mating interval, egg hatch speed and maturation)
4X Player XP
4X Harvesting
4X Taming
New Emotes
Guitar Riff
Drum Solo
Head Banger
New Skins
Four new Hawaiian-style shirt Skins
Three new Swimsuit Skins
BBQ-themed Grilling Spatula (Club Skin)
Frisbee Skin (Boomerang)
One Sunglasses Skin w/ customizable lenses
Super Soaker style Squirt Gun Skin (Flamethrower)
New Chibi Pets
Manta
Ammonite
Cnidaria
Plesiosaur
Astrocetus
Event-Colored Wild Creatures
Dino Dark Blue
Red
White
Dino Sky Blue
Dark Red
Blue
Light Grey
Cream
Cammo
Orange
MediumTeal
DarkBlue
LemonLime
Peach
Coral
With these patch notes in mind, ARK update 2.31 offers solid benefits to those who may have been disappointed by the fifth Anniversary Event that made its presence felt throughout the game's community earlier this month. When those controversial festivities first started, fans were frustrated by the lackluster mating rates, lack of event-focused Dino colors, and exciting gameplay-changing elements. It would appear Summer Bash doesn't feature much of the latter, but at least survivors have well over a dozen creature color options to lust for as they explore their favorite maps.
Given the struggles of developing a live-service game during a pandemic--as well as the pressing need to work on Crystal Isles on console and content for the second half of the Genesis Season Pass--it's no secret that some recent ARK events have lacked the depth longtime fans may be used to. However, it's exciting to see that Wildcard is still able to keep a steady stream of themed activities coming to its audience even in these troubled times. The sudden arrival of Summer Bash certainly seems like a direct reaction to negativity surrounding the maligned Anniversary launch, but it's a good reaction nonetheless. We can't wait to get in the summer spirit with this wide assortment of skins, cosmetics, in-game perks and collectibles.
ARK: Survival Evolved is available now on PC, Xbox, PS4, Switch, Mac and Linux.
What are your most excited to get during Summer Bash 2020? What do you hope to see from future events in ARK? Tell us in the comments section!