'ARK' Update 2.35 Adds Crystal Isles and New Rates on PS4 & Xbox: Patch Notes
ARK: Survival Evolved update 2.35 has officially arrived on PC, Xbox One and PS4, bringing the Crystal Isles mod map and a huge rate boost to consoles. Even though the substantial download is focused on content over quality-of-life fixes, you can still read the full patch notes below, courtesy of the latest Community Crunch blog post from Studio Wildcard.
ARK update 2.35 patch notes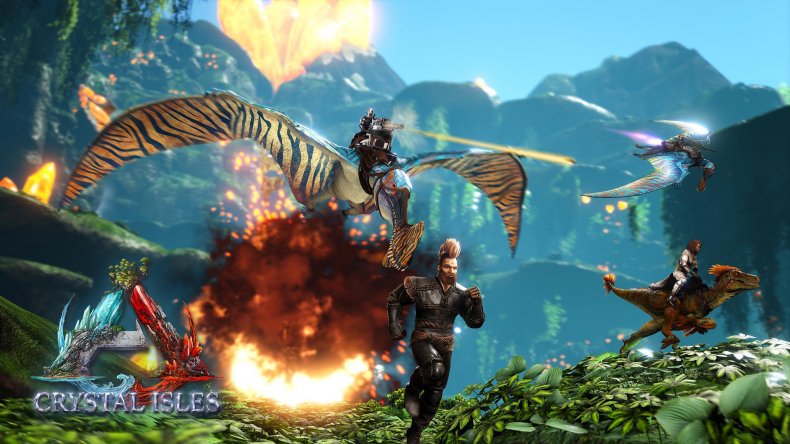 Crystal Isles Free Map DLC now available
Removed Trope spawn from non-Crystal Isle maps
Doubled harvesting, taming, and XP rates in the core game
Fixed multiple level design issues related to holes, volumes, floating foliage, and more across various maps.
Desert Kaiju lightning strike no longer goes through terrain/world geo
Reaper Kings in Rockwell Fight are no longer tamable
Setname now correctly checks for admin
Fixed multiple mesh exploits
While the patch notes for ARK update 2.35 aren't exactly the meatiest of the bunch, the changes they suggest are especially substantial for those playing ARK on PS4 and Xbox One. Crystal Isles has been a known quantity on the PC version of ARK since June and even before then, on an unofficial basis. However, this update marks the very first time this unique map will be available on closed platforms. Especially if you're looking to tame a Wyvern, this is probably the best place to do it. It's quite unlike any other map currently available on the PS4 or Xbox One versions of ARK.
For everyone else, that rate increase for harvesting, leveling and taming is absolutely huge. It means many of the game's most essential functions can be accomplished much faster than before, which makes it easier to see what the late-game content has to offer. It also makes us morbidly curious to see just how exciting the next Evolution Event will be. With doubling stacking on top of these new defaults, ARK will feel like a totally different game when those temporary boosts are active.
While we'd still like to see a similar blanket boost applied to breeding times in the future as well, this is certainly a positive step forward in that direction. In the absence of finer changes, ARK update 2.35 brings tons of exciting new content to PS4 and Xbox One.
ARK: Survival Evolved is available now on PC, Xbox One, PS4, Mac and Linux.
Are you excited to try out the console version of Crystal Isles? Is the 2X rate increase enough to bring you back? Tell us in the comments section!