ARK: Survival Evolved got a sizable update Thursday evening, clocking in at at least 15GB depending on your platform. While pretty massive in footprint, the PS4 and Xbox One download only exists to fix a few fairly minor problems following the release of the Crystal Isles mod map last month. Read the official patch notes below courtesy of a forum post from Studio Wildcard.
ARK Update 2.37 Patch Notes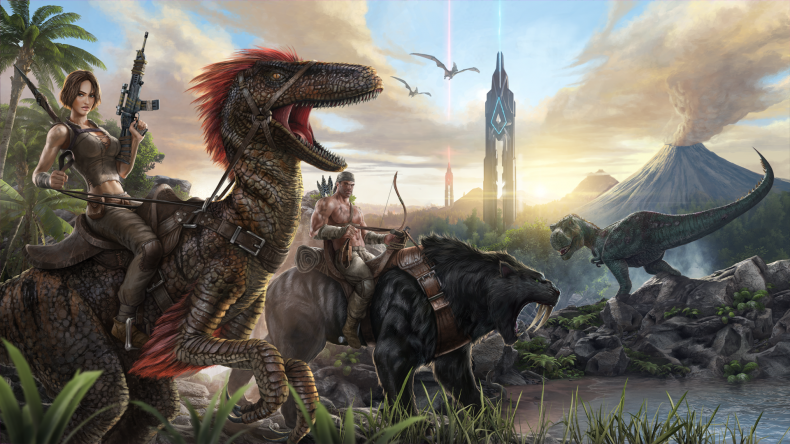 Fixed multiple level-design related bugs such as holes, floating foliage, incorrect volumes, etc.
Fixed Fence Supports requiring foundational support when trying to snap to each other
Added some protection to the Tribe UI to prevent players from accidentally leaving their own tribe or kicking themselves
Prevented the trough visual from displaying in spectator mode
Fixed a bug which would allow you to build a floating base
Prevented players from being able to level up tames above the server-specific level clamp
Fixed multiple mesh exploits
Fixed an exploit with the Astrocetus
Fixed a turret soaking exploit
Dino Leash will no longer prevent creatures from being transported via a TEK Teleporter
Fixed a bug that prevented the oil pump structure from being able to be placed on oil wells.
In many ways, ARK update 2.37 exists to stamp out some plosih-related issues that have cropped up over the past few weeks. Looking at the patch notes, it's good to see that issues like holes, floating foliage and in-game volumes have been adjusted to proper specification. In that same vein, it probably didn't help the PvP meta much to know some folks were able to build floating bases under the right conditions. The same goes for the mentions of "multiple exploits" and "turret soaking" too. ARK is at its least fun when cheers take advantage, so anything that encourages fair play is OK in our books. All that being said, though, ARK update 2.37 won't drastically change the game as you know it.
That much is being left for the upcoming TLC 3 update, which is scheduled to release later this month. In a recent Community Crunch blog post, Studio Wildcard outlined the big changes ahead for the Woolly Mammoth and Stegosaurus. While the Stego will soon get multiple new backplate modes that increase its toughness depending on the conditions of battle, the Mammoth will be endowed with a few new attacks and an AoE stamina buff. A release date for that TLC update has yet to be revealed, which means you may be stuck with these boring bug fixes for a bit.
ARK: Survival Evolved is available now on PC, Xbox One, PS4, Switch, Mac and Linux.
What are your thoughts on ARK update 2.37? Did this patch fix any of your big problems? Tell us in the comments section!