'ARK' Update 2.44 Adds Winter Wonderland 2020 on PS4 and Xbox - Patch Notes
ARK: Survival Evolved update 2.44 has arrived on PS4 and Xbox to kick off the Christmas-themed Winter Wonderland 5 event. Want to know what's coming from RaptorClaus and GacahaClaus through January 7? We've got the full details, courtesy of a recent blog post from Studio Wildcard.
ARK update 2.44 Patch Notes - Winter Wonderland 5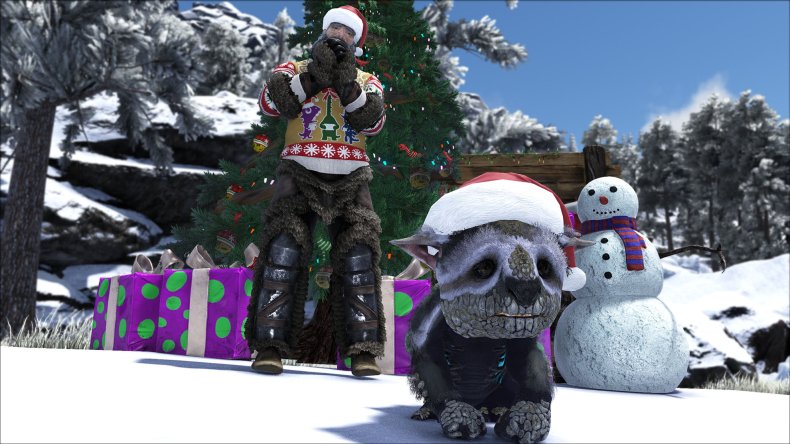 Event Details
This event can be manually activated with the server arg parameter: -ActiveEvent=WinterWonderland
Dates
December 17 to January 7
Rates
2X Breeding (mating interval, egg hatch speed, and maturation)
2X Player XP
2X Harvesting
Event Creatures
Event Skins
Rex Sweater Skin *NEW*
Carolers Sweater Skin *NEW*
Bulbdog Sweater Skin *NEW*
Blue Winter Beanie *NEW*
Purple Winter Beanie *NEW*
Green Winter Beanie *NEW*
Male and Female Noglin Swimsuit Skin *NEW*
Male and Female Yeti Swimsuit Skin *NEW*
Candy Cane Club Skin
Christmas Bola Skin
Nutcracker Slingshot Skin
Dino Ornament Swim Bottom Skin
Dino Ornament Swim Top Skin
Jerboa Wreath Swim Bottom Skin
Jerboa Wreath Swim Top Skin
Ugly Bronto Sweater Skin
Ugly Carno Sweater Skin
Ugly Chibi Sweater Skin
Gray Winter Beanie Skin
Purple Winter Beanie Skin
Red Winter Beanie Skin
Felt Reindeer Antlers Skin
Santa Hat Skin
Event Chibis
Shinehorn *NEW*
Featherlight *NEW*
Glowtail *NEW*
Bulbdog *NEW*
Top-hat Kairuku *NEW*
Reindeer *NEW*
Gacha Claus *NEW*
Event Items
Festive Dino Candy
Holiday Lights
Holiday Stocking
Holiday Tree
Gift Box
Snowman
Wreath
Wild Creature Colors
Jade *NEW*
PineGreen *NEW*
SpruceGreen *NEW*
DarkMagenta *NEW*
Glacial *NEW*
PowderBlue *NEW*
Teal *NEW*
DarkViolet *NEW*
Red
Green
Light Grey
Light Red
Dark Green
Dark Red
Dino Light Red
Dino Light Green
Dino Medium Green
Dino Albino
NearWhite
Bug Fixes
Fixed an exploit with tribe names
As far as how Winter Wonderland 5 works, the festivities sound pretty similar to what survivors may have experienced over the previous four years. Once midnight strikes on the in-game clock, RaptorClaus will take to the skies in his sleigh and drop gift boxes from above. In these boxes, you'll find various consumables like Mistletoe and Coal that can then be traded to GachaClaus for the Chibis and skins described above.
While the 2020 festivities don't appear to be the deepest ARK event we've ever had, there's certainly enough here for the game's faithful legion of players to dig into. That new collection of Chibis sounds especially tantalizing, regardless of how painstakingly annoying it will be to collect them.
Today's Winter Wonderland event arrives just a few days after the previous ARK update was deployed to add more content to Genesis 2 Chronicles last Friday. In addition to dropping some new DLC, the download also fixed minor bugs involving rideable Dinos and crabs. Given that today's update is only a few days separated from the previous one, it's no surprise there's very little here with regard to tangible gameplay overhauls.
As Wildcard continues to solidify the code of the original game in the leadup to ARK 2, we imagine there will be slightly fewer tweaks from here on out. ARK's next truly significant update arrives when Genesis Part 2 releases in March.
ARK: Survival Evolved is available now on PC, Xbox One, PS4, Switch, Mac and Linux.
What are your hopes for Winter Wonderland 5? Will you be collecting all the new Chibis? Tell us in the comments section!