'ARK' Update 2.46 Adds Explorer Notes and Tek Chest on PS4 and Xbox—Patch Notes
ARK: Survival Evolved got a minor patch Thursday evening to expand the game's Genesis 2 Chronicles festivities by adding new Explorer Notes to collect and rewards to earn. The team at Studio Wildcard also fixed a variety of glitches related to meshing, level design and more. Here's the full list of changes courtesy of an official forum post from the developers.
ARK update 2.46 Patch Notes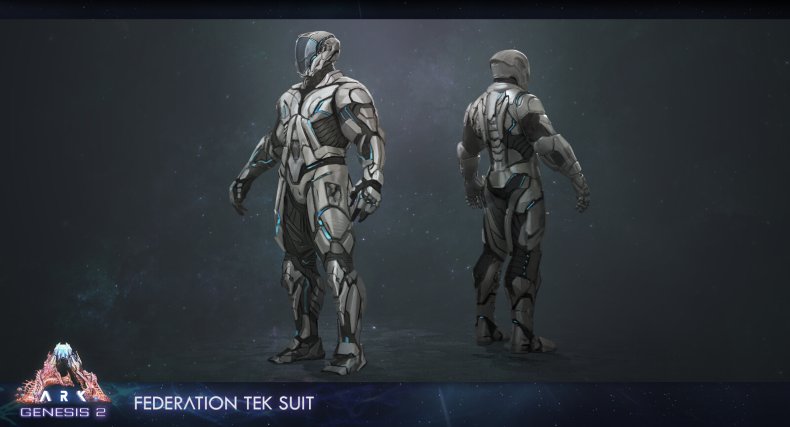 Added Explorer Notes 11-15 for Genesis Chronicles
Added TEK Chest V2 for Genesis Chronicles
Added additional mesh biting detection
Fixed multiple mesh methods
Managarmr can no longer dash when C4 is attached (Similarly to how the Pteranodon cannot roll)
Fixed multiple level-design related bugs such as holes, floating foliage, incorrect volumes, etc.
Fixed a bug where the TEK Turret did not respect Tribe Ranks
Fixed a crash with the Taming HUD
Fixed an exploit that allowed beehives to be duped
Deinonychus riders are now correctly dismounted when flashed by a Plant Species Z Fruit
[PC] Fixed a bug where the Scorched Earth Manticore was rewarding the incorrect amount of Element
[PC] Fixed an exploit that allowed players to create names with invisible letters
[PC] Fixed a bug where the Taming UI pop up would not function at reduced resolution scales
[PC] Carno Visual Changes (Texture/Material Update)
[PC] New Single Player/Host Setting: Enable Level Up for Flyer Movement Speed (You can enable the setting on Unofficials by doing the following: adding bAllowFlyerSpeedLeveling=True to the game.ini or -AllowFlyerSpeedLeveling to the command line)
The biggest front-facing feature for ARK update 2.46 is, of course, the addition of five more Explorer Notes and the Tek Chest V2. Since the launch of Genesis Chronicles 2 last month survivors have been able to collect themed boots and pants, but now the chest piece will be part of the look as well. As we inch towards the expected release date of Genesis Part 2 in March, it's time to start seeing what the new outfit looks like in its full gameplay glory. While this mini scavenger hunt is obviously no substitute for a proper DLC release, there's just enough here to keep players intrigued about what's to come in the months ahead.
On the bug fixes and tweaks side of update 2.46, Thursday's patch also fixes some seriously annoying problems the community has suffered through over the past few weeks. Perhaps most important of all is a resolution to the mesh biting glitch, which allowed enemies to bite-clip through the walls of your base when riding a creature. Equally frustrating was the beehive dupe, which caused major drops in server performance when many hives were clustered in the same general area. It would've been nice for ARK update 2.46 to include some meaningful gameplay changes, but the bug fixes listed above go a long way toward making the game more fun to play. This is particularly true considering Genesis Part 2 is coming fairly soon, it's important to ensure the base experience is as polished as it can be. That's what this most recent patch is all about.
ARK: Survival Evolved is available now on PC, Xbox Series X|S, Xbox One, PS4, Switch, Mac and Linux.
What are your thoughts on ARK update 2.46 so far? Did you find all the new Explorer Notes? Tell us in the comments section!