ARK: Survival Evolved update 2.48 has finally released on PS4, bringing the Love Evolved 2 Valentine's Day event to Studio Wildcard's popular survival sandbox. Once the new update is installed on your console, you'll be able to start fishing for a special kind of Coelacanth that provides consumables to help you craft event-themed goodies. Here's what we know about the event so far courtesy of the latest Community Crunch blog post.
ARK update 2.48 Patch Notes - Love Evolved 2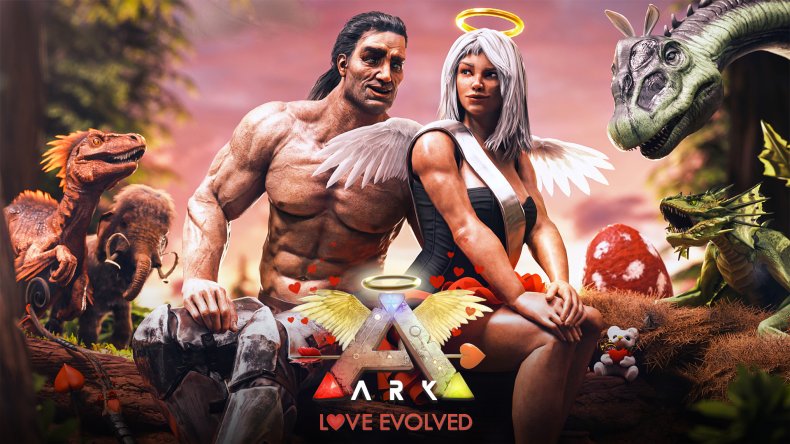 Event Details
This event can be manually activated with the server arg parameter: -ActiveEvent=vday
Dates
February 11 - February 18.
Activities
Valentines Coelacanth can be caught for chibis, chocolates, candies.
Mating can randomly drop chocolates and candies.
Rates
Increased breeding rates to 3x (mating interval, egg hatch speed, and maturation).
Increased taming rates to 3x.
Increased player XP rates to 3x.
Increased harvesting rates to 3x.
Skins
Valentine's inspired shield skin *NEW*.
Valentines inspired sunglasses skin *NEW*.
"Cupid Couture Bottom" (Pants Skin).
"Cupid Couture Top" (Shirt Skin).
"Halo Headband" (Hat Skin).
"Teddy Bear Grenades" (Grenade Skin).
"Bow & Eros" (Bow skin).
"Love Shackles" (Handcuffs Skin).
Items
Box o' Chocolates.
Valentines Dino Candy.
Emotes
Chibi's
Crystal Wyvern *NEW*.
Mesopithecus *NEW*.
Otter *NEW*.
Enforcer *NEW*.
Velonasaur *NEW*.
Wild Event Creature Colors
Lavender *NEW*.
Cream *NEW*.
MediumLavender *NEW*.
Peach *NEW*.
DeepPink *NEW*.
LightPink *NEW*.
Dark Red *NEW*.
Red.
Magenta.
Light Red.
White.
While some additional and minor bug fixes and tweaks may be announced shortly, the biggest feature of ARK update 2.48 is the start of the Love Evolved 2 event. Similar to the festivities that occurred last year, players must look for special fish that have hearts fluttering over their heads. Catch them and you'll be rewarded with a random Chibi, some Valentine's Dino Candy or a Box o' Chocolates. The last two items are the main consumables required to craft the items listed above. Hopefully you're good at fishing because you'll be doing lots of it over the next week or so.
For those who participated in Love Evolved 2020, there's plenty of reason to feel the contents of ARK update 2.48 are a bit underwhelming. After all, there are just two new skins to make for shields and sunglasses. A duo of new items is certainly better than none, but it doesn't give those who got most of last year's items a great reason to return to the game. Unless you're a collector of Chibis, of course, because there are five new additions to the growing pool of tiny pets. As long as you can endure the random fishing grind to snag one, the latest Chibi designs sound pretty neat. In many ways, Love Evolved 2 is just another chance to get existing cosmetics. If you didn't have them, that's a decently good thing.
ARK: Survival Evolved is available now on PC, Xbox Series X|S, Xbox One, Switch, Mac and Linux.
What are your thoughts on ARK update 2.48 based on these patch notes? Are you excited for Love Evolved 2? Tell us in the comments section!