'ARK' Update 2.49 Adds Genesis Chronicles Notes on PS4 and Xbox—Patch Notes
ARK: Survival Evolved console update 2.49 released on PS4 and Xbox Tuesday night, and now we finally know what the small download does. The TEK Federation gloves can be unlocked after finding a few new Explorer Notes scattered across the Extinction map. Read the full details in the patch notes below, courtesy of a recent forum post from Studio Wildcard.
ARK Update 2.49 Patch Notes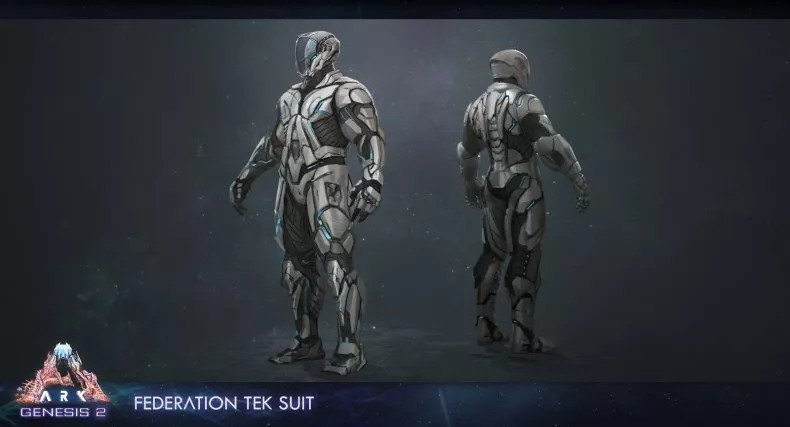 Can no longer ride unconscious Stego
Fixed various map issues related to volumes and borders
Ziplines will now check to see whether a character can actually fit into a space before allowing them to attach to the zipline
Genesis Chronicles IV (Notes 16 - 20 have been added with the TEK Federation Gloves cosmetic)
As far as this particular update is concerned, its biggest feature is exclusive to those who currently own the Genesis Part 2 Season Pass. If you've invested in the upcoming expansion early, you'll be able to unlock the TEK Federation Gloves by collecting new Explorer Notes. Even though many players have already noticed clipping bugs with the new items and activation issues with the notes themselves, the intent is for them to be there for survivors to find. The design looks similar to what you can see in this picture, and having them means there are just a few more notes to uncover before the full suit is officially yours.
For everyone else who has yet to hop on the Genesis Chronicles 2 train, however, ARK update 2.49 is mostly bland. Riding unconscious Stegos isn't a thing anymore, which is good for fans of fair play, and ziplines should no longer glitch out while you're in the middle of a ride. These bugs were by no means critical flaws, but they were worth addressing nonetheless. Especially as we inch closer to the expected release date of Genesis Part 2 next month, it makes sense to refine the existing code base as much as possible before the new DLC comes in to muddy up the waters once again. There's lots of chatter that an exact release date for Genesis Part 2 might find its way into this weekend's Community Crunch blog post, but we've got nothing to report today. If we had to guess, though, an arrival in very late March or even early April sounds par for the course for Wildcard. Until then, hunting for these notes should keep some players busy.
ARK: Survival Evolved is available now on PC, Xbox Series X|S, Xbox One, PS4, Switch, Mac and Linux.
What are your thoughts on ARK update 2.49? Were you able to find all the new Explorer Notes? Tell us in the comments section!