'ARK' Update 2.53 Adds Genesis Chronicles and Flyer Tweaks on PS4 and Xbox - Patch Notes
ARK: Survival Evolved update 2.53 is going live on PS4 and Xbox One, and the substantial console patch adds quite a few features that fans have been asking for. Whether you're just looking to finish up that Genesis Chronicles 2 armor or want some targeted bug fixes, this girthy download has everything you need. Read the full patch notes below, courtesy of an updated forum post from Studio Wildcard.
ARK update 2.53 patch notes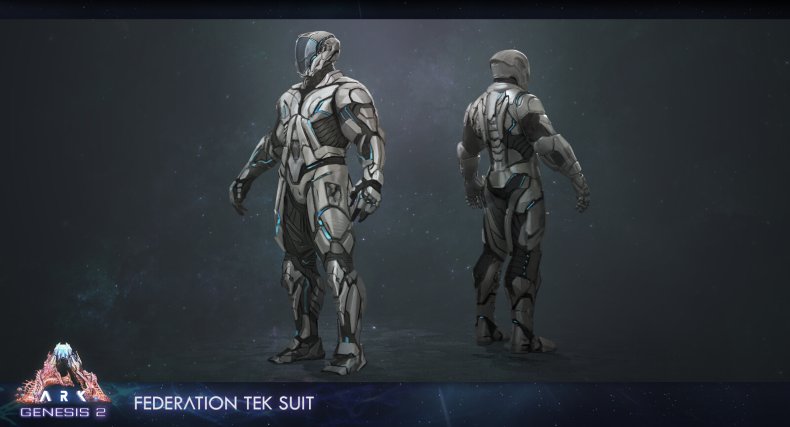 Genesis Chronicles V! Jump in to collect your TEK Federation Helmet skin, and HLN-A & Rockwell's Explorer Notes on Genesis!
Fixed a mesh exploit
Fixed a client crash related to movement
Fixed a client crash related to attacking with creatures
Fixed invisible bees.
Improved Crypod UI
The main feature of this update, of course, is the addition of the more Genesis Chronicles 2 armor pieces for Explorer Notes 21-25. Given that Season Pass owners have already had their chance to unlock the Exo Gloves, Leggings, Chestpiece and Boots, it's assumed the next piece players will be able to find is the Exo Helmet. As sad as it may be that ARK's Genesis Part 2 expansion has been delayed to May 26, this full armor set offers a taste of what's to come once the simultaneous release arrives on your platform of choice. Players must have the Genesis Part 2 Season Pass ordered to enjoy this content, but it's still cool nonetheless.
There's still plenty of content for those not on the Genesis Chronicles hype train as well. Several features that have been in ARK's PC version for months are just now making their way to PlayStation and Xbox. The Cryopod UI will also look less clunky, and a few client-side crashes have been resolved. In other words, many of the tweaks found in ARK update 2.53 have the potential to remove unwanted balance changes while also adding separate adjustments that objectively make the game better.
Even though there's no true substitute for a full-fledged expansion, today's ARK update offers just enough content to keep fans busy while the cycle of delays continues.
ARK: Survival Evolved is available now on PC, Xbox Series X|S, Xbox One, PS5, PS4, Switch, Mac and Linux.
What are your thoughts on this major console update for ARK: Survival Evolved? Have you collected all the latest Genesis Chronicles gear? Tell us in the comments section!