'ARK' Update 2.55 Adds Eggcellent Adventure 6 on PS4 and Xbox - Patch Notes
ARK: Survival Evolved update 2.55 has just gone live on PS4 and Xbox One, kicking off the long-awaited Eggcellent Adventure 6 Easter event on console platforms. Hoping to get some new skins or Chibis for your survivor? Check out the event's full contents in the latest patch notes from Studio Wildcard.
ARK update 2.55 Patch Notes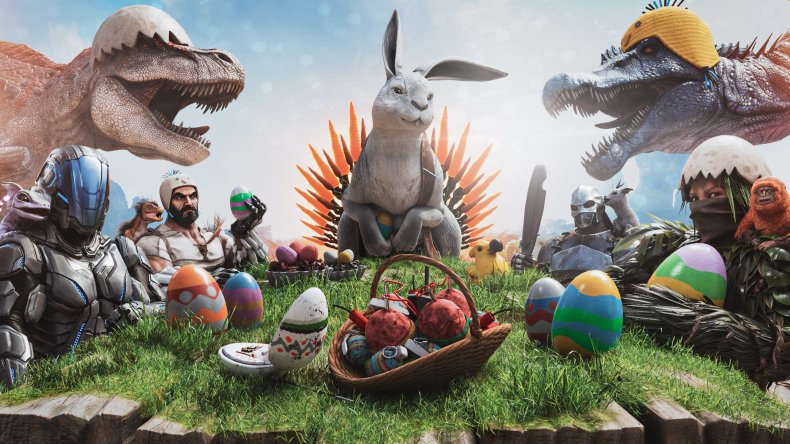 Event Details
This event can be manually activated with the server arg parameter: -ActiveEvent=Easter
Dates
Creatures
Bunny Dodos
Bunny Oviraptors
Rates
Official Servers: 3x XP, Harvesting, Taming, and Breeding, 1.5x Hexagon Bonus
Small Tribe Servers: 4.5x XP, 4.5x Harvesting, 4.5x Taming, and 4x Breeding, 1.5x Hexagon Bonus
ARKPocalypse: 5x XP, 5x Harvesting, 5x Taming, and 5x Breeding, 1.5x Hexagon Bonus
Classic: 4.5x XP, 4.5x Harvesting, 4.5x Taming, and 4x Breeding, 1.5x Hexagon Bonus
Classic 2: 7x XP, 7x Harvesting, 7x Taming, and 6x Breeding, 1.5x Hexagon Bonus
Skins
Bunny Tail *NEW*
Procoptodon Bunny Costume
Bunny Ears Skin
Dino Bunny Ears Skin
Easter Chick Hat Skin
Dino Easter Chick Hat Skin
Easter Egg Hat Skin
Dino Easter Egg Hat Skin
Marshmallow Hat Skin
Dino Marshmallow Hat Skin
E4 Remote Eggsplosives Skin
Easter Egghead Skin
Chocolate Rabbit Club Skin
Sweet Spear Carrot Skin
Items
Bunny Egg
Festive Dino Candy
Emotes
Tail Wiggle Emote *NEW*
Bunny Hop Dance Emote
Chibi's
Easter Jerboa *NEW*
Easter Chick *NEW*
Thorny Dragon *NEW*
Achatina *NEW*
X-Sabertooth *NEW*
Wild Event Creature Colors
Magenta
Light Green
Light Yellow
Light Orange
Light Red
Dino Light Brown
Dino Dark Brown
Yellow
Cyan
Green
Dino Medium Blue
Turquoise
LightPink
DeepPink
Peach
Mint
Teal
PowderBlue
Cream
Bug Fixes
Fixed a bug where wild bees would not spawn
Additional server side logging
Additional mesh detection metrics
As longtime ARK players might notice, Eggcellent Adventure 6 isn't all that different from the Eggcellent Adventure 5 event that took place in 2020. Taking a quick glance at the content that's labeled as "new," the fresh additions for this year's festivities include the Bunny Tail skin, Tail Wiggle emote and five new Chibis to be featured in the game's ever-growing collection of tiny pets. Mechanically speaking, then, much of what players will experience through mid-April is the same as what we've seen before. Survivors will use eggs harvested from Bunny Dodos to craft new and returning skins, while a visit to the Bunny Oviraptor offers a chance at some limited-time Dino Candy. The premise may be simple, but it's still an effective way to enjoy some festive fun.
As for any of the other changes featured in update 2.55, the patch notes are predictably light given that we're less than one week removed from ARK's last major console update. Over the past few days, ARK on PlayStation and Xbox has benefited from fixes for mesh exploits, an improved Crypopod interface and the debut of the final piece of the Genesis Chronicles armor set. There are obviously still a few missing features to retain full parity with PC, but most of those tweaks don't appear to be listed here. In other words, ARK update 2.55 is all about that sweet Easter-inspired fun.
ARK: Survival Evolved is available now on PC, Xbox Series X|S, Xbox One, PS5, PS4, Mac and Linux.
What's your most desired item to craft during Eggcellent Adventure 6? Were you expecting more from today's update? Tell us in the comments section!