ARK: Survival Evolved update 2.08 is releasing across PC, Xbox One and PS4 to bring the Turkey Trial 3 event to all major platforms. Want to unlock some festive underwear and emotes while battling Super Turkeys? Then this is the event for you! Learn all about it in the patch notes below courtesy of the latest Community Crunch blog post from Studio Wildcard.
ARK Update 2.08 Patch Notes PC, Xbox & PS4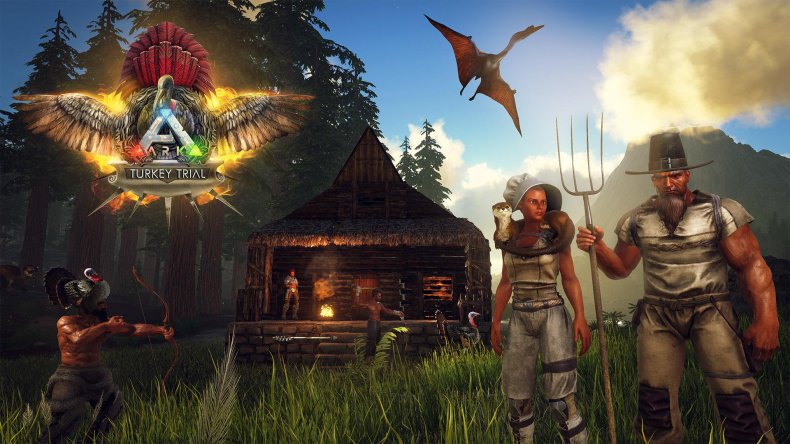 Event Rules
2X Breeding (mating interval, egg hatch speed and maturation)
2X Player XP
2X Harvesting
New Event Items
Pilgrim Hat
Bonnet Hat
Turkey Hat
Turkey Leg club skin
Pitchfork Pike Skin
Thanksgiving-inspired Dino Colorization Candy
Three sets of Event-themed underwear (tops and bottoms)
New Event Emotes
Belly Rub Emote
Hungry Emote
Food Coma Emote
Wild Creature Event Colors
Light Orange
Light Red
Dark Red
Dino Light Red
Dino Light Orange
Dino Dark Red
Yellow
Dino Albino
DragonFire
DragonBase1
DragonBase0
Light Yellow
Brown
Dino Albino
NearBlack
Light Brown
Dino Darker Grey
Prior Event Skins
Prior Event Creatures
DodoRex (Temporary tame)
Turkeys
Prior Event Items
In other words, ARK Turkey Trial 3 bares a striking resemblance to the latest Fear Evolved event and previous Turkey Trials before this one. That being said, considering the last Turkey Trial was held all the way back in 2016, it's nice to see this classic return with a mostly new crop of items and emotes to collect. For the duration of the event, which runs through December 3, players will be able to harvest Wishbones from various sources that can be used to craft and unlock the new cosmetics. Those who decide to take on the DodoRex or Super Turkeys will likely have the best chance of getting everything, but there should be enough Wishbones around for players of all skill levels to get something nice.
The return of ARK's Turkey Trial event arrives just a few weeks after Fear Evolved 3 took over the game's maps with similar rewards in spooky fashion. At the start of the year ARK's developers at Studio Wildcard promised a renewed focus on timed events, and they've certainly delivered on that front. While none of these promotions drastically change the ARK experience fans know and love, they do just enough to foster interest by offering exclusive goods. Especially with the big Genesis expansion set to arrive next month, it makes sense to keep the community's most passionate players engaged. Events like these are a great way to keep the hype train rolling at full speed.
ARK: Survival Evolved is available now on PC, Xbox One, PS4, Switch, Mac and Linux. Turkey Trial 3 takes place on all platforms except Switch.
Are you excited for Turkey Trial 3 in ARK? Does the 2.08 update do enough to keep you coming back? Tell us in the comments section!