'ARK' Update 2.15 Adds Love Evolved Valentine's Event on PS4, Xbox - Patch Notes
ARK: Survival Evolved update 2.15 just went live on PC, Xbox and PS4, kicking off the brand-new Love Evolved event for the popular survival game. While ARK has hosted Valentine's Day festivities in the past, this slightly rebranded offering has some new features fans are sure to appreciate. Check out the full patch notes and event details below courtesy of a blog post from Studio Wildcard.
ARK Update 2.15 Patch Notes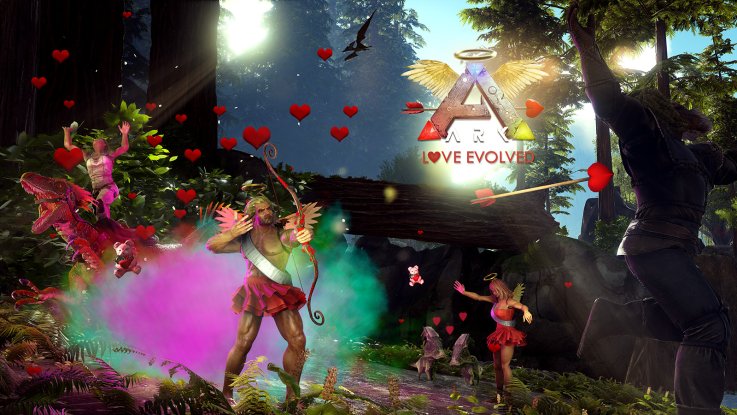 Ark Love Evolved [February 11 at 1 p.m. EST through Feb. 18 at 1 p.m. EST]
Activities
For the duration of the event, Coelacanth will be fishing for some love. Reel in these amorous fish and be showered in candies, some chocolates and even chibi pets!
Rates
Increased breeding rates to 3x (mating interval, egg hatch speed, and maturation)
Increased player XP rates to 2x
Increased harvesting rates to 2x
New Emotes
New Items
"Cupid Couture Bottom" (Pants Skin)
"Cupid Couture Top" (Shirt Skin)
"Halo Headband" (Hat Skin)
"Teddy Bear Grenades" (Grenade Skin)
"Bow & Eros" (Bow skin)
"Love Shackles" (Handcuffs Skin)
Six New Chibi Pets
Wild Event Creature Colors
Past Event Items
Valentine Chocolates - Chocolates can be used to heal your tames or provide a big boost in acquiring new tames!
Valentine Candies - Candies can be used to give a tamed dinosaur a random coloring!
The main feature for update 2.15 is, of course, the Love Evolved event. While not quite as involved as Winter Wonderland and Turkey Trial events from earlier in the year, this weekly promotion offers just enough cool content for fans to sink their teeth into. Chibis have been a huge hit since their debut in December, so we're glad to see Wildcard continue to add more creatures to the expanding roster. Fishing for Coelacanth seems like it could be a bit more frustrating and mundane compared to previous event mechanics, but at least there are some solid rewards for doing so.
For ARK fans who think the game's Valentine's Day offering feels a bit thin, it's important to remember that this seasonal event wasn't anticipated to exist in the first place. Late last month, Wildcard announced it would be delaying the game's Genesis expansion to facilitate a simultaneous launch on February 25. Love Evolved, then, was devised to ensure fans are busy up until the day that highly anticipated DLC arrives. With that quick turnaround in mind, it's cool to see fans get something to celebrate the year's most romantic holiday.
ARK: Survival Evolved is available now on PC, Xbox One, PS4, Switch, Mac and Linux.
What are your thoughts on ARK's Love Evolved Valentine's Day event? Is there enough in update 2.15 to hold you over until Genesis? Tell us in the comments section!
'ARK' Update 2.15 Adds Love Evolved Valentine's Event on PS4, Xbox - Patch Notes | Newsgeek