Russian journalist and Kremlin critic Arkady Babchenko strolled into a press conference in Ukraine Wednesday, despite reports that he had been murdered Tuesday.
According to Kyiv Post, the journalist said his "murder" was part of an operation to catch his attempted assassin. He explained the operation was successful after Ukraine's security services arrested the suspect.
Although Babchenko was not killed, Ukrainian Security Chief Vasyl Hrytsak said that Moscow had ordered his murder, Radio Free Europe reported. However, Aleksandr Bortnikov, the head of Russia's Federal Security Service, claimed such allegations are "nonsense" and a "provocation."
Police initially reported that Babchenko had been shot in the back while leaving his Kiev apartment and died en route to the hospital. The journalist apologized to his wife, who had reportedly called the police when she found him bleeding.
"I am sorry, but there were no options here," Babchenko said during the press conference. "I'm sorry for making you live through this. I've buried my own friends and colleagues many times myself."
Media outlets around the world, including Newsweek, covered the "murder," as foreign and Ukrainian officials voiced their suspicions that Moscow was behind the journalist's death. Babchenko had left Russia for Ukraine in February 2017 because he feared for his life.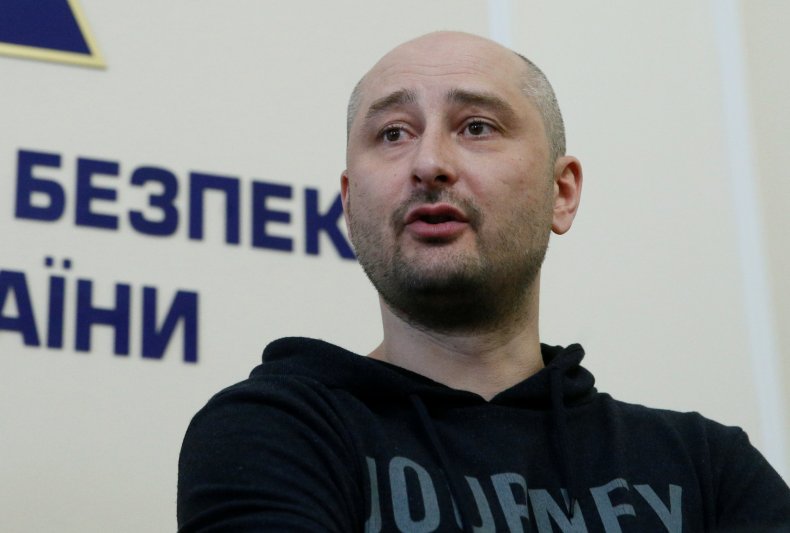 "I am convinced that the Russian totalitarian machine could not forgive his honesty and principled position," Ukraine's Prime Minister Volodymyr Hroysman posted on Facebook Tuesday.
The Kremlin quickly issued a statement calling for an investigation into the murder. Russian officials also criticized Ukraine for failing to provide adequate protection to journalists.
Babchenko is a well-known critic of Russia's policies toward Ukraine. As a journalist, he criticized his country's annexation of Crimea and the Kremlin's support for separatist Ukrainian rebels. He also took a stand against Moscow's military campaign in Syria.
His writings drew criticism from many ordinary Russian citizens as well. In one particularly controversial article, he said he did not feel any sadness for the deaths of Russian army choir members in a December 2016 plane crash. The soldiers were headed to perform for Russian troops based in Syria.
In late 2017, Babchenko wrote for The Guardian, saying: "I can tell you what political harassment feels like in [President Vladimir] Putin's Russia. Like many dissidents, I am used to abuse, but a recent campaign against me was so personal, so scary, that I was forced to flee."
The faked death came amid heightened tensions between Ukraine and Russia. Although the conflict has been ongoing since 2013, a spokesperson for the U.S. Department of State said last week that the violence is increasing.
"I'd like to draw your attention to Russia's ongoing aggression in Ukraine. This has been one of the most violent weeks of the year. Five Ukrainian soldiers are now dead and 23 have been wounded," spokesperson Heather Nauert said during a press briefing on May 22. "The Kremlin controls the violence in eastern Ukraine and could bring this violence to an end tomorrow if the Kremlin wanted to do that."