Arkansas Bill That Allows Medical Workers to Refuse Treatment to LGBTQ People Awaits Governor's Signature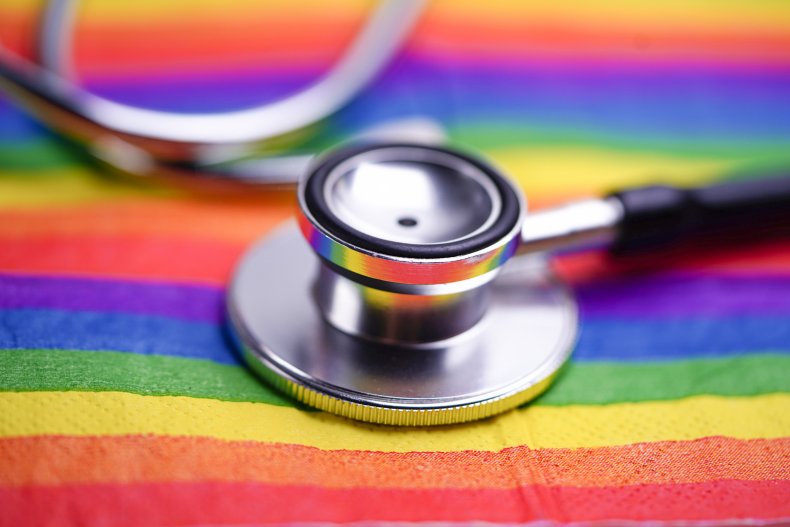 A bill delivered to the desk of Republican Arkansas Governor Asa Hutchinson on Monday would allow medical professionals to refuse service to LGBTQ people.
SB 289, the Medical Ethics and Diversity Act, would allow doctors and other health care workers to deny any non-emergency services based on religious, moral or ethical objections. The bill was passed by the Arkansas state legislature last week. Health care organizations would be banned from taking any disciplinary actions against workers who refuse services based on "conscience" under the law.
It is not clear whether Hutchinson supports the bill. The governor opposed a similar bill in 2017, but said last month that the recent proposal addresses "an important concern by the public and medical community," according to the Associated Press. The bill is one of several controversial proposals recently delivered to Hutchinson. Another proposal sent to the governor on Monday would ban transgender women and girls, but not men and boys, from participating in school sports in accordance with their gender identities.
The text of SB289 does not single out LGBTQ people, and its broad scope could have major implications for all Arkansas residents. For instance, residents could be refused medication from pharmacists that have personal conscience-based objections to any prescription. Psychologists and therapists would also be covered by the law and could refuse to treat anyone that does not meet their personal religious or moral standards. The bill would also allow academics the choice to refuse publishing the results of studies if the facts gathered are in conflict with their beliefs.
When reached for comment, Hutchinson's office pointed Newsweek to remarks the governor made about the bill during a press conference on Tuesday. Hutchinson declined to say whether he would sign the bill but said that it remained under "review" while touting some of the changes made from an earlier version.
"In my brief review of it thus far... based upon a religious exemption, you can decline to do a particular procedure," Hutchinson said. "You cannot decline to treat a certain category of persons. So, that's a change that was made in the bill, and they've made a number of other changes in the bill from two years ago when it was not passed through the legislature. And I opposed it then."
"But those changes, they have made accommodations," he added. "We'll continue to review it."
Kim Hammer, the Republican state senator and Baptist preacher who sponsored the bill, told the Associated Press that SB 289 would encourage Arkansans to "take time to find a provider who's willing to offer the service rather than a force a provider who doesn't believe in doing it."
LGBTQ activists urged Hutchinson to veto the bill after it passed in the legislature last week, arguing that signing it into law would be an especially poor choice while residents of the state continue to suffer amid the COVID-19 pandemic.
"No one should be denied necessary medical care. SB 289 prioritizes individual providers' beliefs ahead of patient health and wellbeing," Human Rights Campaign President Alphonso David said in a statement. "The Arkansas legislature understood this when they rejected a similar bill four years ago and they would be wise to do the same again this session."
"In the midst of a devastating and ongoing COVID-19 pandemic, we should be expanding access to health care and making it more affordable, not advancing bills that make it harder for LGBTQ Arkansans to receive the care they need," added David. "We strongly urge Governor Asa Hutchinson to reject this bill and protect access to care for all Arkansans."
Update 3/23, 8:12 p.m.: This article has been updated to include comments on the bill made by Arkansas Governor Asa Hutchinson on Tuesday.