Arkansas Delegates Cheer Two Old Friends, the Clintons, During DNC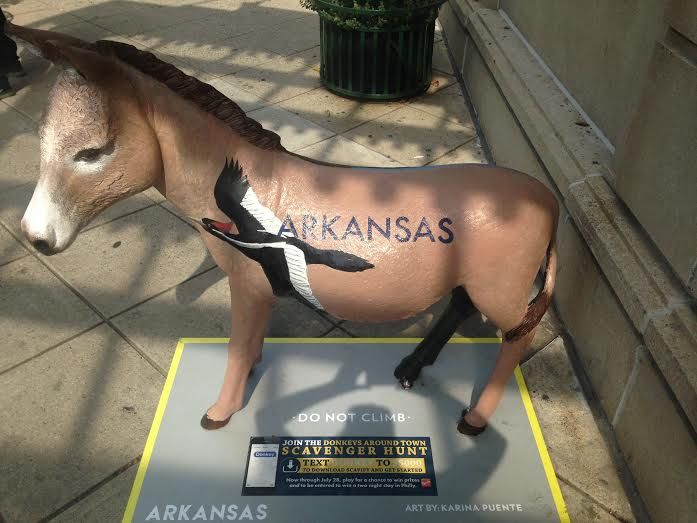 During the last daily breakfast for Arkansas and New Mexico delegates in Philadelphia for the Democratic National Convention, a delegate from Arkansas on Thursday purchased a pair of earrings featuring the faces of Bill and Hillary Clinton for $150 that went to the state's Democratic Party.
That delegate wasn't the only one gathered in the room at the Franklin Hotel in the Old City District who was excited that Hillary Clinton, former first lady of the Natural State, has been nominated as their 2016 presidential candidate.
Tippi McCullough, a delegate and president of the Arkansas Stonewall Democrats, says she has always been a fan of the Clintons and has met them on several occasions.
"You have had to try hard if you live in Arkansas not to meet Bill and Hillary Clinton," she tells Newsweek. "I feel like I know them and they're family."
Because of that connection, the Arkansas delegation is situated in front of the stage at the Wells Fargo Center, where the four-day convention will conclude after Clinton officially accepts her nomination late Thursday night. Also there is New York, which Hillary Clinton represented as a senator from 2001 until 2009; Virginia, home of vice presidential nominee Tim Kaine; and Pennsylvania, host of the DNC. McCullough says she has been most inspired this week by the speakers who have shared personal stories, some tragic, like that of Christine Leinonen, whose son was killed in the June 12 mass shooting at a gay nightclub in Orlando. One of the best moments for McCullough came Wednesday night, when Clinton surprised the audience by appearing onstage with President Barack Obama after his speech.
"I've been in tears the whole week, some of sadness from the stories, but mostly joy because of people speaking up and being part of the solution," she says.
John Mark Stodola, son of Little Rock Mayor Mark Stodola, wore a vintage "Bill Clinton for President" hat and donned a T-shirt with the faces of Clinton and his vice president, Al Gore. Speaking to his home state's delegates, Stodola shared his excitement about voting in his first presidential election this fall. But he also stated his concern about the bickering between supporters of Clinton and fans of Vermont Senator Bernie Sanders.
"That's not what Democrats are. We need to unite," he said.
Sanders's large presence is still felt in Philadelphia, even after he gave the nod for Clinton to become the party's nominee earlier this week. At the breakfast, a delegate placed yellow "Bernie 2016" pins at the center of each table. Another wore a shirt with "Feel the Bern" written in large, bold letters. As the breakfast concluded and guests began leaving the room, one Sanders fan yelled that he would continue to adhere to his constitutional right to freedom of speech.
Others have tried to unite the party around antipathy for Republican nominee Donald Trump. Former Arkansas Governor Mike Beebe highlighted what he called a "stark contrast" between the rhetoric at the Republican National Convention in Cleveland and the messages from notable Democrats in Philadelphia this week. The list of speakers who have wowed the crowd include Obama, Vice President Joe Biden and first lady Michelle Obama. Beebe told the delegates they have another task to complete upon returning to their hometowns.
"As good as you are, you haven't done enough," he told them. "When we leave here, the job begins."
Beebe encouraged the delegates to push for Democrats up and down the November ticket: "Tell [voters] that America only works when Americans actually give a damn."