Arkansas Duo Arrested After Tying Up Roommate, Putting Him in a Closet And Turning on a Vacuum to Cover Up His Screaming
A man and woman have been arrested after they allegedly tied up their roommate, stuffed him in sleeping bags inside a closet and then left a vacuum cleaner running to cover up his screams.
Jordan Trujillo, 28, and Megan Osborne, 38, were taken into custody after police responded to an apartment in the 1100 block of North West End Avenue in Fayetteville, Arkansas, on October 18, KNWA reported.
Both Trujillo and Osborne, who is listed as homeless, have been charged with kidnapping, aggravated assault and theft by receiving, jail records show.
A Fayetteville police officer arrived at the apartment on Friday evening, found Trujillo sitting on the porch and that he told them he lived in the apartment he was standing in front of, WFLA reported.
After the officer knocked on the door, Osborne let him inside the apartment and he heard the sound of a running vacuum cleaner that was inside a closet, the station reported.
Inside, the officer found a man who had been placed inside two sleeping bags. His hands and feet had been bound so tight by a sheet that he needed to be cut free, the arrest affidavit said, according to WFLA.
The victim told police that he had been awakened by Trujillo and Osborne, who had been staying with them, and beaten as he lay on the ground.
According to KNWA, he told police they had tied a rope around his neck and pulled it tight until he struggled to breathe.
He said the pair tied up his hands and feet and stuffed him inside two sleeping bags before sucking the air out of the bags using the vacuum cleaner, the station reported. They then put him in the closet and left the vacuum running.
The police officer noticed bruising on his head, blood coming out of his ear and a cut on his arm, WFLA reported.
Trujillo fled the scene but was later apprehended by police, KNWA reported.
Trujillo later admitted to police officers that he and Osborne had tied the man up. He said they had covered him with sleeping bags and put him in a trash can.
He told police officers that they had planned on leaving him restrained while they left the apartment to eat. Trujillo also claimed that he and Osborne were intending to return to the apartment with food once the roommate had "calmed down."
Osborne was found hiding in an apartment near where she fled from officers, KNWA reported. Police also recovered a stolen scooter and license plate from the apartment during the investigation.
It is not clear what led to the confrontation between the pair and the roommate, who has not been named.
Osborne and Trujillo were booked into the Washington County Detention Center over the weekend and are being held on $250,000 bonds.
Trujillo is also facing other charges, including escape, fleeing, resisting arrest and forgery, online jail records show. Osborne is also charged with fleeing.
They are both due to appear in Washington County Circuit Court on November 20, WFLA reported.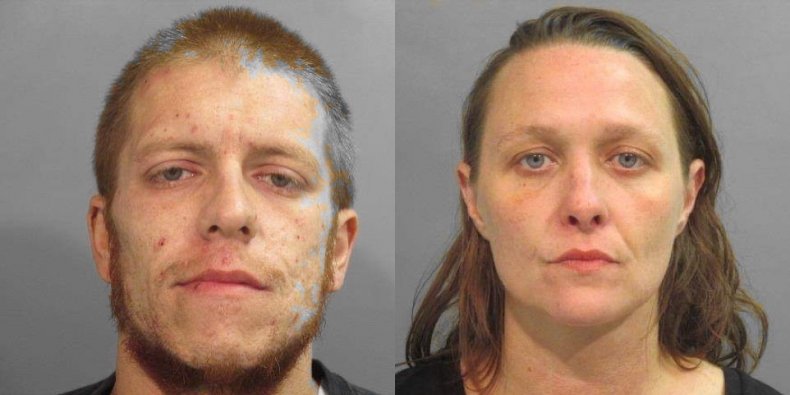 Arkansas Duo Arrested After Tying Up Roommate, Putting Him in a Closet And Turning on a Vacuum to Cover Up His Screaming | U.S.