Angler Catches 'Very Rare' Golden Bass: 'One Fish in a Million'
An Arkansas man struck gold after he landed a fish that has been described as a "very rare" catch.
Around twice a week, Josh Rodgers, from Bentonville, goes fishing on Beaver Lake, a reservoir in the Ozark mountains in the northwest of the state.
Last Sunday was no different and Rogers caught what he thought to be an ordinary largemouth bass on a swim jig. "I flipped him into the boat and said, 'What in the world?'" he said in a report by the Arkansas Game and Fish Commission (AGFC).
This was because his 16-inch long catch had a puzzling hue which he initially put down to the muddiness of the mid-lake area where he was fishing. Then upon closer inspection of the mouth and gills, he thought maybe the fish was sick.
"My buddy I was fishing with said, 'Surely it's not something he's eating that would turn him that color,'" Rodgers said.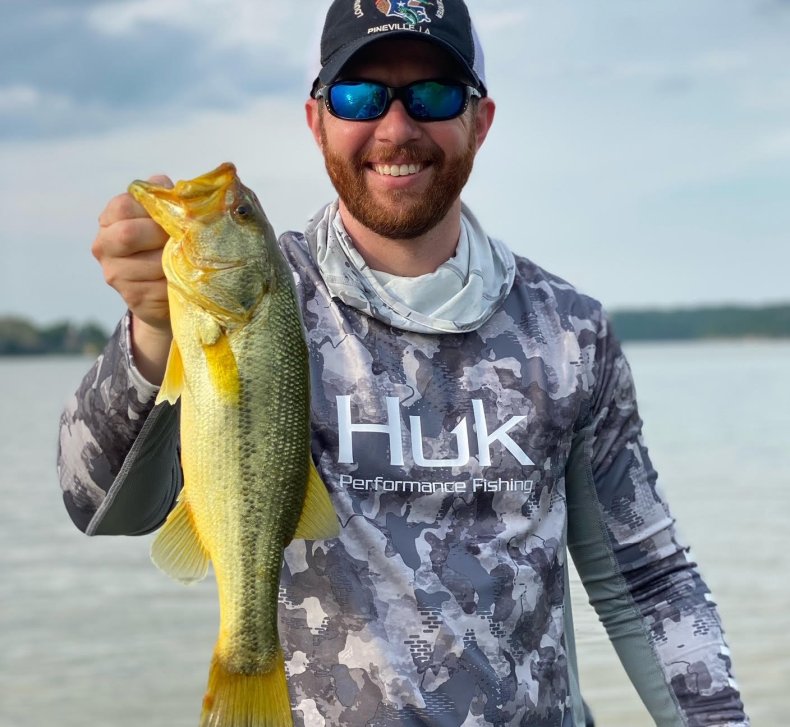 He took pictures of the fish which he shared on social media before he threw it back. "I didn't think anything about it for an hour and a half of fishing," he said, "then I started sending pictures to friends and putting it on Instagram and Facebook.
"From the reaction of everybody, I started thinking, 'Maybe I shouldn't have thrown it back.' I was surprised it caused such a reaction from people."
It turned out that he had caught something special. The fish was that color because of a genetic anomaly.
AGFC biologist Jon Stein said it had what is known as xanthochromism, in which a bass's normal dark colors are replaced with a yellow-like pigment.
"This is very rare and does occur naturally," Stein said, "Josh needs to buy a lottery ticket because he caught one fish in a million."
Although Rogers released the fish, he will preserve the one-in-a-million moment via a replica he intends to make through photographs.
His catch has made headlines in local media outlets and meant that he achieved a dream he had since childhood of featuring in the magazine Outdoor Life.
"It has been a lot of fun to see how much attention my bass has received over the last week," Rogers told Newsweek.
"Who would have guessed that the fish would be such a rare anomaly? The great thing about catch and release is that someone else may get the same experience sometime in that bass's life," he added.
Newsweek has contacted the Arkansas Game and Fish Commission for comment.