Arkansas Flash Floods Kill at Least 20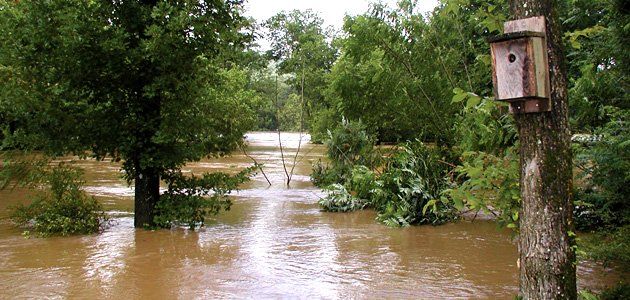 Flash floods have ravaged through campgrounds in western Arkansas Friday, killing at least 20 with dozens more missing, CNN reports.
Rains saturated the area around Camp Albert Pike in the Ouachita Mountains, about 75 miles west of Little Rock, peaking early Friday between midnight and 4 a.m. Central time. The water thundered into the normally placid Little Missouri River in Montgomery and Pike counties, raising the level by 20 feet in some areas and engulfing campers as they slept.
National Guard helicopters are currently scouring the area for survivors. More than 40 campers are still missing, according to the Associated Press, out of 300 campers in the area when the flood hit.
Survivor Janice McRae, whose property sits adjacent to the campground, told CNN that she awoke in surprise in the middle of the night. She and her husband rescued two young boys stranded on the roof of a flooded cabin. She also described people clutching trees in pitch darkness surrounded by floating cars.
Arkansas Gov. Mike Beebe, who had been attending a conference in Dumas, on the other side of the state, was heading to the flood-hit area Friday afternoon. "It's a terrible tragedy, and we're doing all we can to hopefully find some folks and bring some people back who are stranded out there," said his spokesperson, Matt DeCample.
Hampered by poor cell-phone reception, the Arkansas Department of Emergency Management has sent emergency radios and satellite phones to the area, according to the Arkansas News.
"The difficult situation with this is, it's not just necessarily the Albert Pike campground," said spokeswoman Renee Preslar. "What these search-and-rescue teams are doing is encompassing the entire area for anybody that could possibly be down there. We don't have an exact number. Anybody could be out there, so they're making sure they do a thorough, thorough search because they don't have a number in mind that they're looking for."
The Little Missouri has begun to recede in recent hours. In a section of the river west of Caddo Gap, waters had halved to 11.5 feet by 10 a.m. Friday, down from 23.5 feet at its peak.
Areas such as the Ouachita Mountains are especially susceptible to such flooding, Politics Daily's Brigid Sweeney observes. Stranded in the middle of the night, the campers would have been helpless as steep inclines funneled water down into narrow canyons at daunting rates.