Arkansas GOP Governor Says National Leaders Need to Set 'Example' by Wearing Masks: 'It Shouldn't Be About Politics'
Arkansas Governor Asa Hutchinson, a Republican, said on Sunday that the "example" of wearing masks amid the novel coronavirus pandemic is something that should be set by "national leadership," after he was asked about President Donald Trump's conflicting messages about face coverings.
"It is important that they [the national leaders] set the national standard and example," Hutchinson said during an interview with ABC News' This Week. "The president said he wears a mask, that's important. Now let me just say–"
Fill-in anchor Martha Raddatz cut in, pointing out that Trump has said he wears a mask in "certain places" and that he's "only worn a mask, as far as we know, in public to Walter Reed Hospital, where he essentially had to wear a mask." She said the president is "sending out very mixed messages."
Hutchinson responded by reiterating that "we need to wear a mask," but he did not specifically address the concerns about Trump. "That example needs to be set by our national leadership."
"It shouldn't be about politics," Hutchinson asserted, admitting that there is a lower percentage of Republicans than Democrats that say they regularly wear masks to curb the spread of COVID-19, the disease caused by the novel virus.
Newsweek reached out to Hutchinson for further comment, but he did not respond by the time of publication.
Colorado Governor Jared Polis, a Democrat, appeared alongside Hutchinson during the segment on This Week. He encouraged mask wearing as well, agreeing that it should not be a "partisan" issue and should instead be viewed as "a ticket to more freedom."
"It makes it less likely that businesses will be shuttered. It makes it less likely that people will die. It makes it more likely school will return," he said.
The Centers of Disease Control and Prevention (CDC) issued guidance back in April, urging Americans to wear face coverings over their noses and mouths to curb the spread of infections from the novel coronavirus. Trump voiced support for the guidance at the time, but also said he was choosing not to follow it. The president was later photographed wearing a mask during a trip to Walter Reed National Military Medical Center on July 11.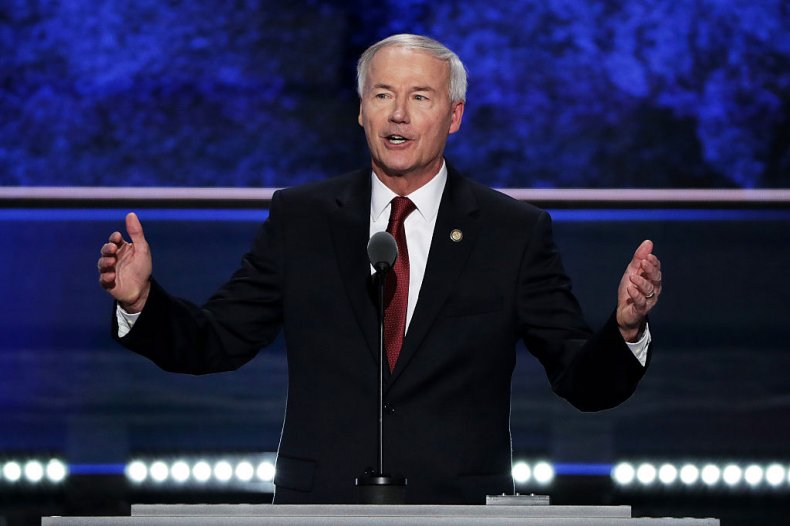 During a Fox News Sunday interview, which was pre-recorded, Trump reiterated that he supports wearing masks. However, he suggested it was an issue of personal freedom.
"I want people to have a certain freedom, and I don't believe in that. No, and I don't agree with the statement that if everybody wear a mask everything disappears. Hey, Dr. Fauci said don't wear a mask. Our surgeon general – terrific guy – said don't wear a mask," he said
"Everybody who is saying don't wear a mask – all of sudden everybody's got to wear a mask, and as you know masks cause problems, too. With that being said, I'm a believer in masks. I think masks are good," the president added.
"But I leave it up to the governors," he said.