Arkansas Gov. Hutchinson Says State's Conservative Leanings Account for Low Vaccination Rate
Arkansas Republican Governor Asa Hutchinson said the state's conservative leanings account for lower COVID-19 vaccination rates, and that it's "disappointing" that politics play a role in whether or not people get inoculated.
During an interview on the show Full Court Press With Greta Van Susteren slated to broadcast on Sunday,Hutchinson said that Arkansas's conservative viewpoints can explain the state's low vaccination rates.
"Why is our vaccination rate lower? We're a very rural state. We have a lot of resistance. It's a conservative state. Sometimes conservatives are hesitant about the government, and we've just got to counteract that by getting better information to them, building confidence," Hutchinson said during the interview.
"I've learned that it's not what the government tells you, it's what your trusted advisor, your medical doctor, or somebody that you trust tells you. And that's the best persuasive technique we can use to change those attitudes," he added.
Hutchinson added that it would be unfair to suggest that all Republican voters or supporters of former President Donald Trump are refusing to get the coronavirus jab, but that the politics associated with vaccine distrust are "disappointing."
"Trump got it [the vaccine]. And I supported Trump, I got the vaccine. Arkansas, 65 percent or more of the vote goes for Trump, and tens of thousands of those have been vaccinated. So you just can't put it across the board as far as attitudes on that," he said.
However, the Republican governor said that "there's a legitimate concern" for those who are choosing not to be vaccinated due to misinformation or conspiracy theories.
"There's a legitimate concern and criticism if somebody is not getting vaccinated because they believe in the conspiracy theories, or they're stubborn, or they don't trust the government. Come on. Do better research," he said. "But obviously you have to understand that there's some that have compromised health situations that they don't want to get it for an allergy or some other reasons. Those are things they got to talk to their doctor about."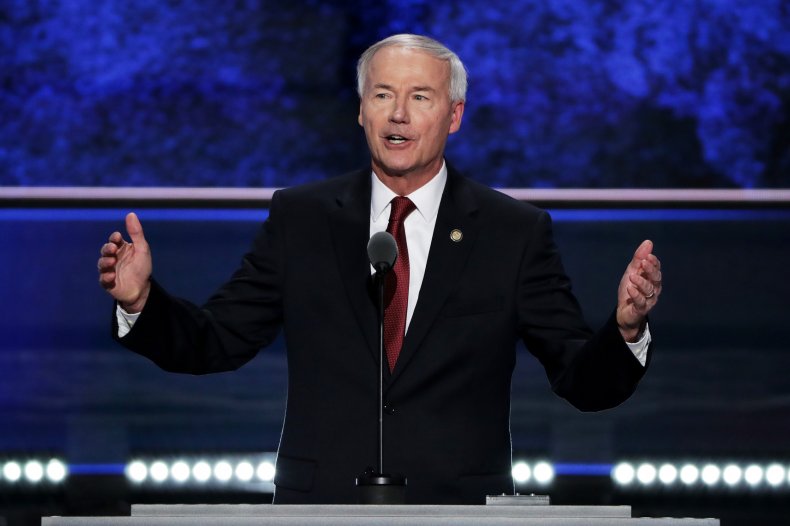 According to data compiled by the Mayo Clinic, Arkansas has fully vaccinated just 35.9 percent of its population, making it one of the least vaccinated states alongside others such as Louisiana, Mississippi and Alabama.
The state is one of several that continues to see a surge in new COVID-19 cases. According to data from the Centers for Disease Control and Prevention (CDC), Arkansas recorded 1,987 new cases on Friday, marking the highest number of new infections since early February.
Hutchinson said during the interview that the number of hospitalizations in his state were particularly concerning. The governor acknowledged that hospitalizations were not at levels seen in January, but said "that doesn't mean we've got a cushion," and noted that many hospitals are now becoming overwhelmed.
"What we do see though, is that those that have been vaccinated are not going to the hospital, it's those that are not vaccinated. And so even though you still can get COVID virus if you've been vaccinated, maybe a 1 in 10 chance of that, your chances of going to the hospital are almost minuscule," he said.
Hutchinson added that "it's important to encourage the vaccine" and urged those in his state to talk to their doctors and receive the jab.
Newsweek contacted Hutchinson for additional comment, but did not hear back in time for publication.