Arkansas Governor Asa Hutchinson Monday that there are just eight open ICU beds left in the whole of the state, on the same day the state reported its largest-ever single-day increase in COVID-19 cases.
The state's Republican governor released the figures in a tweet Monday afternoon, along with an infographic on Arkansas COVID-19 data and hospitalization info from the Arkansas Department of Health showing 995 new Covid-19 cases Monday, and 21 new COVID-19 related deaths.
This news comes just over a week after approximately 80,000 doses of COVID-19 vaccinations were thrown away by authorities when they reached their expiration date on July 30, without anybody to take them, even though Hutchinson has been doing outreach, urging residents to get their jabs.
"Today's report shows some very startling numbers," Hutchinson wrote. "We saw the largest single-day increase in hospitalizations and have eclipsed our previous high of COVID hospitalizations. There are currently only eight ICU beds available in the state. Vaccinations reduce hospitalizations."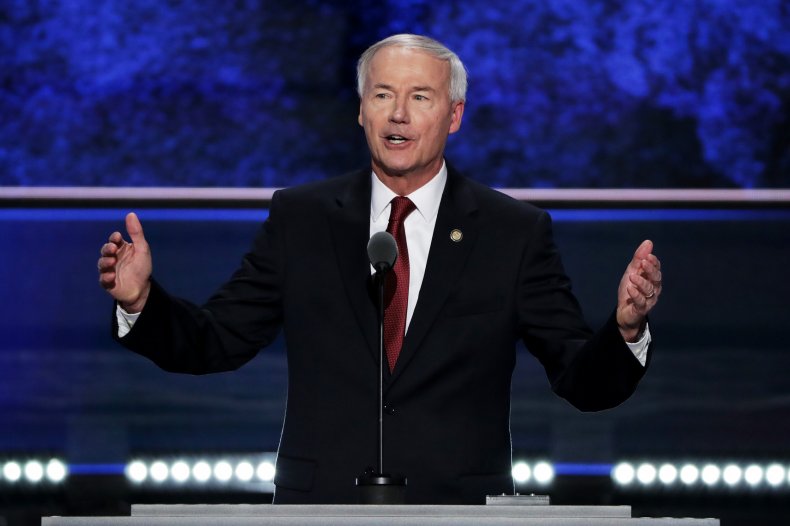 After going on a statewide town hall tour to address questions and concerns about the COVID vaccines, Hutchinson has said he's pinning some of his hopes on vaccination hesitancy going down after the vaccines receive full approval from the Food and Drug Administration.
Months ago, Hutchinson signed a bill banning state and local mask mandates, which he said at a press conference last week he regrets. The governor has since called a special session for the state legislature to change the law.
Arkansas is one of several states, including Missouri, Texas and Florida where COVID case rates have recently begun skyrocketing, driven by the Delta variant and low vaccination rates. Roughly 43 percent of Arkansas residents 12 and over are fully vaccinated against COVID-19, which lags behind the 58.7 percent national average. The state has been facing vaccine hesitancy problems.
"Prior to the vaccine, I was heartsick because people died, and we couldn't help them. And now they don't get the vaccine; we can't help them. And so after every death, I go back to the pharmacy, and I cry. And then I come back to work," Tammy Kellebrew, a pharmacist who travels throughout rural areas of Arkansas to promote and give vaccines, told National Public Radio.
Dr. Jennifer Dillaha, the state epidemiologist and the medical director for immunizations at the Arkansas Department of Health, said "Most of the vaccine hesitancy that we see is, in essence, a health literacy problem."
"There is so much misinformation, and many people have misconceptions about the safety and efficacy of the vaccines. They have difficulty sorting through the information available, and they are not able to distinguish accurate information from misinformation," she said.
Newsweek reached out to the Arkansas Health Department for comment but did not immediately hear back.