Arkansas Health Experts Urge Those at Risk to 'Shelter in Place' Amid Omicron Surge
An Arkansas health policy organization is calling for the state to implement a shelter in place for those who are vulnerable to COVID-19, including seniors and those who live with someone who is at high risk.
Arkansas, like many other states, is seeing a sharp spike in COVID-19 cases and hospitalizations as the Omicron variant spreads. Given how highly infectious the variant is, the Arkansas Center for Health Improvement (ACHI), a health policy advocacy organization, called for the state to take three actions aimed at limiting interpersonal interactions.
In a press release, the ACHI advocated for high-risk families to shelter in place. That includes seniors, families with unvaccinated children and families with someone who is immunocompromised or at higher risk because of a health condition.
"Because of the highly infectious omicron variant, COVID-19 is raging uncontrolled across our state," ACHI President and CEO Dr. Joe Thompson said in a statement. "Unfortunately, we need to endure some temporary disruptions in our daily lives so we can stop the virus' spread."
Newsweek reached out to Governor Asa Hutchinson's office for comment.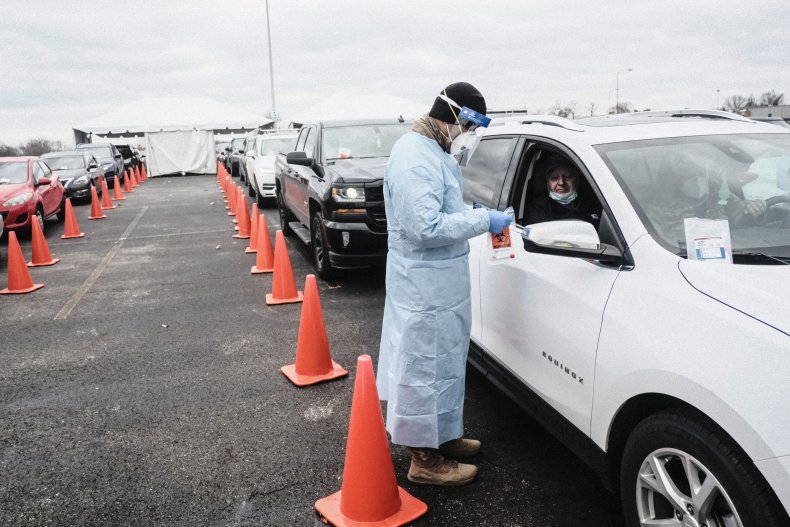 Along with the shelter-in-place recommendation, the ACHI advocated for school staff and students to be required to wear a face mask. Hutchinson signed a law banning mask mandates in schools in April as vaccinations nationwide rose. However, Hutchinson expressed regret over signing the law as cases spiked ahead of kids returning to school.
While Hutchinson advocated for the state legislature to send him a revamped law to sign, the wish faced an uphill battle in the Republican-controlled chambers.
In December, Pulaski County Circuit Judge Tim Fox struck down the law on the basis that it was unconstitutional. He called it discriminatory against minors since it targeted schools and could be interpreted as taking away the constitutional authorities of county judges.
For schools in the "purple and pink zones" of the ACHI's map, the organization pushed for classes to move to virtual instruction. Purple indicates a county has at least 100 cases per 10,000 residents over the past 14 days, and pink indicates there have been 200 cases per 10,000 residents over the past two weeks.
About 75 percent of Arkansas adults have received at least one dose of the COVID-19 vaccine, according to a tracker maintained by Brown University. However, only 62 percent of adults are considered fully vaccinated and only 52 percent of the total population received both doses of an mRNA vaccine or one dose of the Johnson & Johnson vaccine.
Americans over the age of 5 years old are eligible to get vaccinated against COVID-19 and the Centers for Disease Control and Prevention (CDC) recommends anyone who lives with someone who can't be vaccinated to wear a mask indoors. The CDC also advises that families who live with someone who's at risk or can't be vaccinated avoid activities where social distancing is not possible and choose outdoor activities over indoor ones whenever possible.
ACHI also called for a suspension of in-person "public interactions," in businesses and houses of worship.