Officials at Arkansas' largest healthcare organization said not a single COVID-19 patient at Baptist Health Medical Center Little Rock's intensive care unit (ICU) is vaccinated.
"The vast majority of patients that are in the hospital are not vaccinated," Dr. Eric Bravo, the medical director of Baptist Health's hospitalist program, told Newsweek on Wednesday. "I would say, I have not personally seen anybody in the ICU that's been vaccinated."
On Tuesday, Arkansas' COVID-19 hospitalizations reached its highest since January 27. The state's department of health reported that 387 patients are in intensive care and 205 patients are on ventilators. Only three percent of Arkansas' ICU beds remain available.
"This past January to February really peaked with COVID and it got a whole lot better by April or May. Then over the last four to six weeks, we've really seen a dramatic increase in the hospital with COVID," Bravo said.
"Over the last few weeks or so, we've opened up more ICU beds and we are, unfortunately, having to make some of these COVID rooms semi-private, meaning two patients in one room, to accommodate everybody," he added.
Bravo said aside from vaccinations, the biggest shift he's seen in the infected population since the Delta variant has become the dominant strain in the U.S. is that patients now tend to be much younger than those during the previous waves of the coronavirus.
"I've got a 20 year-old right now that's on life support and he's a crazy, healthy kid," he said. "I don't know why he got it. He didn't get vaccinated. But I would never in my wildest dreams think a 20-year-old would be on a ventilator with COVID."
"Last year, the patients were typically older and they had a lot of co-morbidities, like heart problems, cancer, lung problems," he explained. "This time around, we've got a handful of young people that are really sick, we've got a handful of 40 to 50 year-olds that have no medical problems at all that are really, really sick. We didn't see that last year."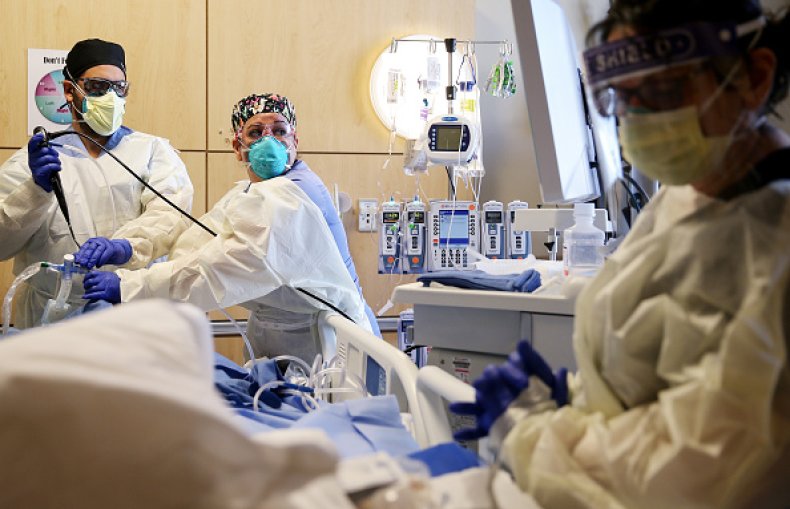 Bravo, who is also the chief of staff at Baptist Health Medical Center Little Rock, said he's been most shocked by the fact that most of the patients he's seen have been healthy individuals who just did not get the vaccine.
"What's scary is that these 20-year-olds, 40-year-olds don't have any medical problems. They're just your average kid or average mom or dad that were at work one day and the next day they get sick and now they're in the ICU," he said during the interview.
Data from the Arkansas Department of Health shows that residents aged 25 to 34 make up the highest proportion of the state's COVID-19 cases, followed by those over the age of 65 and those between the ages of 34 and 44.
While experts are still unsure if there is a direct correlation between age and the Delta variant, the highly transmissible strain has taken a heavy toll on the nation's younger population.
Some expect that because most of the aging population is vaccinated, the virus is mainly being transmitted between younger groups, especially since children under the age of 12 cannot get vaccinated yet.
In recent weeks, Arkansas Governor Asa Hutchinson has become one of the most prominent Republican leaders advocating for vaccinations and calling out the unvaccinated.
On Tuesday, the governor said in a statement: "Vaccines are the best antidote for our increasing numbers; the best antidote for fear is counsel from a trustworthy advisor."
"Theres a big vaccination push here but it just seems to be slow going here," Bravo told Newsweek.
The doctor warned Arkansans to be especially vigilant as they head back to school in the coming weeks.
"We know that people are going to start mingling more inside with school and kids and teachers—and these little kids, who can't get vaccinated under 12, certainly could be carriers and transmit it to the adults in the school—it's definitely on the radar," Bravo said. "It's going to be an issue in a couple of weeks here so I guess we'll have to see."
Uncommon Knowledge
Newsweek is committed to challenging conventional wisdom and finding connections in the search for common ground.
Newsweek is committed to challenging conventional wisdom and finding connections in the search for common ground.
About the writer
Katherine Fung is a Newsweek reporter based in New York City. Her focus is reporting on U.S. and world politics. She has covered the Republican primary elections and the American education system extensively. Katherine joined Newsweek in 2020 and had previously worked at Good Housekeeping and Marie Claire. She is a graduate of the University of Western Ontario and obtained her Master's degree from New York University. You can get in touch with Katherine by emailing k.fung@newsweek.com. Languages: English.