Arkansas Hunter Dies After Being Attacked by Deer He Just Shot: 'It Got Back up, and He Had Several Puncture Wounds on His Body'
In a bizarre twist of fate, an Arkansas hunter was killed after a deer that he had just shot attacked him, according to reports. Wildlife officials said that Thomas Alexander, 66, had shot the buck using a muzzleloader while hunting near Yellville, Marion County.
According to Keith Stephens, Chief of Communications at the Arkansas Game and Fish Commission (AGFC)—which investigated the death—Alexander then approached the deer to check if he had killed it.
"I've worked for the Game and Fish Commission for 20 years, and it's one of the stranger things that's happened," Stephens told KY3.
"I don't know how long he left it there, but he went up to check it to make sure it was dead. And evidently it wasn't," he said.
Stephens said that the deer then attacked Alexander while the 66-year-old was inspecting the animal, leaving him with serious injuries. "It got back up, and he had several puncture wounds on his body," Stephens said.
Despite his injuries, Alexander was able to call his family who alerted emergency responders. He was subsequently rushed to hospital but medical staff were not able to save him.
Stephens said that Alexander's exact cause of death has not been determined. The injuries inflicted by the deer may have killed him, but another cause, like a heart attack, cannot be ruled out.
"It's my understanding there's not going to be an autopsy, so we may never know what actually happened," Stephens said.
Cases like this are certainly rare, although Stephens does recall a similar incident occurring in Ashley County, Arkansas, a few years ago. But in that instance, the victim had luck on their side.
"There was somebody that did get stuck by a buck's antlers, and this was about four years ago. And it was pretty significant, but they did survive," he said.
The AGFC urges hunters to be careful when approaching deer which they have just shot, making sure to leave them for around half an hour to be certain that the animal is not still alive.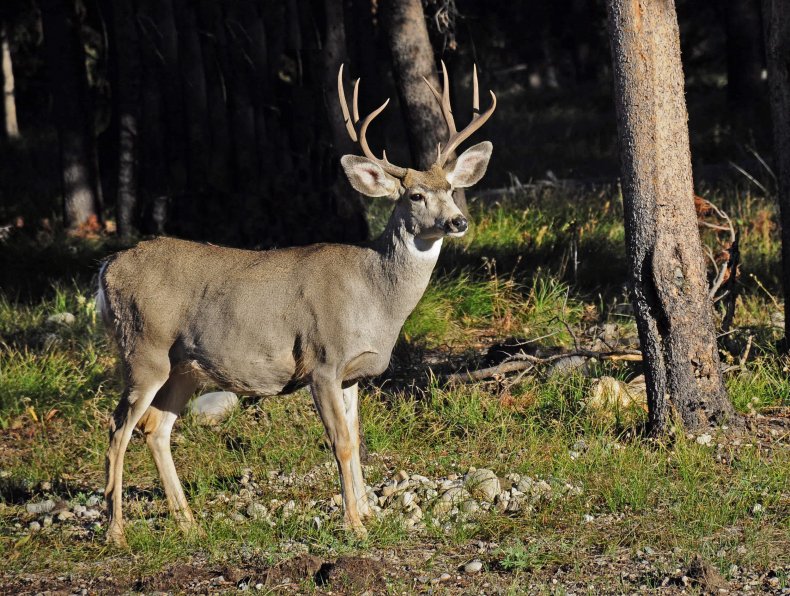 "When you get up there, be really careful around it because it may not be dead. But if you let them lay there for a while and they don't move, and he may have done that. We just don't know," he said.
Deer are not normally aggressive animals, given that they prefer to flee from predators. However, they are known to become aggressive if they feel that their young are threatened, for example.
Stephens said that hunting accidents in Arkansas are rare, although they do happen.
"So far this season, we have had one accident in Arkansas that occurred while dove hunting, and three falls from deer stands. This goring is the first fatality this season," he told Newsweek. "Last year, we had three fatal accidents, all while deer hunting. One was from a fall from a deer stand, one was a victim that was mistaken for a deer, and the other was self-inflicted during muzzleloader season."
"The average number of incidents over the past five years is almost 19, while deer hunting," he said. "During that time period we have had 11 fatalities. Out of the total of 94 accidents during that five-year period, 63 of those were falls from elevated deer hunting stands with five of those falls resulting in fatalities."
According to Stephens, hunting in the state is used as a "wildlife management tool."
"Deer hunting keeps our deer populations in check for the available habitat, or what we call carrying capacity. We do have issues with deer and car collisions and deer that destroy agriculture and landscaping. All of these issues go into our wildlife management decisions," he said.
This article has been updated to include additional comments from Keith Stephens, and to correct the image caption which described the animal as a "white-tailed deer" rather than a "mule deer."