Arkansas Woman Caught Smuggling Meth Bags Disguised as Bow in Her Hair: 'Are You Serious?'
An Arkansas woman has been arrested after a police officer found her wearing a small bag of methamphetamine in her hair which was disguised as a bow.
Jessica Bernice Kropp, 38, is accused of a string of offenses after she was pulled over in her vehicle on Industrial Road in the town of Flippin on September 24.
Flippin police officer Kenneth Looney said he spotted a Dodge Neon driving out of a storage unit business which had an expired registration.
According to an affidavit, seen by The Baxter Bulletin, Kropp initially refused to pull over when asked by the officer and continued to drive round a nearby neighborhood before eventually coming to a stop.
She then informed Looney that her driving license was currently suspended. She also said she did not have insurance and did not know where the registration for the vehicle she was driving was because she was borrowing the car.
The officer then found that Kropp had five valid warrants out for her arrest across several counties and towns; four for failure to appear and one for failure to pay fines. Looney then informed Kropp she was under arrest and ordered her out of the car.
After she got out, Looney said he noticed a bow in the suspect's hair that "appeared to be a small, zip-locked bag containing a white crystal-like substance of suspected methamphetamine," the affidavit states.
"I said 'Are you serious?' She said 'What,' I said 'You have a bow in your hair made from a bag of meth,'" Looney wrote in the arrest report. "She said '(expletive deleted), 'I didn't know that was there, someone else put that there and I didn't know what it was.'"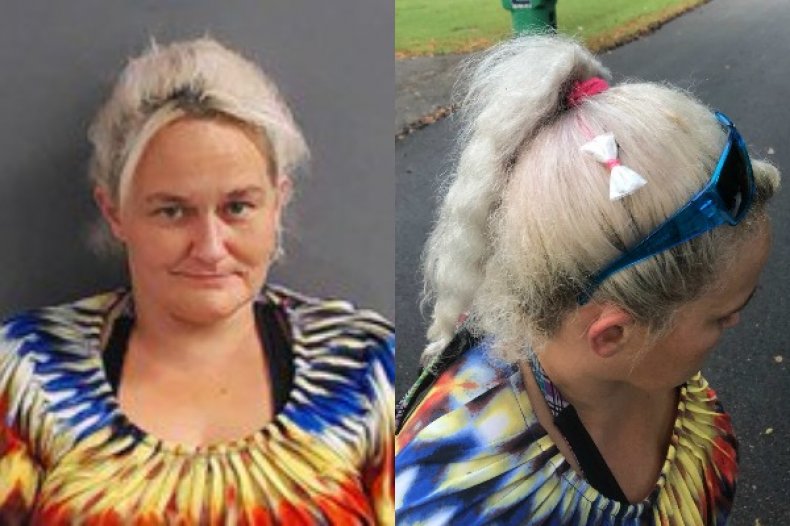 Looney then asked if Kropp had any other illegal items in her possession. Upon a search of her purse, he found several more bags of meth and other paraphernalia, as well as one vape pen containing THC oil and another loaded with THC oil and meth.
The officer told Kropp that he would only charge her with one count of drug paraphernalia possession despite all the items she had on her because she was being cooperative.
The officer also said he would not tow the car because she hadn't hindered his search after she allegedly "begged" him not to do so.
Kropp was later charged with a failure to appear misdemeanor, possession of meth with intent to deliver, possession of drug paraphernalia, driving on a suspended license and no liability insurance.
Online records show that she is currently being held at Marion County jail in lieu of a $22,530 bond.