An Arkansas mom is pleading for teenagers to get their COVID-19 vaccines as her 13-year-old daughter fights for her life at Arkansas Children's Hospital.
Angela Morris opted against vaccinations for herself and her daughter, Caia Morris Cooper, citing misinformation. But after contracting the virus and being hospitalized for 14 days at a pediatric hospital, Caia remains severely ill and is able to breathe only with the help of a ventilator.
"It's heartbreaking. I wish I would've made better choices for her," Morris told KTHV on Wednesday.
"I just want people to get their kids their shots. Everybody just needs to get the shot. It's a much better route than the one we're in," she added.
Caia is one of three patients at Arkansas Children's Hospital on a ventilator and one of seven battling COVID-19, according to KTHV.
Marcy Doderer, president and CEO of Arkansas Children's Hospital, told Newsweek that health officials are anticipating more hospitalization among children.
"We fully anticipate seeing more kids get sick with the Delta variant of COVID-19 because it spreads more easily than earlier strains and because kids under 12 are not yet eligible to be vaccinated. COVID-19 vaccines are effective against the Delta variant," Doderer wrote.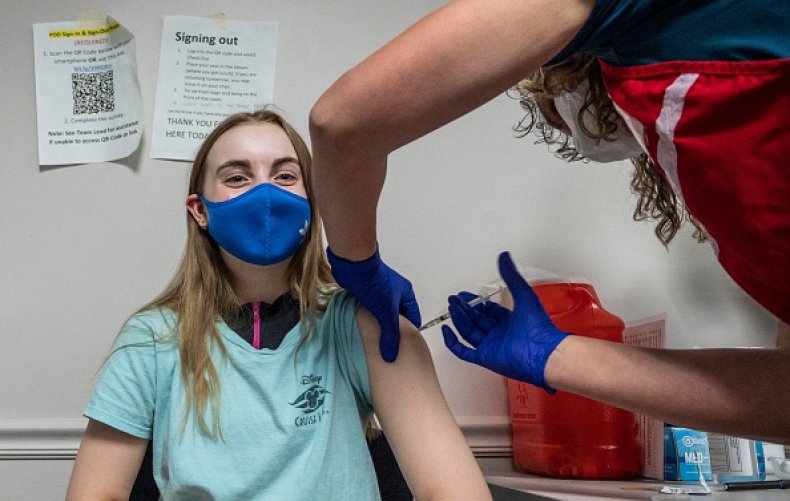 She encouraged teens who qualify for a COVID vaccine to get it, as the highly transmissible Delta variant has become the dominant strain of the coronavirus.
"Vaccinating eligible tweens, teens and adults as quickly as possible is the best way we can protect Arkansas children from the COVID-19 Delta variant," she said.
Morris said she thought her and Caia would have been safe from getting COVID-19 because her daughter stayed home most days and Morris would wear a mask whenever she went out.
"I really thought that she was going to be protected," Morris said. "I just had a false sense of security that it was just like the flu and it wasn't that serious. Obviously it is that serious and it was that serious. Now, I can see."
Doderer noted that every kid who was hospitalized this month was either too young to get vaccinated or hadn't yet been vaccinated—suggesting that some of those hospital admissions could have been prevented had eligible teenagers gotten their shots.
"Every child positive with COVID-19 who was discharged from Arkansas Children's in July was unvaccinated, even though some were eligible for the vaccination. Oftentimes, children contract COVID-19 from unvaccinated peers and adults who do not exhibit symptoms," Doderer said.
Arkansas' vaccination rates fall below that of the national average. Only 40 percent of Arkansans age 12 and up have been fully vaccinated, while 9.3 percent have received at least one dose of a COVID vaccine.
Comparatively, the national average for fully vaccinated Americans age 12 and older is currently 56.3 percent and the national average for those who have been partially vaccinated is 65.3 percent.
Health officials are calling on all eligible Arkansans to get vaccinated in hopes of protecting the state's most young and vulnerable who are unable to qualify for vaccinations.
"We urge every eligible Arkansan to take the COVID-19 vaccine immediately," Doderer said.
About the writer
Katherine Fung is a Newsweek reporter based in New York City. Her focus is reporting on U.S. and world politics. She has covered the Republican primary elections and the American education system extensively. Katherine joined Newsweek in 2020 and had previously worked at Good Housekeeping and Marie Claire. She is a graduate of the University of Western Ontario and obtained her Master's degree from New York University. You can get in touch with Katherine by emailing k.fung@newsweek.com. Languages: English.