Arkansas, Nevada Among the States With Rising COVID, Delta Variant Cases
Missouri, Arkansas and Nevada are leading the U.S. in new COVID-19 cases and low vaccination rates in those states raise concerns about the Delta variant's ability to find unvaccinated individuals and spread in communities.
States with high vaccination rates have seen a significant decline in cases and the vaccines have proven to be a good defense against the Delta variant. The mutation is of concern to health officials because of its ability to infect people at higher rates and in Missouri, hospitals have found themselves unable to handle the number of patients needing treatment.
It's a flashback to last year when hospitals nationwide struggled for personnel, beds and equipment to properly treat people who became ill with COVID-19. Fortunately, significant resources are now available to be deployed to the areas that need it the most because surges aren't all happening at the same time.
However, the new surges raise concerns about what could happen if every state with low vaccination rates sees a spike in hospitalizations. At least 30 states have yet to vaccinate 70 percent of their adults, the minimum threshold that's believed to be needed to reach herd immunity and protect those who cannot be vaccinated.
Arkansas has only vaccinated about 53 percent of its adults, according to a Brown University tracker, Missouri has reached about 56 percent and Nevada is at about 62 percent.
"The effectiveness of vaccines is really very clear as is the contagiousness of the Delta variant. It's accounting for a larger and larger proportion of the cases that occur on a weekly basis," William Schaffner, a professor of preventive medicine and infectious diseases at Vanderbilt University Medical Center, told Newsweek.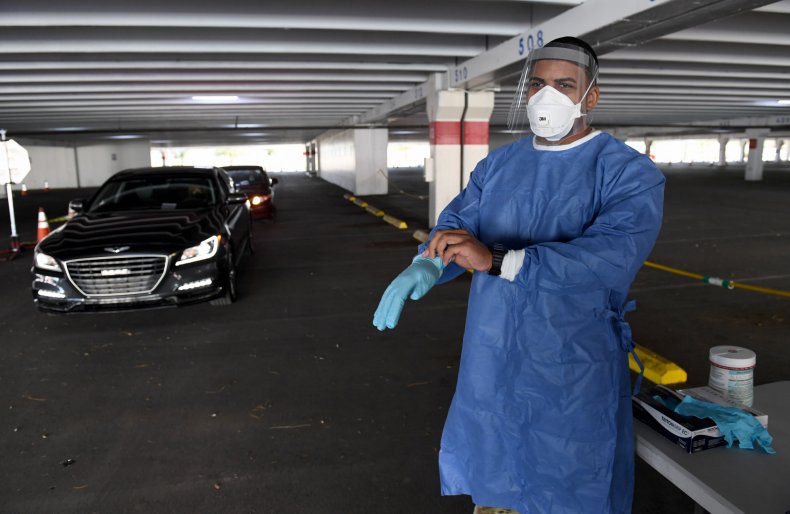 Missouri has the highest number of cases per 100,000 people over the past seven days, followed by Arkansas in second place and Nevada in third, according to the Centers for Disease Control and Prevention (CDC). Scripps Research's website Outbreak.info, which the CDC supports, found the Delta variant accounts for about 80 percent of cases in these states, according to Business Insider.
The Delta variant isn't the only factor driving an uptick in cases, though, and in Louisiana, which has the seventh highest case rate per 100,000 over the past seven days, the Delta variant accounts for less than 30 percent of cases. Vaccinations likely aren't the cause of why the Delta variant isn't as prominent in Louisiana, as the state has only vaccinated about 50 percent of its adults.
Vaccinations may be America's only real way at fighting the variant at this point in the pandemic, though. As cases declined and vaccinations rose, states across the country lifted restrictions on mask wearing and social gatherings, including in states like New York and California that had some of the strictest measures in place.
Schaffner doesn't see Americans willingly going back to the place the country was in last year, where people couldn't gather or had to wear masks regularly, especially for those who have been vaccinated. Given that we've "boxed ourselves into a corner," he said we're largely left with vaccination as a response.
"We recognize vaccination has had very considerable successes but it has now run into great difficulties because we cannot, in a rapid fashion, get a higher proportion of people vaccinated," Schaffner said.
States have tried offering all different kinds of incentives to get people vaccinated, including lotteries and college scholarships. However, even a shot at a million dollars hasn't significantly motivated people to get inoculated, so the Biden administration is trying a new tactic—going to people's homes.
The "door to door" vaccination program faced pushback from some who saw the government knowing who was not vaccinated as an encroachment on personal freedom. However, Health and Human Services Secretary Xavier Becerra dismissed the criticism and told CNN on Thursday it is "absolutely" the government's business to know who is vaccinated.
"It is taxpayers' business if we have to continue to spend money to keep people from contracting COVID and reopen the economy," Becerra said. "Knocking on a door has never been against the law and you don't have to answer, but we hope you do."