Arkansas Man Suffers Racist Abuse After Displaying Inflatable Black Santa in Front Yard
A man in Arkansas has received racist abuse after erecting a Black Santa in his front yard.
Chris Kennedy, from Lakewood, North Little Rock, put up his decorations at the beginning of November—a display that included the 8-foot-tall inflatable.
But on Monday, Kennedy received a letter telling him to leave the area and take the inflatable, which has featured in his Christmas display for three years, with him.
The mailed note was signed by someone posing as "Santa" and included racial slurs.
"Please remove your [N-word] Santa Clause [sic] yard decoration," the message read, according to local news outlet 10 WBNS.
"You should not try to deceive children into believing that I am a [N-word]. I am a Caucasian white man to you and have been for the past 600 years. Your being jealous of my race is no excuse for your dishonesty. Besides that, you are making yourself the laughing stock of the neighborhood."
Kennedy said the letter included a photo of a white Santa with two thumbs down.
"I have this joy sign because that is what the holiday is, just a time for joy," he told Fox 16. "Go ahead and laugh. I want kids to smile. I've done this every year and haven't had any issues."
Kennedy said he had no plans to remove the inflatable: "The children love it and that's what Christmas is about, it's about children."
It is unclear who sent the letter. It was mailed from the local neighborhood association, which have denied any involvement.
Kennedy's inflatable is not the first Back Santa to trigger racist abuse. In 2018, a couple in Oregon had their display slashed.
"There are white Santas all over our neighborhood," homeowner Belinda Richard told oregonlive.com at the time. "They aren't getting slashed."

The couple said they received messages of support on social media and at least one neighbor said in response they would purchase and display a Black Santa in their yard.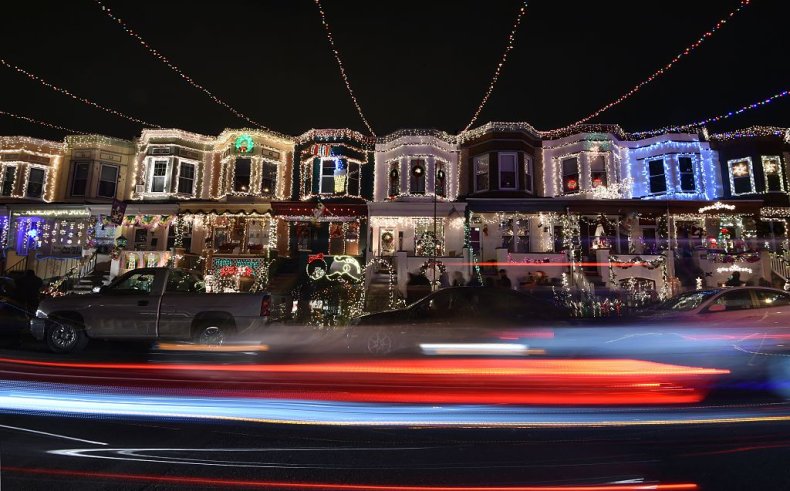 "The nice thing about the response from the next-door neighbors," Fritz Richard told The Oregonian, "is that we don't know any of these guys."
Black Santas have increased in popularity in recent years, including in decorations and grottos. Jeryn Calhoun, a 62-year-old Black man who dressed up as Santa for children of Detroit, said: "It has no color ... It should not be embodied in just one specific color.
"It's a spirit of hope, it's a spirit of better things to come, of positivity."