Mass Brawl Between Arkansas Steakhouse Customers Over Social Distancing
A video has emerged showing a fight break out between several people at a restaurant in Arkansas following an argument about social distancing. The clip shows the disorder which erupted at the Saltgrass Steakhouse in Little Rock on Saturday, June 27.
In the footage, one woman wearing a mask can be heard yelling, "You supposed to be six feet away from me," at another female, while a man attempts to keep them apart.
According to a police report, seen by KATV, one woman who was with her boyfriend told a man that he was sitting too close to them. Witnesses said the man, identified as a 56-year-old Louisiana resident, then purposely moved closer to the couple.
The woman in the mask then alleged that the other woman coughed on her. The woman in the mask also accused the couple of being racist towards them.
During an argument between the parties, the Louisiana man confronts the boyfriend, who then hits him over the head with a bottle. The footage shows a brawl between several people inside the restaurant.
"All the restaurant employees were trying to help, they were just in shock like the rest of us," Seth Crews, who recorded the incident, told WANE.
Crews said the argument broke out into physical violence after the man seen wearing a U.S.A. shirt started pushing the boyfriend.
"The guy came up and was touching on his back and giving him a little shove and he just wasn't taking it and that's when it all started," said Crews.
Several people received minor injuries including cuts and bruises as a result of the fight.
Little Rock Police said no arrests were made, but warned those involved in the fight that they may still seek warrants for third-degree battery, reported KATV.
Crews said both groups should take responsibility for the argument which resulted in the fight.
"I think if just someone is telling you to stay away from them, you probably shouldn't get near them, and maybe if you don't want to get Coronavirus, don't go to a restaurant," Crews said.
Saltgrass Steakhouse has been contacted for comment.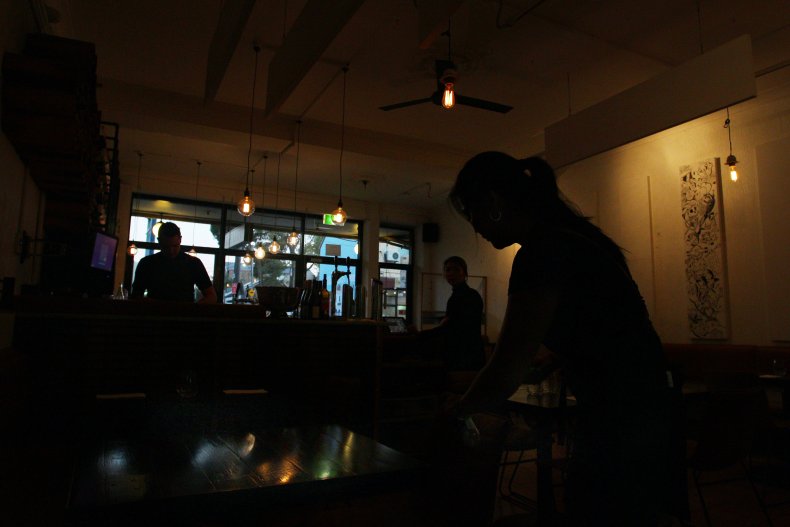 On June 29, Arizona announced it is scaling back some of its reopening plans in order to help stop the spread of COVID-19 in the state following a sharp spike of new cases.
Under the new executive order, bars, indoor gyms, and cinemas are being forced to pause operations until at least July 27. Restaurants have been allowed to reopen with limited guest capacity.
There are more than 79,200 confirmed cases of COVID-19 in Arizona, with at least 1,600 deaths according to Johns Hopkins University. In total, 720,630 have managed to recover from the virus across the U.S.
This graph, provided by Statista, compares confirmed COVID-19 cases in the U.S. and Europe.