Arkansas Sees Coronavirus 'Second Wave' With Highest Single-Day Rise in Community Cases Since Outbreak Began
New community cases of the coronavirus in Arkansas, where a stay-at-home order was not issued but some venues were previously closed, reached 261 on Thursday, Arkansas Gov. Asa Hutchinson confirmed at a news briefing on Thursday.
The latest spike is the largest single-day jump in community cases reported in the state since the outbreak began. The majority of the new cases were reported among the general public, with eight originating in nursing homes and no new infections in correctional facilities.
"There is a second wave... it's a combination of expanded information through testing with the spread of the virus in northwest Arkansas," Hutchinson said at the briefing.
More than 40 percent of the new cases were recorded in Benton and Washington counties in the state's northwest, a region which had previously seen few cases according to Arkansas Department of Health Secretary Dr. Nate Smith.
The latest rise in infections in northwest Arkansas was said to be partially due to an increase in cases among the Latino population, Smith said.
"The message I'd like to get is with this second wave of COVID-19 cases we're having, it is now focused in northwest Arkansas, there seems to be rapid increases in Latino communities. We're also seeing younger individuals," he said at the briefing.
Around 85 percent of the 85 new cases in Benton County and around 40 percent of the 25 new cases in Washington County were reported to be among the Latino population. Some cases may also be connected to workplace outbreaks at chicken or meat processing plants, Smith said.
He confirmed more testing will be done in Benton and Washington counties, while testing will continue at the state's local health units. The state will also organize more testing events. Businesses interested in testing employees are encouraged to contact the health department.
Hutchinson also confirmed the state is hoping to help provide the Hispanic community with more information on the virus.
Hutchinson also said he did not believe the latest rise in community cases was caused by Memorial Day celebrations or the recent reopening of businesses.
While many Memorial Day events in the state were cancelled due to the outbreak, some events resumed such as a large gathering seen at Lake Hamilton, where the annual Memorial Day fireworks were held on May 24.
Several new infections were reported among those who attended a high school swim party in Arkansas, Hutchinson told reporters on Saturday.
"A high school swim party that I'm sure everybody thought was harmless. They're young, they're swimming, they're just having activity and positive cases resulted from that," Hutchinson said, noting the incident was "just an encouragement for us to be disciplined in our activities."
An official statewide stay-at-home order was never issued in Arkansas. But various venues were closed from around March 19, including bars and restaurants, which were limited to take-out or delivery services.
Restaurants were allowed to reopen from April 29, while restrictions on gyms and other indoor recreational facilities were also lifted from April 30. Beauty salons and barber shops were allowed to resume services from May 1, while places of worship and larger venues were reopened from May 4, the governor's office announced last month.
Hutchinson has so far resisted issuing a stay-at-home order in the state, despite mayors previously raising concerns about the decision.
"We have masks and social distancing and the people of Arkansas have embraced that. That gives you success," Hutchinson said on CNN's State of the Union in April. "We want to take the long-term approach to this and you're not going to win simply by a lockdown."
Little Rock Mayor Frank Scott asked Hutchinson last month to issue a stay-at-home order, noting "This virus is not a game... we have to take this serious to truly flatten the curve."
"We are moving in the right direction," Hutchinson said last month in a statement announcing the easing of restrictions.
"I am encouraged with the trends we are seeing. If we stay on target, our desire and intent is to start lifting restrictions. But we're going to be watching the data every day. We're going to take it a step at a time," he said.
He added that the reopened facilities "will remain under Phase One guidelines that call for masks, social distancing, and limits on the size of gatherings."
Arkansas has seen 6,538 confirmed cases and 125 deaths, as of Friday, according to the latest figures from the Arkansas Department of Health. Newsweek has contacted the offices of Arkansas Gov. Asa Hutchinson and Little Rock Mayor Frank Scott for a comment.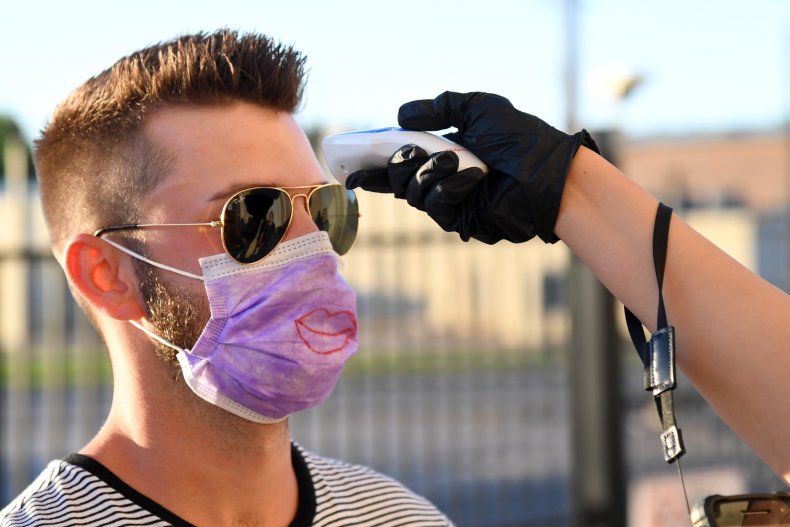 The novel coronavirus, which was first reported in Wuhan, China, has infected more than 5.8 million people across the globe, including over 1.7 million in the U.S. More than 360,600 have died while over 2.4 million have reportedly recovered from infection, as of Friday, according to the latest figures from Johns Hopkins University.
The graphics below, provided by Statista, illustrate the spread of COVID-19 in the U.S. and the worst-affected countries.