A U.S. senator's remarks questioning the leadership of the mayor of Washington, D.C. went viral Thursday as the U.S. House moves closer to the historic passage of a D.C. statehood bill this week.
The statehood effort has virtually no path to final passage, but lawmakers have taken turns this week speaking out in favor of or against the effort to create a 51st state.
U.S. Senator Tom Cotton, R-Arkansas, took a chance to aim at the district's Democratic mayor, who enjoys broad popularity among voters in the city and is mulling a third term.
"Would you trust Mayor Bowser to keep Washington safe if she were given the power of a governor?" Cotton asked on the Senate floor, also questioning whether people would trust former mayor Marion Barry who died in 2014.
To trust them, Cotton said, would amount to a "gamble" over the safety of the nation's capital.
Barry and Bowser are both Black. There are currently no sitting governors in the United States who are Black.
Video of his remarks went viral online. The statement touched off a wave of people on Twitter calling Cotton's comments racist during a time of unrest in the country and sending Cotton's name to the top of Twitter's trending topics.
Cotton's office didn't immediately respond to Newsweek's request for clarification or reaction to the response it's received. Cotton also raised several other points during his presentation, including the district's proximity to the seat of federal government, its workforce and the size in miles, which would be smaller than Rhode Island.
Bowser's spokeswoman also didn't immediately respond to Newsweek's request for comment.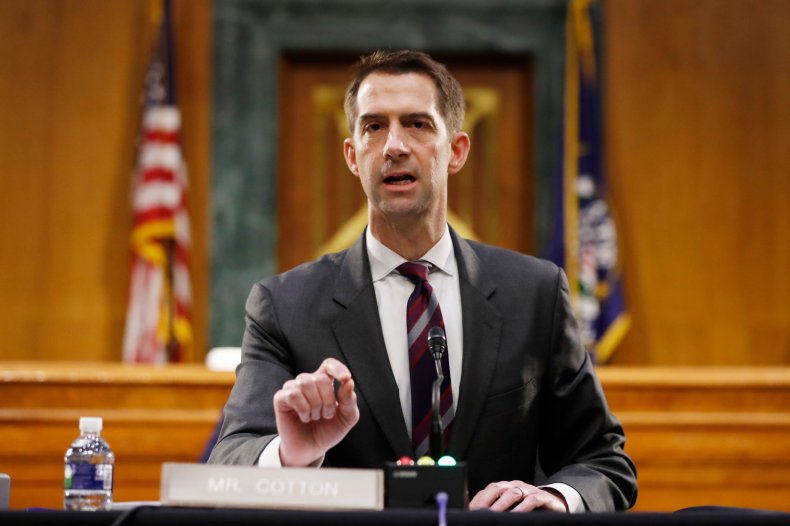 The DC statehood effort, which would nearly assure two new Democratic Senate seats for the deeply-Democratic District, has zero chance of passing the GOP-controlled upper chamber. It's likely it will not even get a discussion there, so Cotton may not even have a vote on the effort. It's unclear why he decided to speak on the floor about that particular issue.
The Trump White House also has signaled that it would veto a statehood proposal if it ever made it to the president's desk.
But the statehood push has reached a milestone with its first-ever House vote and expected passage Friday.
"We've come a long way in this," House Speaker Nancy Pelosi, D-California, told reporters Thursday. "It's something we will continue to fight for until the fight is won."
Bowser told reporters that she thinks part of the issue is that people outside of D.C. don't understand the situation that its 700,000-plus residents are in.
"They don't really know that we're different than they are," she said. "They don't even think about the fact we don't have voting senators and our congresswoman doesn't have a vote."