Arkansas, South Carolina and Wyoming Race to Not Be Last State in U.S. to Pass a Hate Crime Law
The deaths of six Asian women from the spa shootings in Atlanta last week has shone a spotlight on Georgia's brand-new hate crime bill—as well as the only three states left in the U.S. without such legislation.
"Nobody wants to be the one who is known as the only or the last state to not pass hate crimes legislation," Jim Hendren, a Republican-turned-independent state senator in Arkansas, told Newsweek.
Arkansas, South Carolina and Wyoming are the only states in the nation with no laws on the books to impose tougher penalties on criminals who target victims because of their race, gender, and other protected qualities. Georgia was also on the list up until last June, when Governor Brian Kemp signed a statewide hate crime statute. Now, last week's shootings at three Atlanta-area spas could become the first test of its hate crime law.
Hendren is the sponsor of SB 3, which would create a sentence enhancement for offenses committed in Arkansas because of a victim's race, color, religion, ethnicity, ancestry, national origin, homelessness, gender identity, sexual orientation, sex, disability or service in the U.S. armed forces.
"There's no question that the shootings in Atlanta and the national attention that has been brought because of that has emphasized what many of us have been saying for months: that this is a growing problem that has to be addressed," Hendren said.
The legislation has the support of the governor and attorney general, but Hendren said there's been "incredible reluctance" from some lawmakers. He emphasized that it's important to include all the protected classes that were first included in the bill, stating his goal is to pass "a quality piece of legislation that is not just window dressing."
Wendell Gilliard, a Democratic South Carolina state representative, echoed that sentiment after lawmakers momentarily removed protections for gay or transgender people from his hate crime bill earlier this month. The provisions were added back in, but then extra penalties for stalking, harassment and property damage were taken out of the bill—limiting the crimes that could be considered under the statute to just violent offenses.
"This bill is either going to be inclusive or we're not going to have a hate crime [law]," Gilliard told Newsweek. The legislation would allow prosecutors to seek additional penalties for crimes committed on the basis of hate because of a person's actual or perceived race, color, religion, sexual orientation, gender, national origin, or physical or mental disability.
Gilliard has pushed for a state hate crime bill since nine Black church members were killed in a racist attack at Emanuel African Methodist Episcopal Church in 2015. The church sits in Gilliard's district.
The Charleston Democrat said the Georgia shootings are adding an even greater sense of urgency in passing a state hate crime law. If lawmakers don't do so, he predicted "more hate crime is going to happen."
The bill has been approved by the judiciary full committee and is headed to the House floor within the coming weeks.
"Look, we really should have been one of the first states by virtue of our history that had a hate crime law," Gilliard said, citing the Emanuel Church attack as well as the 2015 shooting of Walter Scott, an unarmed Black motorist, by a white South Carolina police officer. "It's bad enough that we're only one of three now. I wish they took my note up years ago."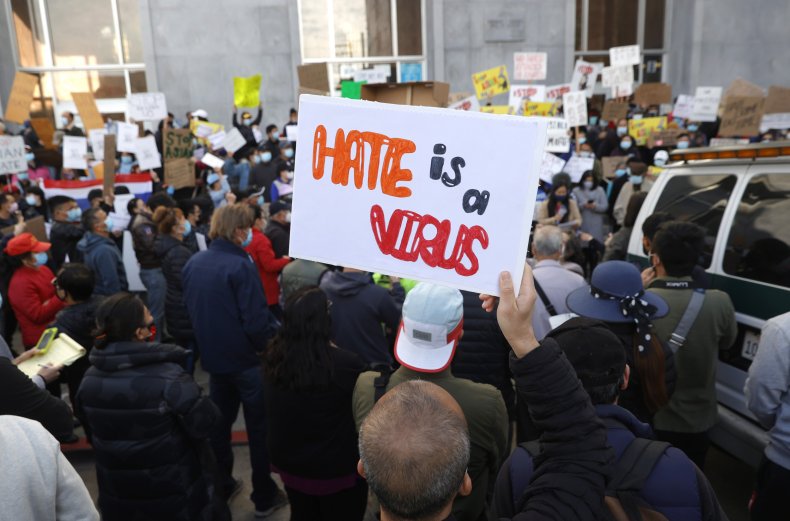 While lawmakers in Arkansas and South Carolina continue to consider hate crime laws, a Wyoming committee voted earlier this month to table the issue for the remainder of the legislative session. The measure—House Bill 218—would have allowed prosecutors to consider a criminal's biases against race, sex, gender, religion, sexual orientation, national origin, ethnicity or disabilities when seeking punishment for crimes.
"We'll go to the interim, work on the bill, build more coalitions and hopefully get it passed in 2022," Pat Sweeney, a Republican state representative and lead sponsor of the hate crime proposal, told Newsweek.
But Sweeney didn't hide his frustration, calling it "very disappointing" nothing has passed more than two decades after the murder of Matthew Shepard. A gay University of Wyoming student who was beaten and left for dead in Laramie in 1998, Shepard has inspired the creation of such statutes in other states and at the federal level.
Sweeney said he first became aware of the need for a hate crime law in Wyoming when he hosted the Shepard family at his hotel for the funeral 23 years ago.
"I will totally regret it if we end up the last state when there's federal legislation and laws on the books naming Matthew Shepard," Sweeney said. "We have to keep it moving, and I'm committed to trying to get this done. I'm hoping we're not the last state, but we might be."