Arkansas Teacher's Aide Placed on Leave After Being Accused of Punching a Special Needs Student
An aide at an Arkansas middle school was placed on administrative leave after he was accused of punching a 12-year-old special needs student in the face.
Images of the boy taken after the alleged incident at Cloverdale Middle School in Little Rock showed his face severely bruised and swollen, with his left eye entirely bloodshot and red.
His mother, Maria Alba, took the pictures when the boy returned home from school on November 15.
She reportedly asked him whether he was playing in the bathroom and fell, and he "replied yes and hung his head down," according to a police report acquired by THV11.
However, according to the report, his mother is said to have not bought that story and he later told her a teacher's aide punched him.
Alba is then said to have returned to the school and reported the injury to a school secretary, telling them that "one of his teachers hit him," according to the report.
It is not clear when the incident became known to Little Rock Police Department, but a department spokesperson confirmed that an investigation was underway.
Their preliminary report acquired by numerous media outlets identified the teacher's aide as 64-year-old William Jarmon.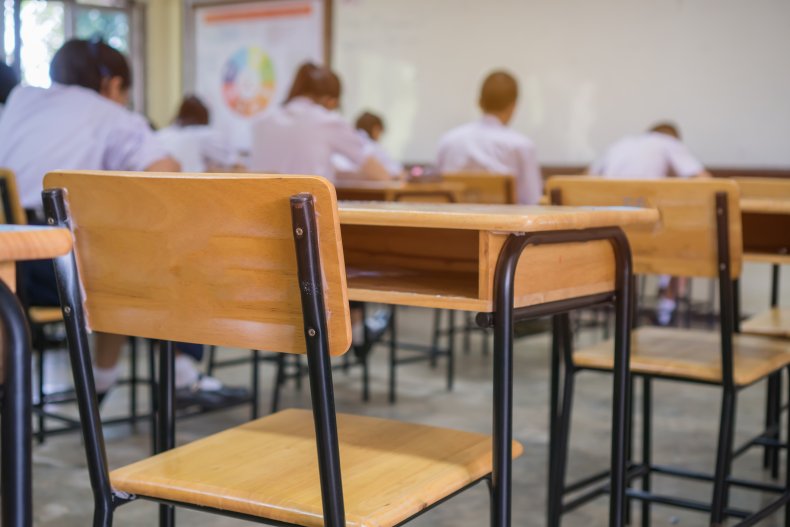 In a written report provided by Jarmon to police, he said Alba's son went to the bathroom with three other boys, came out and ran back in again, before Jamon reportedly went inside the bathroom to take him back to class, according to the report seen by KATV and the Arkansas Democrat Gazette.
The teacher's aide said when the 12-year-old refused to leave, he held the boy's hand and "moved him to the door."
Surveillance footage from the incident, reviewed and submitted by Cloverdale Principale Wanda Ruffins, showed the boy falling forward onto his hands, his face "eventually touching the concrete" as Jarmon exited the bathroom behind him, the report said.
As police investigations continue, the Little Rock School District (LRSD) announced its decision to place Jamon on administrative leave.
"We learned late on November 21 of an allegation of maltreatment regarding an incident involving a staff member at Cloverdale that occurred last week," LRSD spokeswoman Pam Smith said in a statement.
"When we are made aware of such allegations, we investigate them promptly and thoroughly and will take appropriate action. That employee was placed on administrative leave pending the outcome of the investigation.
"Because schools are closed this week, we will continue the investigation as soon as classes resume. However, the matter has been referred to local legal authorities, as well as the Child Abuse Hotline.
"We will be unable to provide additional comments at this time, as it a personnel matter. It is the commitment of LRSD to maintain educational environments that are safe and conducive to learning."
The Consulate of Mexico in Little Rock also released a statement condemning the alleged "physical aggression".
Newsweek has contacted Little Rock Police Department for comment.