A powerful system producing hail and tornadic activity has swept Arkansas on Monday night.
Videos across the state have shown twisters touching down.
A large tornado reportedly touched down near the Air Force base close to the state capital of Little Rock.
The system is a swath that reaches from Iowa in the north to the Gulf Coast areas of both Texas and Louisiana.
The University of Central Arkansas in Conway has already canceled classes for Tuesday because of power outages and flooding on campus.
More storms are expected Tuesday.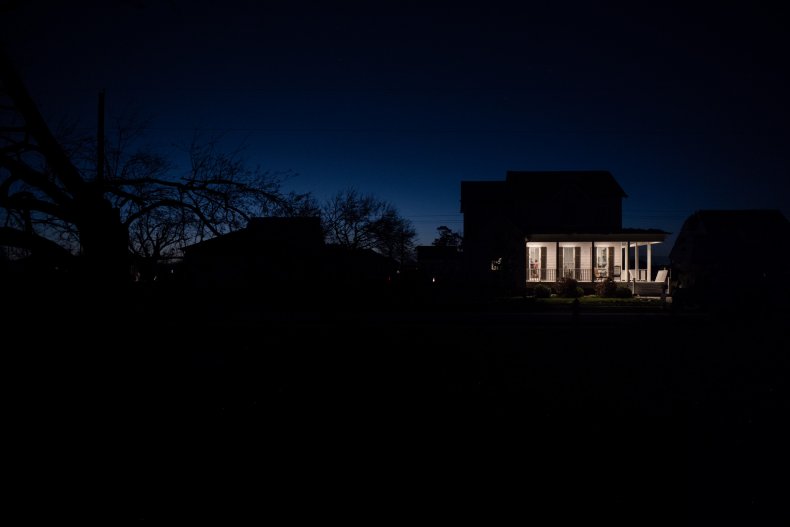 Live updates for this blog have ended.
Arkansas Not Out of the Weather Yet
Storms in Central and Eastern Oklahoma are part of another system moving behind the one that hammered Arkansas on Monday night.
"This is a multi-day, multi-state, multi-threat severe weather event that begins today right here over the southern U.S.," the Weather Channel reported.
In Little Rock around 11 p.m. Monday, there were thunderstorms in all directions around the state capital.
The storm dropped tornadoes and massive amounts of hail throughout Central Arkansas as it moved easterly into Tennessee, Mississippi and Kentucky.
Another system is expected tomorrow that will envelope the areas from northern Iowa all the way to the southeast Texas coast and into Biloxi, Mississippi. Those storms could also pack tornadoes, hail and heavy winds.
Large Hail Smashes Windows of Storm-Chasing Vehicles
The Weather Channel reported that many of the storm chasers they follow had their vehicle windows smashed by the hail storms pelting Arkansas in Central and Eastern Arkansas on Monday night.
One of those was the vehicle of storm chaser Charles Peek, who also shared this photo of hail he gathered Monday.
Crazy Tornado Photos Captured Near Cabot, Arkansas
A large funnel cloud outside of Cabot, Arkansas was captured through several photos and videos Monday night.
The tornado can be seen through lots of lightning. Here are some of the photos and videos.
Tornado Reportedly Half a Mile Wide Near Little Rock
The storm began hammering Arkansas earlier this evening, and it developed into a system dropping a tornado nearly a half-mile wide, according to one report.
AFB Observer Spots Tornado in Darkness of the Storm
The Weather Channel reported that an observer at Little Rock Air Force Base spotted a tornado in the night sky as lightning lit up the sky.
There have been reports of hail the sizes between golf ball and tennis ball size that fell through the night.
"Wow...some large hail at my younger brother's house in Austin, Arkansas. He's currently deployed as a C-130 pilot out of the Little Rock Air Force Base and his wife is home with the dog and her mom so I had to check in. They are okay and were sheltered in the laundry room," one person wrote on Twitter.
Little Rock Air Force Base in Jacksonville, Arkansas reported no major damage.