What is New Aryan Empire? Arkansas White Supremacist Gang Accused of Meth Trafficking, Disfiguring Person's Face With Hot Knife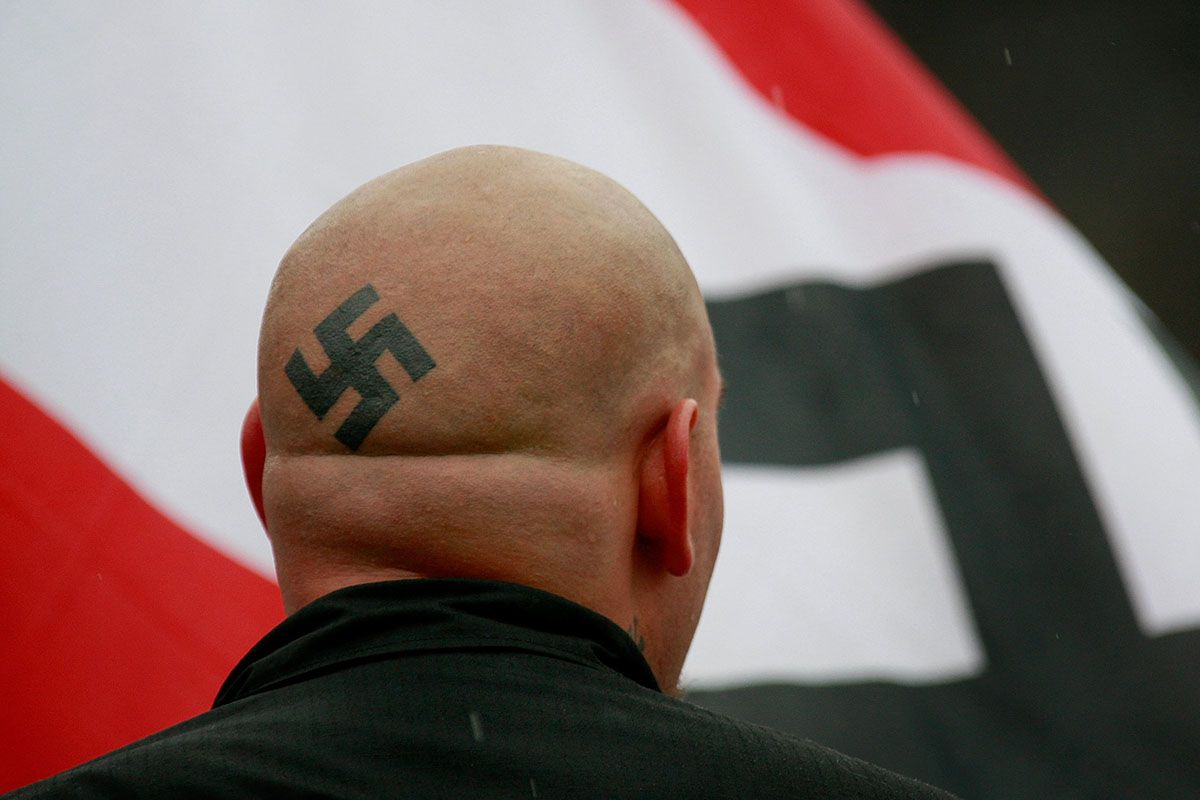 Dozens of alleged members of a brutal white supremacist gang operating in Arkansas were charged in a superseding indictment yesterday.
Police branded the New Aryan Empire (NAE) as a racketeering enterprise responsible for a slew of crimes, including attempted murder, kidnapping and drug distribution. A total of 54 people were named, some under the Racketeer Influenced and Corrupt Organizations Act (RICO), according to documents obtained by Arkansas Times.
An investigation into NAE, which began as a prison gang, was launched in 2016 after police in Pope County, Arkansas, probed a murder that involved alleged members of the organization.
The criminal enterprise was created in 1990 by inmates in the state. There are now roughly 5,000 members. The group "founded on the principles of white supremacy," police said.
According to the federal indictment, the NAE patch is "comprised of a swastika with a dagger in the middle, two additional swastikas, an eagle perched on top of the dagger, two maple or oak leaves, and blood dripping from the dagger." Its slogan is "To the Dirt," police found.
In October 2017, an Arkansas grand jury indictment charged 44 people from Pope County with gun and drug violations. The latest indictment identified the additional defendants. Fresh charges include conspiracy to distribute methamphetamine, attempted murder and kidnapping.
Three suspects from Russellville, Arkansas, remain fugitives. They were named by police as Troy Loadholt, 37, Jeffrey Howell, 34, and Amos Adame, 46. The full list of defendants was published online.
David Rybicki, the deputy assistant attorney general of the justice department's criminal division, told media yesterday that the NAE had engaged in "acts of violence" in the state.
Rybicki said: "This includes allegations of attempted murder, solicitation for murder, kidnappings, beatings, stabbings, often done in an effort to silence individuals the NAE believed were willing to assist law enforcement. In one particularly chilling allegation, a suspected informant's face was severely burned with a heated knife causing permanent disfigurement."
According to the indictment, NAE members plotted to murder a confidential informant who was responsible for an associate—Marcus Millsap, 51—being charged with drug trafficking. An unsuccessful attempt was made in January 2016 by two members, the filing stated.
In another instance, NAE members kidnapped and stabbed two individuals because they gave "information to law enforcement about another NAE member." During the kidnapping, the victims had allegedly been forced to write apology letters to the NAE member and his girlfriend.
The indictment charged 17 of the 54 defendants with crimes under RICO. The statute provides penalties of up to life imprisonment for acts performed as part of a criminal organization.
Police said they made 59 "controlled purchases" of meth from the gang as part of their investigation. Officials confiscated 69 firearms including handguns, rifles, shotguns and assault rifles. More than $70,000 and 25 pounds of meth were also seized.
Cody Hiland, the U.S. Attorney for the Eastern District of Arkansas, described this week's RICO charges as "a little bit unique" for the region, in comments that were streamed by KNWA.
"[The law] allows members of an organization to be held responsible for the acts of the other members, among other benefits," Hiland told local media yesterday. "In short, with RICO, if you are a member of the criminal organization, you're in for a penny, you're in for a pound."