Arkema Explosion After Harvey: How Worried Should Houston Residents Be?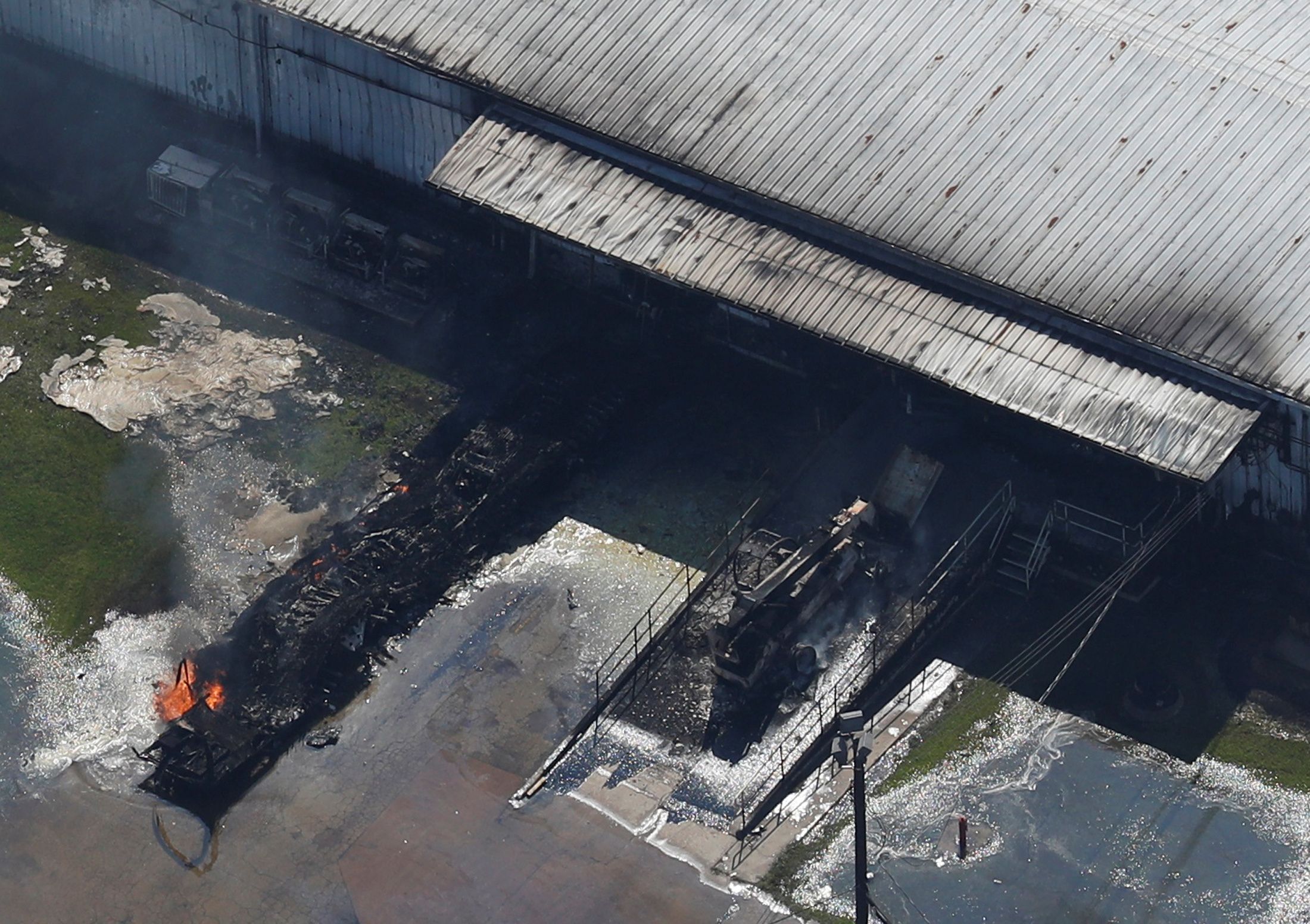 Updated | Officials are still working to contain the Arkema chemical plant in Crosby, Texas, where two explosions occurred early Thursday morning and fires continued to burn for much of the day. Residents within a 1.5-mile radius from the plant were forced to evacuate, and it's still unclear exactly how far-reaching this additional catastrophe could become as Houston begins the work of cleaning and rebuilding after Hurricane Harvey.
The incident also is far from over. Arkema says it expects more fires—and possibly additional explosions—in the coming days. The chemical released into the environment (mainly organic peroxide) is a known toxic irritant.
The EPA said in a statement on Thursday that an aircraft survey determined "there are no concentrations of concern for toxic materials reported at this time." Regardless, the U.S. Chemical Safety Board has launched an investigation into the explosions.
According to the Houston Chronicle, the plant has a history of safety violations that include another fire caused by organic peroxide that was not stored properly. In 2011, the plant failed to maintain proper temperture of chemicals. That error makes it more likely for explosions and fires to occur onsite. The Chronicle also reports that in 2016, the Occupational Safety and Health Administration (OSHA) issued a fine for nearly $100,000, citing 10 violations related to the mishandling hazardous chemicals.
Newsweek spoke with Miriam Rotkin-Ellman, a public health scientist with the Natural Resources Defense Council, about Arkema and what information is needed to ensure the public's safety.
How worried should Houston residents be?
This may just be the beginning of any kind of release we could see. A fair number of these chemicals are likely acutely toxic to the respiratory system, though we do not have a full picture to really be talking about that. Full containment from these kinds of facilities is the first order of business, as well as ensuring that people are not in the vicinity. At this stage we want to reduce the hazard, which is about getting people out of the way.
There's a classification called Persistent Bioaccumulative Toxic, or PBT, chemicals. These are chemicals formed at some chemical plants called dioxins, and they can persist for very long. If these are chemicals that are known to be persistent and known to deposit in the soil, then we should be seeing soil testing as a way to verify this.
But in some ways, the specifics of each chemical and how much there is of each one is not the issue right now. The issue is how big of a radius is affected. What we don't want to see happen is that there was inadequate communication and some people were able to leave and others stayed and suffered the consequences. History has shown that if this [communication] material is not presented in multiple formats and multiple languages that people will get left behind.
When will this area be habitable again? When can residents go back? Should they ever go back?
That's going to really depend on the scope of what happens, not just in terms of the chemicals but what kind of containment mechanisms get blown. If we're just talking about chemicals that get released in the air, some of those chemicals can integrate in the environment, and so there may be a period of time until people can go back to the area.
This is a reminder that communities bear the added extra burden when they live in close proximity to these facilities. Oftentimes they're not great neighbors on a good day, and when a storm hits it's the worst kind of neighbor you'd ever want to have.
Are other areas outside of Crosby likely to be affected?
When facilities that hold chemicals are flooded they are unable to hold the chemicals any longer. We know that flooding can take contaminants offsite. That happened after Katrina and Superstorm Sandy. We currently don't know the extent to which that neighboring area is going to see the chemicals. That will be evaluated through testing of floodwater and the floods that remain.
After Katrina, there was a sludge that remained when the waters receded. Testing of that sludge found contaminants which can stay around for a long time. By testing the sludge, we could see that chemicals migrated off-site from industrial facilities and from contaminated sites. The containment that was in place there, by and large, did not hold the flooding. That kind of comprehensive testing is needed in order to determine the safety of returning home.
Houston officials anticipated something like this might happen at the plant. How come no one has figured a way to avert such a disaster?
It's going to be very important that this be evaluated. It's not a question that can be answered right at this very moment. We do want the folks in charge of these facilities to be doing their darndest to maintain as much containment as feasible given the circumstances, and actively working to identify these areas and get these people out. We're not talking about just this one, but all of the facilities that present that risk. The vulnerability of the Gulf Coast is well-documented. The vulnerability of that portion of Texas is well-documented.
What questions should we be asking?
The question of reviewing the response plan for each of these facilities is of utmost importance—including questions like were those plans updated after Katrina and after Superstorm Sandy? Was there procedural planning, or was there nothing put in place? Did people think it wouldn't happen? Were those lessons learned from other storms taken into account? If they weren't what would it take to make sure they are? These facilities and the EPA and Texas Council of Environmental Quality have access to information that should be able to answer those questions. All those questions are key for the days ahead.
Updated: This story has been updated to include information on Arkema's history of safety violations.