Arlington National Cemetery, the nation's largest military graveyard, is claiming eminent domain to seize 49 acres of land to add 60,000 additional burial sites over the coming years.
According to Military Times, on Monday, the cemetery's 156th anniversary, Department of Justice (DOJ) officials filed paperwork to acquire unoccupied land for the cemetery's expansion. The land, located south of the cemetery will connect Arlington to the Air Force Memorial site.
Though the newly acquired land currently has several roadways on it, they will be detoured as the graveyard grows. Overall, the project will cost an estimated $420 million and will finally address longstanding worries that the cemetery had become too crowded to permit new burials.
Right now, an estimated 400,000 people are buried at Arlington National Cemetery. In 2017, 7,000 service members were interred there, and at the time, only 100,000 burial spaces remained available at the site, leading administrators to worry it would run out of vacancies by 2100.
Though current policy restricts internment at Arlington to only the soldiers with the most honorable discharges, in March 2018, military leaders discussed possible solutions to limit overflow. Among the ideas was a discussion about whether to restrict new burials to certain kinds of veterans, such as those killed while serving or those who had received Medals of Honor or Purple Hearts.
Veterans groups like the Veterans of Foreign Wars, the Military Officers Association of America and the American Legion disagreed with the proposed changes.
Veterans and lawmakers also opposed the possibility of finding a nearby location and simply applying the Arlington name to it as an overflow site, stating that it would likely be ignored and considered far less prestigious than the main cemetery which attracts an estimated 3 million annual visitors.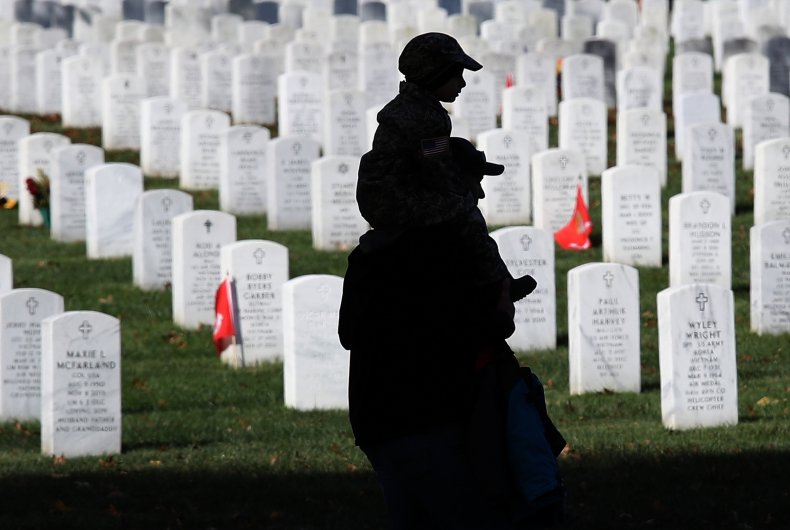 Along with the southern expansion, DOJ officials suggested the city of Arlington pursue nearby civic improvements, such as newly constructed bike and pedestrian paths and upgrades to electrical infrastructure.
Other military leaders suggested a possible expansion of above-ground mausoleums for storing soldiers' cremated remains.
Right now, the Arlington National Cemetery occupies 624 acres of land.
Notable figures buried at the cemetery include Presidents William Howard Taft and John F. Kennedy, Kennedy's wife Jacqueline Kennedy Onassis and Kennedy's two brothers, Senator Robert F. Kennedy and Senator Edward "Ted" Kennedy. The graveyard is also the former resting place of Ohio Senator John Glenn, the first American astronaut to orbit the Earth.
Newsweek reached out to the Arlington National Cemetery for further information. This story will be updated with any response.