Texas Tornado Warnings As Arlington Photos Show Dallas Area Ravaged by Severe Storm
Photos and videos have captured the devastating damage caused by extreme weather in Arlington, Texas. A line of thunderstorms swept across the north of the state on Tuesday evening, prompting tornado warnings.
A tornado touch-down has reportedly not been confirmed but radar showed signs of storm rotations, which prompted the National Weather Service (NWS) to issue a warning for Arlington as well as portions of Dallas, Tarrant and Denton Counties.
Videos shared on social media captured the sounding of storm sirens and what looks like a huge funnel of cloud outside Denton.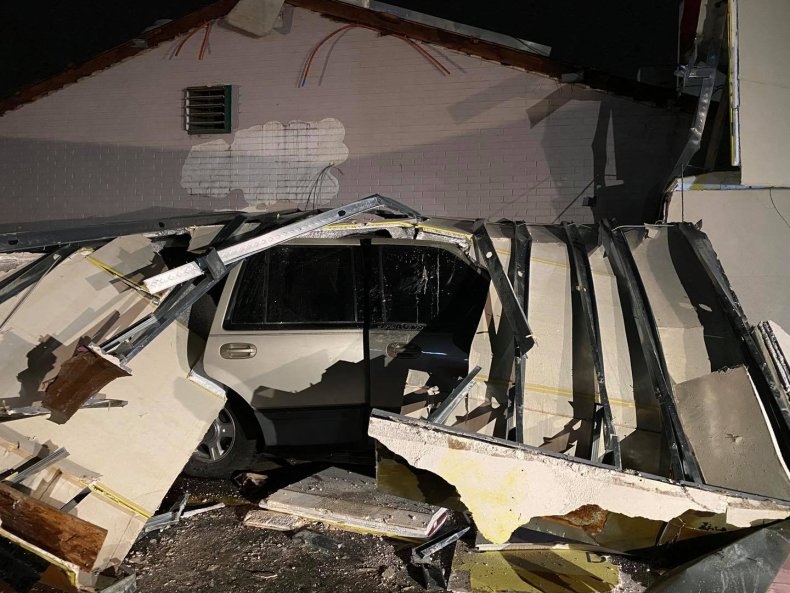 Other clips and photos showed collapsed structures and debris caused by the extreme weather in Arlington.
A thunderstorm reportedly hit the town just before 9 p.m., producing strong winds, according to The Dallas Morning News. Meteorologist Matt Stalley told the publication that the NWS recorded winds of up to 81 mph in the the town at around 8:55 p.m.
Arlington Fire Department said in a statement on Twitter that it has,"responded to multiple locations in Arlington with reports of collapsed buildings. Our units are currently assessing the structures, triaging potential patients, and moving to other reported locations."
The police department also shared an update, saying: "Continuing to assist @ArlingtonTxFire at a few locations tonight due to roof collapses and debris field."
The department added that the road Pioneer Parkway is closed in both directions between Center Street and Collins Street due to debris from area apartment complexes on the roadway.
Earlier it said that the emergency services are working to determine whether or not anyone has been wounded. As of 2.15 a.m. CST, there have been no reports of injuries.
Damage in Arlington
The storm hit Arlington at around 8.55 p.m. capable of producing a tornado and prompting a warning, according to the Dallas-Fort Worth Scanner (DWFS).
After the storm passed, debris, collapsed power lines and damaged buildings were left in its wake.
Several media outlets reported that a drive-thru roof at the Burger Box on South Cooper Street collapsed onto two vehicles but the occupants were able to get out and no one was injured.
Arlington FD's Technical Rescue Team responded to the scene for structural integrity issues, DWFS reported.
Across the street from Burger Box, all the doors of a SafeLite Auto Glass repair facility were apparently blown in.
DWFS also said a large tree hit a home on Ashbury Drive but the family who live there escaped unharmed.
Other residents in the area were left without power and some had their windows blown in.
The immediate impact zone, located along California Lane to Cooper Street and north to Pioneer Parkway, is still reportedly still without power.
Several large windows were blown out at the strip center on Arkansas Lane and Center Street while a nearby apartment complex sustained significant damage to the roof, DWFS said.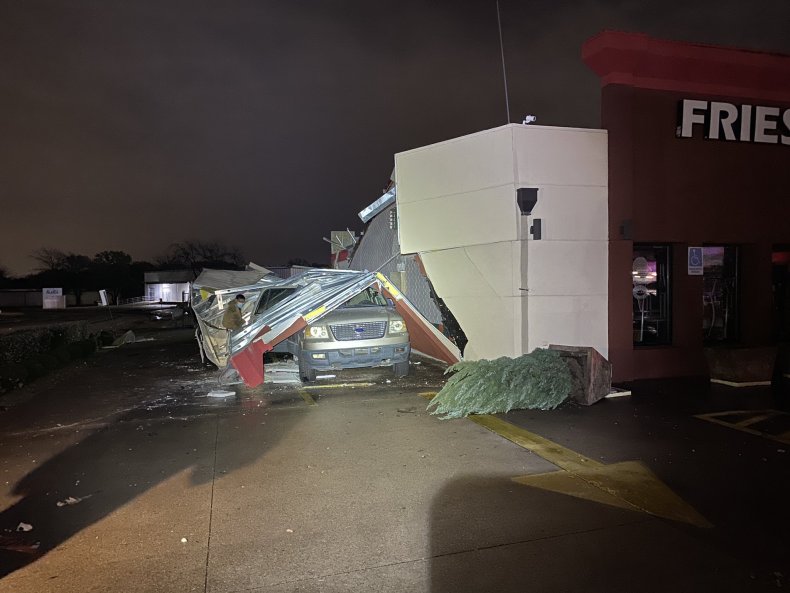 Meanwhile, CWF reported that there was also damage in the 2500 block of S. Cooper Street where at least one building partially collapsed onto a pickup.
The Red Cross told the broadcaster the Waterdance and Mirage Apartments both lost their roofs, displacing between 60 to 100 people from 70 residential units.
Two local hotels will provide those families shelter, the Red Cross reportedly said.
Newsweek has contacted the Arlington Fire Department and Arlington Police Department and the NWS for comment.