Armed F-16 Intercepts Small Plane Over NYC After President Biden Addresses U.N. General Assembly
An armed F-16 military plane flew low circles over New York City's George Washington Bridge on Tuesday as it looked to divert a small plane away from the city on the day Joe Biden addressed the United Nations General Assembly meeting..
Newsweek Editor-at-Large Naveed Jamali observed the incident in broad daylight around 2 p.m. eastern time today in northern Manhattan.
"It was pretty dramatic, because this comes obviously a few weeks after the 20th anniversary of 9/11, and occurred over the George Washington Bridge along the Hudson River in plain view of New Yorkers," Jamali told Newsweek.
North American Aerospace Defense Command confirmed to Newsweek that there was indeed an "ongoing operation" over New York City.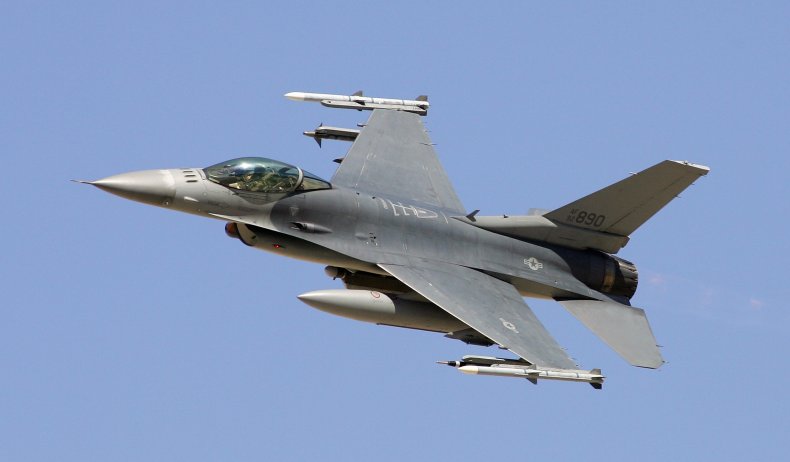 According to a report from CNN, the plane in question was flown by an instructor pilot from the U.S. Military Academy at West Point, New York.
The plane, which was identified as a Cessna 182, was owned by West Point, according to the CNN report.
The CNN report said that FlightAware, which tracks air traffic, showed the Cessna heading south at about 800 feet before it quickly reversed course and headed north after being intercepted.
According to a report in Military Times, a West Point spokesperson said the pilot was "conducting a cadet flight lab in support of ME481, a Civil and Mechanical Engineering class."
"Once they realized they had violated the airspace, they immediately left the area and returned to the airport," the spokesperson told Military Times.
Nelly Sanchez, a Washington Heights resident who heard the jet, told Jamali that she "felt confident that the military was on it," saying her "first thought is they are taking care of business."
In a statement provided to Newsweek, a NORAD spokesperson said a small single-engine aircraft violated the temporary flight restriction placed over New York City. The redirected flight safely touched down at an alternative landing zone at approximately 2:30 p.m eastern time.
The agency went on to say that it employs a layered defense network of radars, satellites, and fighter aircraft to respond to such situations. It said that today serves as an example of NORAD's role in protecting the U.S. airspace.
"NORAD is committed to defending the skies of North America and Canada 24/7 365 today's is a great example of how we do it," John Cornelio, a spokesperson for NORAD, told Newsweek.
Update-9/22/21 11:25 AM ET - This article has been updated to include comments from the North American Aerospace Defense Command